Did you know that the water you drink at restaurants can have a profound effect on the taste of your wine and food?
That was made clear as, well, as water when I was at Taste of Newport last month and did a sensory tasting of Nordaq FRESH, a water that claimed to enhance the palate, illuminate the natural taste of food and beverages, and emphasize ecological benefits towards our planet by using an in-house filtration unit to eliminate packaging and transportation-related costs.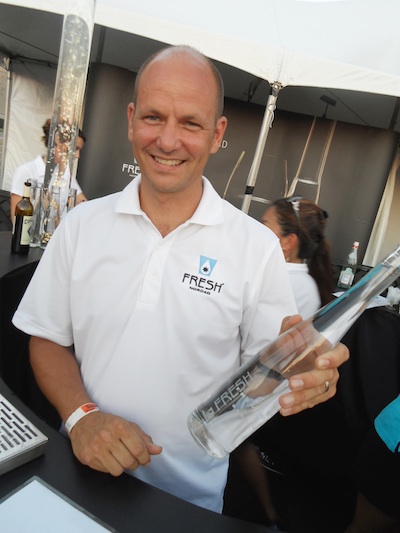 My taste test was simple–sip the FRESH water, then sip Cabernet Sauvignon, then sip a well-known bottled water. After going back and forth several times, I found that my palate could indeed tell the difference. The wine tasted a bit sour after sipping regular water, but tasted smooth after a sip of FRESH water.
"You'll get a stronger reaction when you use wines with more tannins or lots of acidity," said FRESH co-founder Robert Hahmann, who guided me through my sensory tasting. "You can also do it with whisky, food, chocolate, coffee – almost anything."
The company, whose U.S. headquarters is in Newport Beach, serves FRESH water at acclaimed restaurants throughout the world (including Bouchon, French Laundry, Per Se and The Fat Duck). However, only one restaurant in OC currently offers FRESH water to customers: A Restaurant on Coast Highway. So naturally, I had to pay A Restaurant a visit and double check to see if the FRESH tasting held up at the restaurant.
"We are the only place in Orange County serving Nordaq FRESH water," confirmed A Restaurant Executive Chef Jonathan Blackford as I performed my supplemental taste test. "After you drink it and taste the food, almost instantly you get a taste sensation. It works with food and wine. When you do a taste test with other water side by side, you can really notice a significant difference. People who come here that have had it really like it."
I'm sold on the water, now you can sell me on the food," I said to Chef Blackford. "I understand you're adding some fall menu items."
"Fall is a time of change, so we're adding menu items such as wild mushroom soup with tarragon, white bean soup, prosciutto and butternut squash salad, spinach salad with fried egg, shrimp and grits. And since halibut is going out of season, we'll add harpooned swordfish, which we've never had on the menu before."
"Since I've never dined here, what do you suggest I order for lunch today?" I asked him.
"Our short rib grilled cheese sandwich on brioche is very popular, as is the spicy tuna."
"Sounds great, I replied. I'm also a mac and cheese fan, which I see you have on the menu – with three different cheeses. Sounds like I need to try that too."
Soon, I had a table full of more food than I could consume at one sitting. The tuna was terrific (I loved the tobiko, or flying fish roe, carefully piled atop the tuna), and the mac and cheese was full of cheesy goodness, but it was the short rib grilled cheese sandwich that really shined. The cheese blended perfectly with the meat, and the brioche worked well to hold the components in place while offering a fresh-tasting accouterment to the other ingredients. I'll be returning soon to sample more fall menu items, and to enjoy the Nordaq FRESH water.
Lunch items at A Restaurant are $8 to $22. For more information, visit ARestaurantnb.com or call 949)-650-6505. For more information on Nordaq FRESH, visit NordaqFRESH.com.
***
Newport Beach Winery has become as renowned for throwing fabulous charity events as it has for making outstanding wines. This weekend is another opportunity to taste some of the winery's remarkable varietals while supporting an organization that impacts thousands of people.
On Sunday, Oct. 21, from 4 to 6:30 p.m., the winery will host a fundraising event (aptly dubbed Soiree in the Vineyards) to benefit the Orange County Food Bank. Presented by Community Action Partnership of Orange County, the event features wine pairings of Newport Beach Winery's superb wines with delicious appetizers, beer tastings from Haven Gastropub's brew-master, live jazz, and tours of Newport Beach's only working winery, including the 2,500 square foot wine cave.
Tickets are $150 per person. A limited number of tickets will be available at the door, so buy tickets soon before they're gone.
For tickets or more information, visit OCFoodBank.org/Soiree, email [email protected], or call 714-897-6670 ext 5314. 
***
Five Crowns in Corona del Mar is launching a new autumn tradition: Porktoberfest, to be held 7 to 10 pm on Thursday, Oct. 25. As the name implies, there's pork involved – a whole pig roasted in the backyard of Five Crowns.
The evening will include four courses, specialty beers from Firestone Walker Brewing (David Walker will be on hand to answer questions), lively music, communal tables, family-style service, and fun games.
Cost is $79 per person ($65 for designated drivers).
For more information, reservations, and information, call 949-760-0331 or visit  lawrysonline.com. For information on David Walker or Firestone Walker Brewing, visit  firestonebeer.com/brewery/people.php.