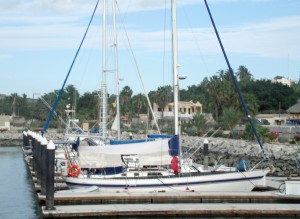 Captain Ron is a hero, again!
Five days ago Ron Hirt, co-owner of the international printing business Primary Color and the 50-foot Hatteras sport fisher Sun Dance, and I returned from La Paz.  Our trip entailed supervising and repairing miscellaneous items aboard the yacht following our recent adventure with 39 other yachts from all over the west coast.
As mentioned from my previous columns in November of last year, the vessels formed our armada in Ensenada and spent the next 18 days cruising with stops in Turtle Bay, Magdalena Bay, San José del Cabo and finally La Paz. We plotted our course to take advantage of all the primary islands and high points along the route that enabled us to catch as many exotic fish species as possible, which we did.
We were in La Paz for four days which included working with a marine electrician and diesel mechanic for minor repairs and oil and filter changes. The worst thing for a yacht, and airplanes for that matter, is to sit idle. This was again verified when new items were discovered which included replacing a broken fresh water pump, modifying the horn mechanism and discovering inoperable windshield wipers. Upon continuous switching on and off, the wipers eventually became functional.
The day before our flight home, it was time to sea trial the boat for operational verification of the boat being ship shape. The main engine oil pan gasket leaks are quite minor and will be repaired upon the return trip, as will be the air conditioning failure.
Five or six items were repaired during our work days, and one toilet and engine hose replacements will be performed during our absence.
All in all, the vessel was well prepared for this major voyage which allows for a satisfactory feeling of the proper preventative and routine maintenance being accomplished prior to undertaking such a trip.
Now for the hero.
For the second time, Ron Hirt free-dove to clear our prop. The first time was mid-channel while transferring fuel between Newport and Avalon when a towline wrapped in the wave slop during the world record Jetlev voyage. Sunday he dove to free fishing line from the prop and shaft following re-setting the anchor in a very cool cove along Isla Santa Teresa (if I recall the name correctly).
During the sea trial we caught three Dorado and two Bonita which we released, except one Dorado with accidental hook damage, which Ron filleted and cooked in olive oil and spices to form delicious fish tacos.
The air was 83 degrees, the water was 71 degrees, and the view of emerald green and light blue water, blue sky, and island hills and sandy beaches was quite spectacular.
I've included a photo of one of two stout Lafitte 44 sloops spotted down south, with a third moored off our Bayshore's beach. The Lewis brothers had 12 of these vessels built in Taiwan around the late 70s. At the time they were local boys whose dad operated Lewis Boat Electronics along Mariners Mile for 30 years.
Sea Ya,
Skipper Steve