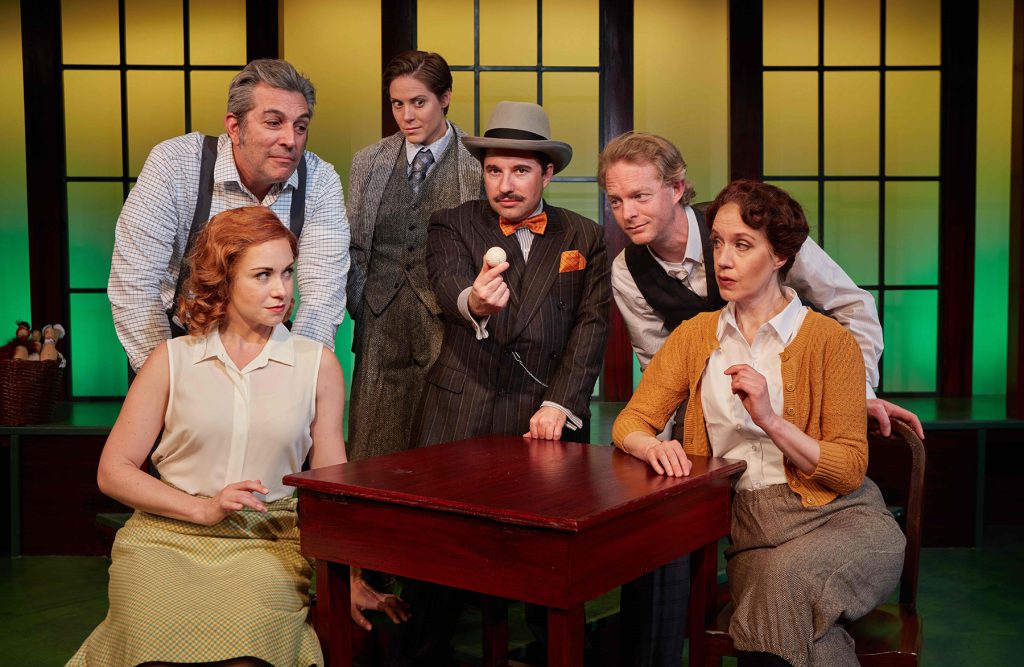 By Eric Marchese | Special to the NB Indy
Agatha Christie's novel "The Murder on the Links," which has its centennial this year, is notable as one of the earliest of her murder mysteries to feature the celebrated detective Hercule Poirot.
In 2021, prolific playwright Steven Dietz adapted it for the stage, calling it "Murder on the Links," and directed it in its world premiere at North Coast Repertory Theatre in Solana Beach.
Now, that production has been transplanted to Laguna Playhouse, giving Orange County theater audiences a chance to see the great Belgian sleuth unravel one of his most complex, baffling cases.
Adding tangy theatricality to this devilishly complex comic murder mystery, Dietz adopts an approach for its staging similar to popular contemporary works like "Around the World in 80 Days" and "The 39 Steps": One actor is cast to portray each lead character, but the actors in the small ensemble each play multiple roles, switching costumes, accents and personas at the drop of a hat.
Dietz's Laguna "Links" cast stars Omri Schein as the great Poirot, and as Dietz indicates in his script that Poirot and his companion and sidekick, Captain Hastings, should be of opposite gender, he casts female performer Kim Morgan Dean as Hastings.
The play's remaining 23 characters are portrayed by the multi-talented quartet of Jennifer Erdmann, Brian Mackey, Jessica Mosher and Matthew Salazar-Thompson.
Throughout the play, we watch these skilled quick-change artists play the British murder victim, his wife and their son, who have a palatial estate in northern France; his British mistress and her twin sister; a French police inspector who resents Poirot's presence in trying to solve the murder; the manor's various employees; and the assorted neighbors, physicians and gendarmes who populate Christie's tale.
"Murder on the Links" presents Poirot with a baffling case which, in its stage version, is dressed up and reinvented from Christie's words on a page into something delightfully theatrical – a colorful show both visually and in terms of Christie's characters.
Hastings is more than just Poirot's loyal best friend – he's the chronicler of the sleuth's exploits. As such, his narration is used as a framework for the play and also to provide an objective perspective of the action.
The whimsical tone is set in the first few minutes, during which we're told that the events of the story occur not just in France and elsewhere, but also "in the landscape of your mind."
Things get rolling when Poirot receives a cryptic letter from Paul Renauld (Salazar-Thompson), a Brit living in the (fictional) town of Merlinville-sur-Mer in northern France. Praising his "detection and discretion," Renauld begs for Poirto's help, so Poirot and Hastings set out for Renauld's palatial estate.
Upon their arrival, though, they're told by local police that Renauld has just been found stabbed to death and buried in a newly-dug grave near the golf course. Renauld's wife Eloise (Erdmann) reports that around 2 a.m., masked intruders broke in, tied her up and kidnapped her husband.
The murder kicks off two parallel investigations: One by Poirot, and the other by local police, headed by Inspector Giraud (Mackey).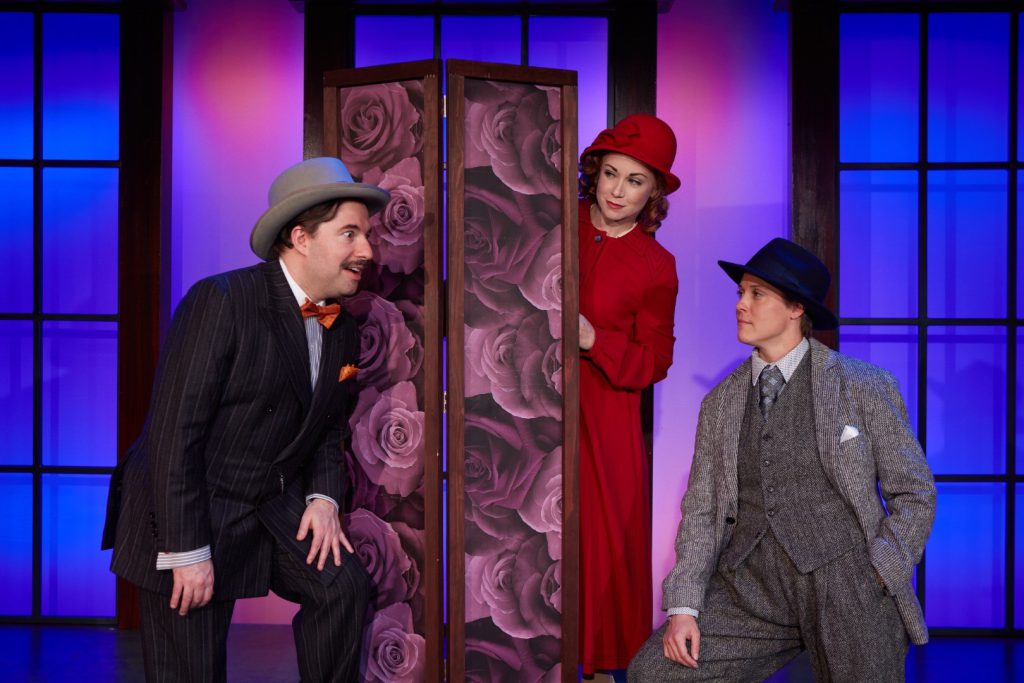 Adding to the mystery is the presence of a mysterious British actress in red who introduces herself to Hastings. As he doesn't know her name, he refers to her as "Cinderella" – and that's just one of the many layers present in "Links."
If you find the case confusing, look at what Poirot must endure. At least twice during the play, he realizes he has to discard his theories of the crime and "start all over again" in determining what really happened.
Ultimately, of course, the moment arrives when the nimble-minded detective announces to all that he will "reconstruct the entire case using logic, sequence and motive." And so he does, in a brilliant sequence where he uses bowling pins as puppets representing the key players in the murder.
Schein's arch Poirot is an eccentric, obsessive-compulsive chap who paces around in mincing little steps. His cold-blooded objectivity allows him to make sense of bewildering masses of information and details – much to our admiration.
And, as the peculiar little man states, "Hercule Poirot doesn't have opinions – he only has questions" (yes, he often refers to himself in the third person, a trait found in Christie's novels).
Dean's young Hastings is the even-tempered young Englishman tagging along with Poirot in his exploits. Less worldly and cynical, and even somewhat naïve, than Poirot, he becomes smitten with the intriguing, mysterious, woman in red (Mosher).
Following Dietz's script and directorial hand, the entire cast can only said to be brilliant. This is especially true of Erdmann, Mackey, Mosher and Salazar-Thompson, who almost have you believe you're watching a far more sizable cast.
Some of the supporting characters make a lasting impression – for example, Mackey's Inspector Giraud. Almost as eccentric as Poirot, he loudly tells the detective "I am delighted to have you as a rival!"
Exactly as he should, Mackey broadly overplays Giraud's ego and self-confidence, and his heavy Gallic accent, for maximum comedic effect, creating one of the evening's most enjoyable characterizations.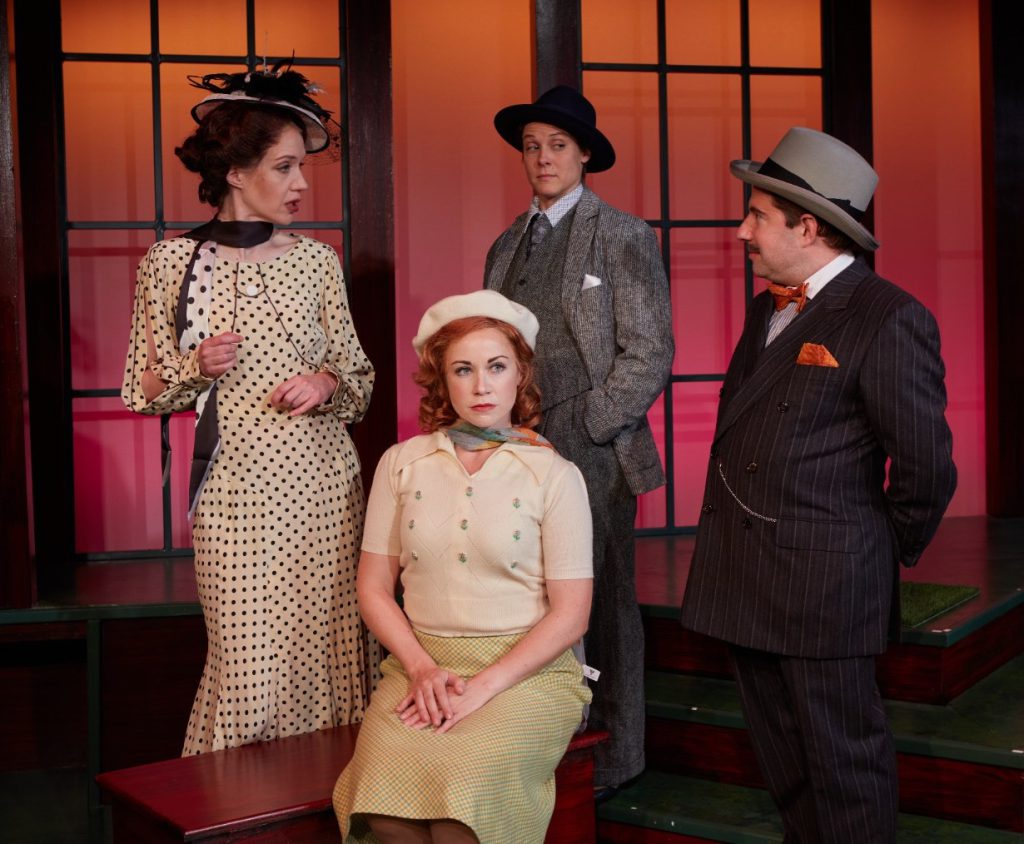 Mosher is just as watchable, keeping Poirot and Hastings (and us) guessing, second-guessing and doubting while following the trails of British mystery woman Dulcie Duveen and her sister Bella. Mosher also scores as the lachrymose French maid Leonie, always on the verge of bursting into tears.
"Murder on the Links" is as devilishly clever and intricate as any of Agatha Christie's celebrated mysteries. In fact, with its multiplicity of characters, plot twists and clues, it might even be a few shades too intricate to follow.
If that's the case, you can always sit back and simply enjoy the polished professionalism of Laguna's production. Elisa Benzoni's costumes are crisp, eye-catching and visually appealing, and Marty Burnett's abstract scenic design is all-purpose, serving as whatever is needed for each scene. It all amounts to an audacious theatrical stunt and a delicious theatrical confection.
Moulton Theatre, Laguna Playhouse, 606 Laguna Canyon Drive, Laguna Beach. Through June 18. Running time: Two hours (including intermission). Tickets: $56 to $81. Ticket purchase/information: 949-497-2787, www.lagunaplayhouse.org.