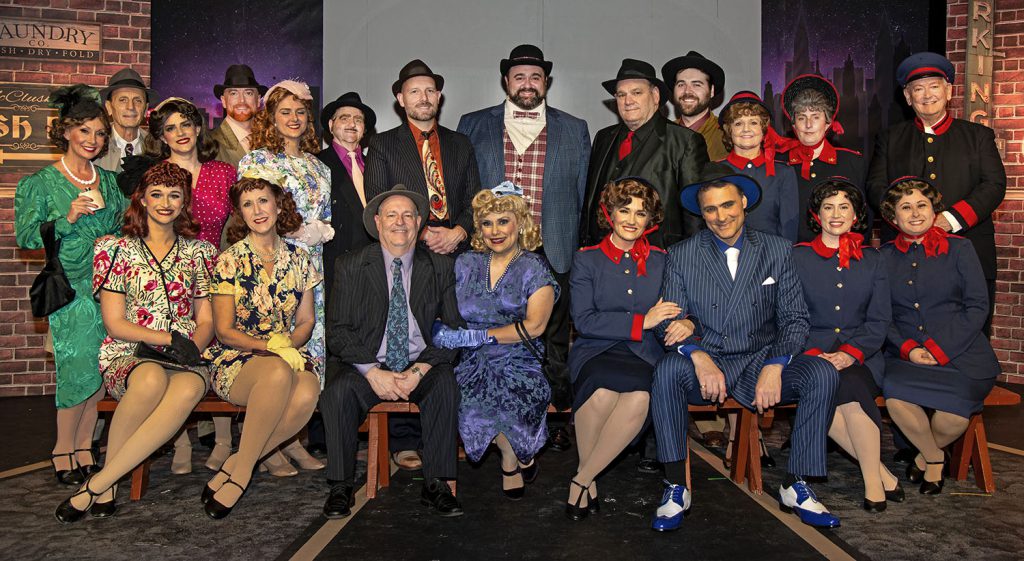 By Eric Marchese | Special to the NB Indy
If you've ever seen "Guys and Dolls," you'll note that its characters speak in a distinctive style best known as Runyon-ese. The short stories of Damon Runyon were populated with colorful figures bearing memorable monikers whose florid speech was a hoot.
As that one-of-a-kind Runyon flavor permeates the 1950 Broadway musical, productions of it tend toward the exaggeratedly comical. Every line and syllable of Abe Burrows and Jo Swerling's book and Frank Loesser's lyrics is punched up to drive home the laughs.
At Newport Theatre Arts Center, director Holly Jones and company take an approach that diverges from the typical staging: They play the assortment of gamblers, showgirls, small-time racketeers and cops as real people.
No overemphasizing each characters' peculiar, singular way of mangling the English language and no hammering us over the head in an attempt to evoke laughs.
And guess what? It works like a charm. The laughs are still there, and in force. You can't help but laugh at the dialogue and chuckle over the lyrics – but Jones and her cast make Nathan Detroit, Miss Adelaide, Benny Southstreet and others believable.
Since this collection of eccentrics doesn't seem so farfetched, we're even more inclined to laugh. Style takes a back seat to substance, and that opens things up. We laugh, but the considerable amount of heart embodied in the story and its characters is brought to the fore.
Two desperate individuals are the focus: The Salvation Army's Sister Sarah Brown (Michelle de la Peña) and Nathan Detroit (Bob Fetes) who, since time immemorial, has run the city's "oldest established permanent floating crap game."
Sister Sarah tries, in vain, to attract the neighborhood's profusion of sinners to the Save-A-Soul Mission. Nathan, meantime, is desperate to land a spot for his latest floating craps game.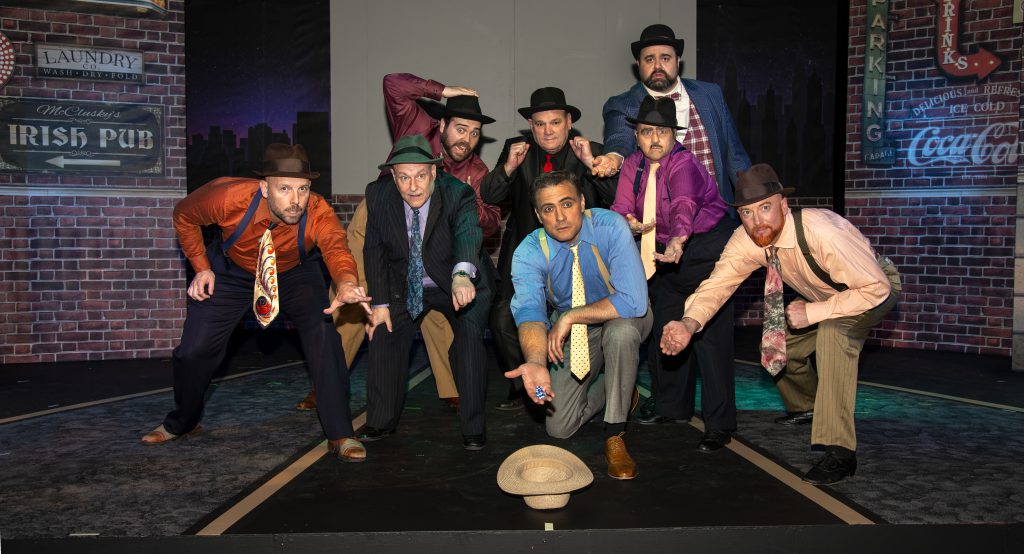 Nathan is also bent upon getting fabled high-roller Sky Masterson (Tom Proprofsky) into bankrolling the cost of the game's overhead, which is all the more difficult now that the heat is on – namely, the unwanted law enforcement scrutiny of Lt. Brannigan (Ian MacGregor).
Sky, trying to win a bet with Nathan, gives Sister Sarah his marker (IOU) good for one-dozen sinners – but she won't have anything to do with him. Any guy who gambles for a living lacks substance, and she wouldn't dream of having "a fly-by-night Broadway romance" with him.
As the gambler and the lady have so little in common, it's to Sky's surprise that he's genuinely attracted to her, which considerably raises the stakes of his pursuit of her. The unlikely romance that blooms between them is therefore genuinely sweet.
Fetes' Nathan is a slick little schnook we, like Miss Adelaide, find lovable even despite his obvious flaws. His determination to retain his bachelorhood even while engaged generates laughs, as does his desperation to perpetuate the game.
NTAC's staging shows, through Fetes and Liza A. Rios, that their two characters' mutual love is genuine. Rios's put-upon Miss Adelaide, a fool for love who enables Nathan's evasive personality, has our sympathies. In singing the delightful "Adelaide's Lament," Rios is quietly sensational, and in this song and throughout her performance, she smartly avoids overdoing Adelaide's nagging of her longtime fiancé.
The comedic contrast between Nathan and Sky is marked: Proprofsky's Sky exudes low-key self-confidence, with just enough substance beneath the roguish façade – an earnest antihero. By contrast, Fetes' Nathan is fidgety, nervous and insecure.
Proprofsky creates an arc in Sky's personality shift as the gambler is emotionally turned inside-out, unsure how to deal with the confusion caused by true love.
De la Peña's "I'll Know" displays the ardent emotions Sarah feels when putting into song the sterling qualities of whatever guy will win – and deserve – her romantic attention. After Sky has whisked Sarah away to Havana for dinner, de la Peña glows as her character learns to relax and, for the first time in her life, enjoy herself.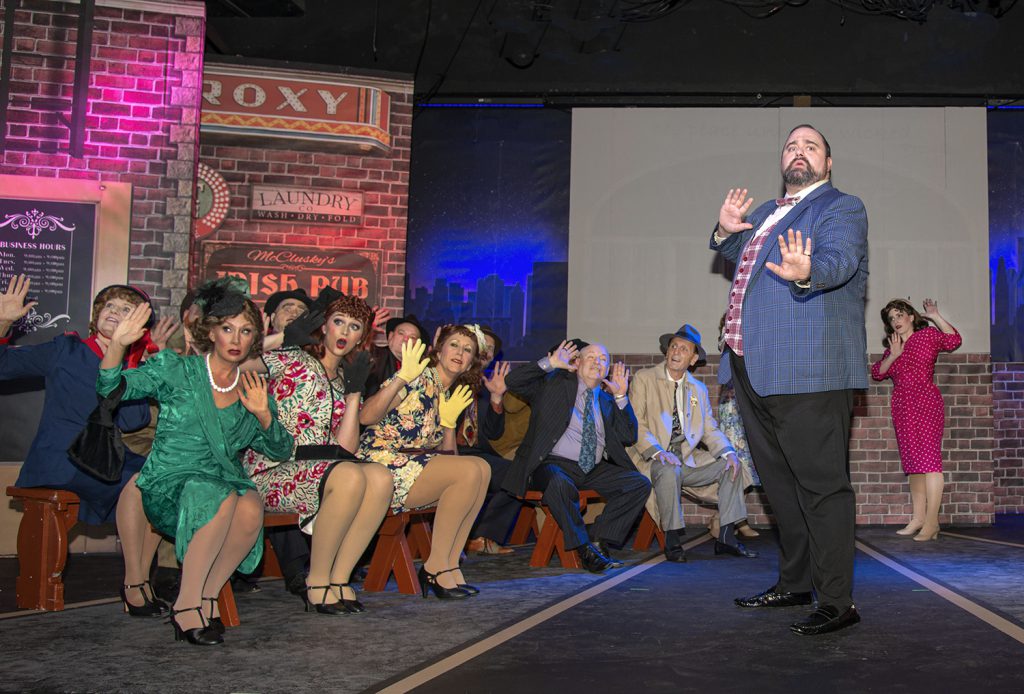 All four leads – Fetes, Rios, Proprofsky and de la Peña – make their roles their own. Each could have mimicked others who've filled these roles, or exaggerated their Runyon-style New Yorkese, pressing for comedic effect. They do neither, and to great success.
Terry Vickrey's gravel-voiced Big Jule is a dour, sour galoot, and when it comes to dice, not just a bad sport but an outright cheat, and each ensemble member nicely (heh-heh) underplays their roles, resisting the temptation to ham it up.
Like most Golden Age musicals, the show is rife with great songs. Showcasing Proprofsky (backed by most of the cast's guys) is "Luck Be a Lady," a truly great number and a musical theater classic.
The show's musical peak is the showstopping number "Sit Down, You're Rockin' the Boat." Daniel Berlin's Nicely Nicely Johnson is its focal point, but the famed song features nearly the entire company – and all 17 performers make this socko number soar.
Jennifer D'Onofrio's music direction and Jackie Melbon's choreography yield outstanding vocals and dance work from the entire cast, and thanks to their work and Joshua Serrano's lighting and sound design, NTAC's show looks and sounds first-rate.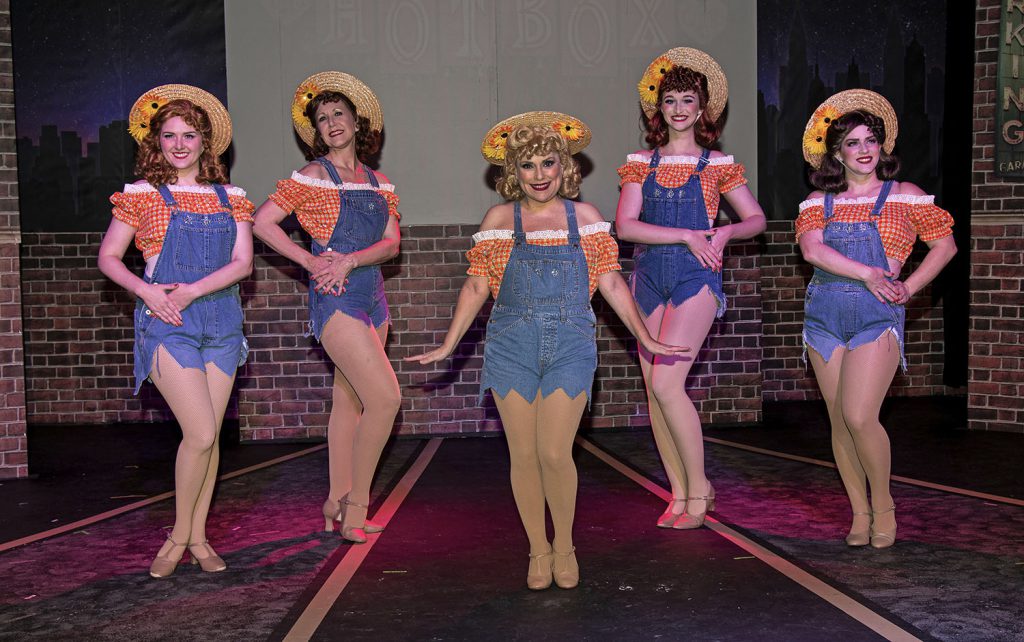 Through Jenny Wentworth's costumes, complemented by Cliff Senior's wigs, the gamblers look like two-bit sharpies, while the Salvation Army personnel are all starch and ecumenical business.
Jim Huffman's set design depicts the play's world via doorways, windows and Broadway and Times Square signage affixed to brick surfaces. Whenever we're inside the Save-A-Soul Mission, its overhead sign is seen in reverse, an example of Huffman's attention to detail.
Thanks to Burrows and Swerling's book and Loesser's music and lyrics, "Guys and Dolls" contains considerable heart, and its humor is anything but superficial. NTAC last served up a production of this classic 17 years ago, which means it's about time you drop by and see a new staging so undeniably unaffected and enjoyable.
Newport Theatre Arts Center, 2501 Cliff Drive, Newport Beach. Through June 25. Running time (including intermission): Two hours, 40 minutes. 8 p.m. Thu.-Sat., 2 p.m. Sun. Tickets: $25-$30. Ticket purchase/information: 949-631-0288, www.ntaconline.com.