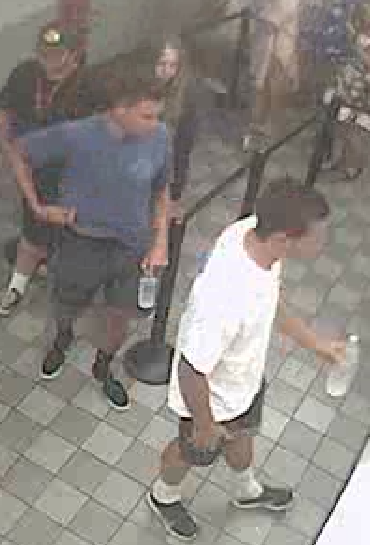 Police are interviewing four suspects related to a leaf blower disturbance at a Newport Beach theater.
The group is suspected to involved with an incident over the weekend at Edwards Big Newport 6 movie theater where a group of people entered a theater screening the psychological thriller "The Gift," held up loud machines, later determined to be leaf blowers, and yelled, causing a disturbance.
"All subjects have been identified and are cooperating fully with detectives," wrote Newport Beach Police Department spokeswoman Jennifer Manzella.
Three of the suspects have been described as young men, between the ages of 15 to 20. The fourth was a young girl, also between 15 and 20-years-old
The group first started up a leaf blower at an Irvine fast food restaurant on Saturday, according to police.
"There, the subjects activated a leaf-blower and pointed it at people nearby to elicit a reaction," Manzella wrote in a press release.
They were in a silver Ford truck at the establishment around 9:30-10 p.m., about one hour before they entered Edwards Big Newport 6 movie theater.
They then made their way into Newport and at least two or more of the suspects entered Edwards Big Newport 6 movie theater complex in the 300 block of Newport Center Drive.
The suspects had arranged to open the secured emergency exit door at the front of the theater to allow the others to enter with the leaf blowers.
"The suspect yelled, shook the leaf-blower, and revved the leaf blower's engine to create a loud and disturbing noise," Manzella described.
Several seconds later, all of the suspects exited the theater through the same emergency exit door. Theater management was alerted to the activity by the emergency door alarm activation and reports from people who ran from the theater.
Police received several 911 calls of a disturbance at the theater around 10:51 p.m.
The callers described to police that they had entered the theater with some type of loud, handheld machine, later determined to be a leaf-blower.
"Officers immediately responded to the scene and set up a perimeter," Manzella explained. After a thorough check of the theater and surrounding vicinity, it was determined the suspects had fled the area."
Due to the disturbance created by the leaf-blower, patrons inside at the time of the incident rushed out of the theater. Three individuals suffered minor injuries in their haste to exit the theater, Manzella noted.
"Based on the circumstances surrounding this incident, the Newport Beach Police Department believes that the suspects entered the theater with the intention of scaring movie-goers," Manzella said.
It is an on-going investigation.
Police are asking anyone with information regarding this incident is asked to contact Detective Joshua Vincelet at (949) 644-3779 or [email protected] Tips may also be left anonymously on the Newport Beach Police Department's tip hotline at 1-800-550-NBPD.