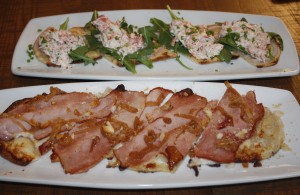 By Christopher Trela & Catherine Del Casale | NB Indy
Roasted wild halibut. Fire-grilled rib eye steak. Lobster flatbread.
Welcome to the new California Pizza Kitchen.
Yes, we're fans of CPK—Catherine loves their pizza, while Christopher prefers the pasta dishes. However, the company recently launched its Next Chapter" program with a makeover of the Fashion Island restaurant and the addition of new menu items (don't worry, all the old favorites are still on the menu, including the signature BBQ chicken pizza, which CPK originated).
The changes are coming to all the restaurant's locations (more than 200) by the end of next year, but Newport Beach is one of the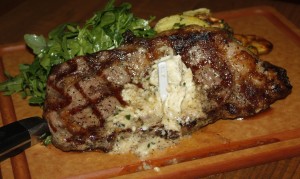 first to make the transition, which seems fitting since it was CPK's seventh location (it opened more than 25 years ago).
"Our new environment has been welcoming Newport Beach patrons with a relaxed, upscale feel and many natural elements," said General Manager Roger Ruiz in a press release.
Those elements include sustainable materials, warm rustic décor features with oak floors, tabletops and chairs from reclaimed wood, and stone countertops. Fabrics used for seating are from recycled materials. The artwork that hangs on the walls highlights local landmarks.
We learned that the makeover took three weeks and was done while the restaurant was open for business, an impressive feat considering the changes.
The new menu items are also an impressive feat.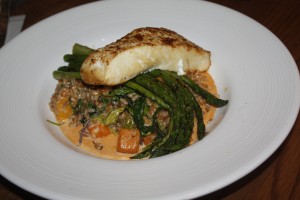 We started with cocktails. Christopher made an executive decision and ordered the Executive Decision: Casamigos tequila blanco, muddled mint, fresh agave sour, Monin orange agave nectar, and fresh lime. It's reportedly what the CPK CEO drinks on his yacht. Catherine kept it simple and ordered the seasonal strawberry mojito. Both drinks were excellent.
We ordered lobster flatbread, another seasonal menu item, and the new smoked ham and Swiss flatbread ($8.29). We also sampled the baked potato soup with applewood smoked bacon, and the farmers market soup ($4.99 to $6.99).
For entrees, we tried the two new dishes: hearth-roasted halibut with grilled asparagus, butternut squash farro, and baby kale ($23.79); and fire-grilled ribeye with blue cheese butter, housemade Pinot Noir sea salt, fingerling potatoes, and wild arugula salad. ($25.99).
We devoured the flatbreads, and dug into the hearty soups.
"I am a fan of this potato soup," said Catherine. "It can't be good for you, but it's really good."
"This halibut dish is something I would not normally think to order at CPK, but it's perfectly grilled, the asparagus is done to a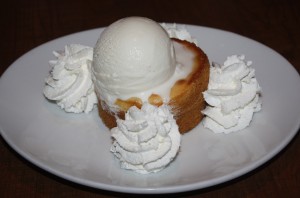 nice al dente, and the farro is a nice touch that holds it all together," said Christopher.
"Yes, I recommend having all those ingredients in one bite," said Catherine after trying the dish.
"Just for the halibut?" joked Christopher.
Catherine stared at him, then continued, "That way you get all the flavors and can see how the dish works perfectly. I really like the rib eye. Normally I don't like blue cheese, but the ribeye has so much flavor, and the butter levels out the blue cheese, so it all combines into a nice blue cheese flavor that's not overpowering."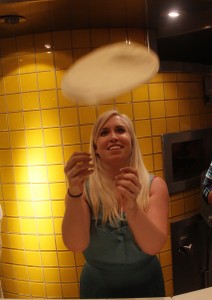 The restaurant was out of strawberry shortcake (a popular summertime dessert), so we opted for the butter cake with house made whipped cream ($6.79), which Catherine dubbed "not too sweet but still sweet."
After dinner, Catherine was asked if she wanted to go in the kitchen and learn how to toss pizza dough (the GM told us they often do that on weekends for kids birthday parties and other special occasions). Of course she said yes, and not surprisingly, she passed with flying colors—make that flying dough.
For more information, visit CPK.com.