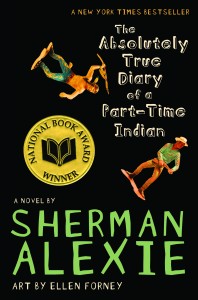 Literature: black letters on a white page that come together to create words, representing thoughts, fully formed in their author's mind, and sharing them with all who would read the page.
These words find their way into a collection of new minds, which welcome them, deciphering their own meaning from these clusters of letters, thus inspiring new thoughts, and giving life to the words in ways the author often never dreamed of.
If we are lucky, we will be touched at least once in our lives by the words of another that will inspire us to do, be, or strive for something better than we previously were.
Often, authors of note are asked which of their fellow writers inspired them to find their own literary voice. While most can easily name the authors and books that spoke to them, few can pinpoint the exact line that set them on their journey with words.
Acclaimed author, Sherman Alexie, the next speaker set to appear as a guest of the Newport Beach Public Library's Witte Lecture Series March 11 and 12, however, can do just that.
Alexie, a Native American writer and Spokane/Coeur d'Alene tribal member, grew up on the Spokane Indian Reservation. Born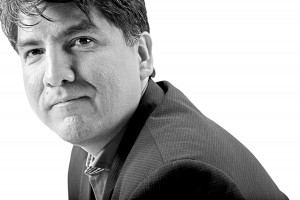 with hydrocephalus, he underwent brain surgery at just six months old, and was not expected to survive. While he made it through the surgery, he suffered from frequent seizures, which kept him from participating in the activities most of the other reservation kids did. As a result, he spent much of his youth reading, and made the decision to leave the reservation for high school (some 20 miles away), where he has said the only other Native American was the school's mascot.
Subsequent to high school, he went on to attend Gonzaga University, where he struggled to find his academic path, and began to abuse alcohol.
Alexie finally found his place after leaving Gonzaga to attend WSU, when the teacher of a poetry workshop gave him an anthology of contemporary Native poetry, titled "Songs From This Earth on Turtle's Back."
Included was a poem by Adrian C. Louis which offered this line: "Oh, Uncle Adrian, I'm in the reservation of my mind."
In an interview with the Atlantic, Alexie recounted, "The line captured that sense of being tribal, being from a reservation—and the fact that you could never leave. I was the first person in my family ever to go to college, leaving the reservation, leaving my tribe, feeling excited about going but also feeling like I'd betrayed the tribe. And knowing that no matter where I ended up, or what I did, I would always be there. Some large part of me would always be there, on the reservation."
"I had never intellectualized this feeling that I'd had my entire life. And then, to hear the thing aloud. To see it in print…an intellectual and emotional awakening were fused in this one line…Immediately, I started writing poems. The poems I wrote were about things that actually happened. I didn't think an Indian's life was important enough to write about until Louis gave me permission to do it."
Since first publishing his poetry – a success that inspired his sobriety, Alexie has gone on to become a preeminent voice in literature, writing about the Native American experience.
He has been awarded the PEN/Faulkner Award for Fiction, the PEN/Malamud Award for Short Fiction, a PEN/Hemingway Citation for Best First Fiction, and his semi-autobiographical Young Adult novel, "The Absolutely True Diary of a Part-Time Indian," was the winner of the National Book Award.
Later this year, he will release his first children's book, "Thunder Boy, Jr."
Sharing his lecture, "Without Reservations: An Urban Indian's Comic, Poetic, & Highly Irreverent Look at the World," Alexie will appear at the Central Library on both Friday, March 11 and Saturday, March 12. Tickets are $50 for Friday's event, or $35 for Saturday afternoon.  As always, there is a $5 discount for NBPL Foundation members.
For more information on the event, or to purchase tickets, please visit nbplfoundation.org.
Edie Crabtree is an avid reader and the mother of three active boys. She can be reached at [email protected].