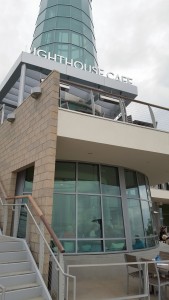 By Christopher Trela & Catherine Del Casale | NB Indy
 The long-awaited Marina Park opened at the end of 2015, and with it came the new Lighthouse Café, the latest project from restaurateur Doug Cavanaugh, the man behind Ruby's Diner.
Cavanaugh opened the original Ruby's more than three decades ago on the Balboa Pier, so it's fitting that Lighthouse Café is not far from that spot.
However, Lighthouse is light years away from the Ruby's menu, and concept. Open for breakfast, lunch and dinner, Lighthouse – which has an indoor dining area with floor to ceiling windows that offer a view of Newport Harbor along with a wrap-around dog-friendly patio – owes more to Cavanaugh's other concept, Beachcomber Café.
The menu at Lighthouse is chef-driven courtesy of Chef Ryan Sumner, who spent five years at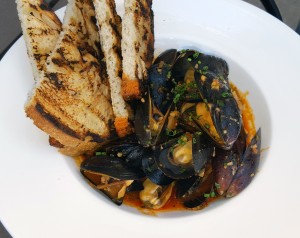 Beachcomber before coming to Lighthouse.
"I'm trying to keep it light and fresh, and have something for everyone," Chef Ryan told us when we had lunch there this week, our well-behaved dogs sitting next to us. "I'm being creative, molding the menu to see what suits the area best."
Based on our experience, Chef Ryan is an expert menu molder.
We started with ginger agave soda and honey lemonade—perfect palate pleasers for the warm afternoon.
To get an idea of the variety of dishes on the menu, Chef Ryan brought out two signature appetizer dishes: mini ahi tuna wonton tostadas ($13.95) and beer infused mussels with grilled toast ($11.95).
The tostadas were simple yet perfectly executed and bursting with flavor, which we discovered was a common theme at Lighthouse—keep it simple, keep it light, keep it flavorful. It also kept us smiling.
Next, Chef brought Chinese chicken salad ($13.95), Lighthouse burger ($12.95) and grilled albacore sandwich ($16.95). The burger and sandwich both came with a generous order of fries.
"I love everything we've tried, but my favorite is the albacore sandwich," said Catherine. "It has a nice sized piece of albacore with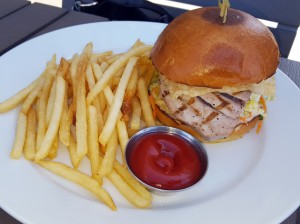 Napa cabbage slaw, avocado, sweet chili mayo and a wanton crisp. I loved the texture complexity of the crisp and smooth. It also felt filling without being overwhelming, which leaves you room for dessert."
"I agree, all the dishes are ones I'd order again," said Christopher as he took another bite of the burger, which featured a gourmet beef blend and a brioche bun, and snuck a piece of chicken to his dog, Spencer.
For the grand finale, Chef Ryan brought out beignets for dessert, which were light and airy with a distinct cinnamon flavor.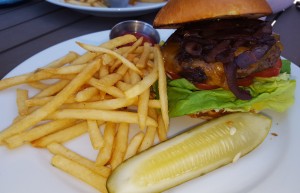 We learned that in addition to a walk up window, Lighthouse offers catering to Duffy boats and other watercraft. Because of the public dock space adjacent to the café, boaters can cruise to Lighthouse, dock, dine and continue their cruise, or call ahead and order a food to go.
"I loved this location," enthused Catherine as we left Lighthouse, dogs in tow. "The view of the water is beautiful, and you're tucked away from the sun beating down on you but you are able to enjoy the warmth of the day. The dog-friendly patio is a great place to stop before or after a walk through the park."
"I agree—and we need to come back soon for breakfast, and brunch, and dinner," added Christopher. "This is a hidden gem that's not going to stay hidden much longer."
For more information, visit Lighthousenb.com.