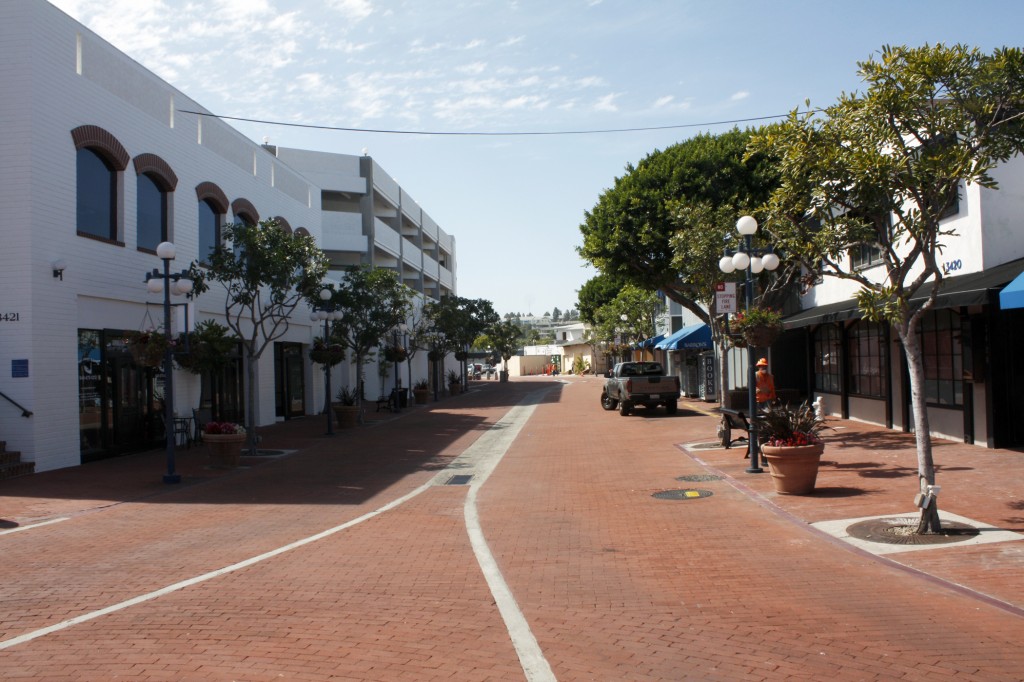 Red Skelton had an art gallery there. Nearby was a shop that sold hologram objects. Next door was The Warehouse Restaurant, as famous for its food as for its nightlife. Across the cobblestone drive, renowned magicians plied their craft at the exclusive Magic Island club (similar to Hollywood's Magic Castle).
Opened in the early 1970s, Lido Marina Village had all that and more, but the once-charming and popular seaside destination that drew locals and visitors to the shops and restaurants gradually lost much of its charm, perhaps falling prey to competing retail malls and changing tastes.
Occupancy has fallen below 30 percent, and one of the few remaining and familiar fixtures is Lido Books, which sits amid empty storefronts.
However, Lido Marina Village is getting a new lease on life thanks to DJM Capital Partners, which purchased the Newport Beach landmark in 2012 with the goal of restoring the property to its former glory.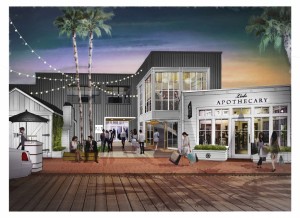 The facelift began this spring and will continue through 2016. The project will be completed in phases, with the first phase ready to be unveiled in the second half of 2015.
A mix of tenants are anticipated, including what DJM Capital is calling "a modern mix of casual-lux eateries, boutiques and shops not currently over-exposed in Orange County."
DJM has had success with a variety of retail projects, including the Bella Terra retail and residential center in Huntington Beach, but the Lido Marina Village project presents a unique set of challenges.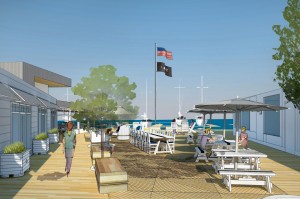 "As a developer, we are known for our attractions to projects that are challenging—financially challenging, undercapitalized, complex deals that are not necessarily the type of thing a developer would jump head first into, but we embrace these challenges and we saw this as an opportunity," said Linda Berman, Senior Vice President, Strategy and Communications Executive Project Director for DJM Capital.
"One of the things we look at as a company is that we monitor the mood as well as the marketplace," explained Berman. "We look at how consumers are thinking and how priorities are shifting, how the retail world is undergoing tremendous change. What does luxury look like today, what are the most precious commodities? We look at those things and how that impacts our opportunities and tenants. One of the trends I have been watching is that people are shopping local, and that smaller is better than larger. We love things that are curated and edited for us, so a project of this size is interesting, even though it breaks all the retail rules—it's not a modern development with traditional footprints. We saw this as an opportunity to create someplace that was a place, that families might want to come to, and that reflects the DNA of the community."
The Lido Marina Village revitalization comes on the heels of West Marine opening its flagship store down the street, and the announcement of a hotel to be erected on the old City Hall site.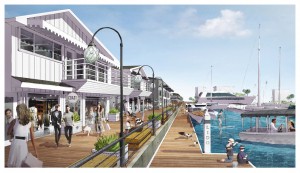 "When we started looking at this property, there was not as much going on, but the timing seems right—it seems like this is the next area for something to happen in Newport Beach," observed Berman. "Locals consider this their own place, so they're excited. Lido Island residents are discerning and demand that we get it right, they are ready to embrace it and hopeful for our success. We weren't really looking to create a tourist destination, our idea is that if we get it right for locals, we'll probably get it right for everyone else."
And getting it right means carefully refreshing and remodeling the buildings while retaining the classic feel of Lido Marina Village.
"Everything is custom," noted Ron Lorntzen, construction manager for DJM Capital Partners. "You can't go to one building and do the next one the same. It's not cookie cutter. We're assessing what we have and making the best of what is here. If you look up and down the coast, people are copying what we have. If we can utilize what is already here and say this is really cool, and make it more desirable, that's our goal."
Berman said they are developing what she calls "an experience palette" for the area that will make Lido Marina Village a gathering spot.
"If we get it right, if we build something that has a sense of place and is welcoming, and you can go there with your dog in the morning and have a cup of coffee and read the paper, someplace that's kid friendly and yet in the evening you can have a romantic dinner overlooking the marina, then you've done something right," said Berman.
Planned amenities include a valet stand, outdoor fireplace, a main deck with communal picnic tables, festive lighting, a boat pond where kids can pilot model boats, and everything from casual eateries to upscale
restaurants.
Experiential elements might include cooking demos, book signings, and similar immersive experiences.
The traffic circle near the entrance to Lido Marina Village will be removed. Curbs will be added along the bricked road for increased parking. Extensive landscaping is being added by Roger's Gardens.
"This is a very sophisticated market," said Berman. "You have to listen and understand the lifestyle. You can't have stores that duplicate what's already offered, or you can be really different but not right for the way people are living here. Newport Beach is a unique kind of place, especially Lido. To be successful we don't need people to come from far away, that's not our business model."
Berman said the city has given their blessing to the project, and DJM has held community meetings for residents that explain the project. Those meetings have been very positive, said Berman.
"That's our intent—to really build a local place," she emphasized. "We want to get it right for locals."