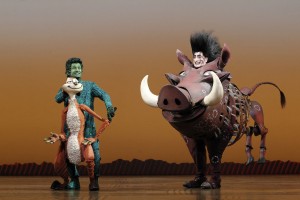 "Lion King" Roars Into Segerstrom Center
"The Lion King" has returned to Segerstrom Center through November 1, and with it an impressive pedigree. The North American touring productions of "The Lion King" have been seen by more than 15 million people and grossed over $1 billion.
Since the show premiered on Broadway in 1997 (winning six Tony Awards including Best Musical), 22 global productions have been seen by more than 80 million people.
Keeping those productions up and running is the job of technical director David Benken, who has been with the show since its premiere.
"My job was to work with the designer and producers to bring the design within the limits of the budget, and with touring show we had to come up with ways to tour and not lose the artistic elements," explained Benken during a phone interview. "The challenge with 'Lion King' is to give everyone in the country the same experience they had on Broadway."
To do that, Benken flies around the country to visit theaters and access how best to stage the show in that theater. The
show requires 50 to 60 tons of grids and scenic elements, which he said is not an issue at Segerstrom Center.
However, the front-of-house needs are special, he noted. To get actors from the back of the theater to the front, they have to create dressing rooms near the lobby.
There is a grand entrance that requires actors to enter the theater down a center or side aisles. Anyone who has been to Segerstrom Center knows there are no aisles in the orchestra section—until now.
"We have to create those aisles" by removing seats, said Benken. "It's always hard to do for the first time. You have to arrange for carpeting, lighting."
The show itself is so big that there are actually two separate sets of semi-trucks with costumes and sets that leapfrog from city to city, which makes the load-in at each city easier.
When asked if he thought the show would remain as popular as it has, he replied "We all realized it pretty early that we had something special. The first audience went crazy, it was one of the best audience reactions. The show appeals to such a wide group of people, and now people who saw the show as a child are bringing their children to see the show.
For tickets to "The Lion King," call (714) 556-2787 or visit SCFTA.org.
"Getting My Act Together" in Laguna Beach
The memorably-named musical "I'm Getting My Act Together and Taking It on the Road" premiered Off-Broadway in 1978, and became an instant classic.
With music by Nancy Ford and lyrics by Gretchen Cryer (who also starred in the initial production), this one-act show became known as a "feminist vehicle."
The main character, Heather, is a 39-year-old divorceé who is making a comeback as a pop star and performs new material for her less-than-enthusiastic manager.
Now, nearly four decades after the original show was staged, Cryer has added a second act to the show that picks up 30 years after the first act left off.
The slightly-retitled show, "I'm Still Getting My Act Together and Taking It on the Road," is having its premiere at Laguna Playhouse through November 1.
Cryer is directing the show and starring as the older Heather in act two. Playing her manager in both halves is Rex Smith, who started his career as a teen idol back in the late 70s ("You Take My Breath Away") and then segued into Broadway musicals ("Pirates of Penzance," "Grand Hotel," Scarlet Pimpernel") as well as television and movies.
"I'm in a musical and I'm not singing," stated Smith during a phone interview a few hours before the show's first preview. "Of course, I did find a way to join in on one song."
Smith, who recently celebrated his 60th birthday at Nick's Laguna Beach, noted that in the first act, his character is in his 30s, but ages more than 30 years for act two. He's clearly enjoying the experience.
"The dialogue is crisp and clever and engaging, the show is smart and historic," enthused Smith. "It's not only about the feminist movement, but this show opened the door for so many other ones like this that followed."
"I really hope this production is a launching pad for an Off-Broadway run," he added. "Laguna Playhouse is a great place for this show to be mounted, without the harsh conditions [of a New York production]. It's a comfortable evening, not loud and abrasive, it's engaging, and people in the audience will recognize themselves in the characters."
Tickets are $41 – $66 and can be purchased online at lagunaplayhouse.com or by calling (949) 497-ARTS (2787).