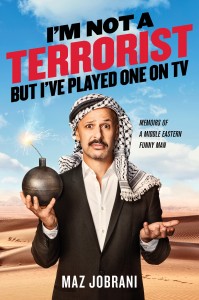 "I'm Not a Terrorist, But I Play One on TV," is the tongue-in-cheek title of comedian, actor, and now author Maz Jobrani's new book, released earlier this year.
Subtitled "Memoirs of a Middle Eastern Funny Man," the book is an at once hilarious and insightful look at what it means to live in a post-9/11 America as a person of middle eastern descent.
Jobrani immigrated to America from Iran at the age of six, during the Iranian revolution. From an early age, he learned about the discrimination that would follow him through life, as he was blamed for things such as the Iran hostage crisis, despite such trivialities as the fact that he was a child who literally lived half a world away.
As he pursued his dream of becoming an actor and comedian, he found that preconceived notions continued to follow him, as the only roles that seemed to be available to him were those in which he had to either wear a turban, or carry a bomb, or sometimes both. According to Jobrani, it led his mother to ask, "Vhy you always terrorist? Vhy you couldn't be doctor?"
Ironically, the lack of diverse roles for people like Jobrani led him to create the work for which he is probably most well-known.
As a founding member of the Axis of Evil Comedy Tour, (named for President George W. Bush's dubbing of Iran, Iraq,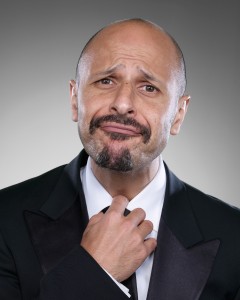 and North Korea as the Axis of Evil,) Jobrani, along with fellow founding comedians, Ahmed Ahmed, Aron Kader, and Dean Obeidallah, all of Middle Eastern heritage, used humor as a tool to combat the discrimination they experienced in the wake of 9/11. Originally aired on Comedy Central, the show spawned a multi-country performance tour that added additional guest comics, and saw the troupe perform for dignitaries including the King of Jordan.
In addition to playing the aforementioned terrorist opposite the likes of Chuck Norris and Jack Bauer ("24"), Jobrani has also appeared in a plethora of guest roles, and shared his comedy on "The Colbert Report," "The Tonight Show," and "The Late, Late Show."
Additionally, he is a regular panelist on NPR's "Wait Wait…Don't Tell Me," has given two TED talks, and co-hosts a weekly podcast titled, "Minivan Men," which humorously chronicles the everyday adventures of the modern husband and father. His independent film, "Jimmy Vestvood:  Amerikan Hero," which he both stars in and co-wrote, debuted last year.
Now, Jobrani brings his hilarious brand of social commentary to Newport Beach, as he visits the Central Library branch as a part of the Library Live series.
Set to appear on Tuesday, Oct. 20, at 7 p.m., Jobrani will be discussing his new book, as well as sharing his comedic insight on our current socio-political environment.
Tickets for the event are $25, or $20 for foundation members, students, or teachers. Doors open at 6:30 p.m. The evening will include a lecture and Q&A at 7 p.m., followed immediately by a coffee reception, as well as book sales and signing.
Reserve seats online at nbplfoundation.org, or by calling (949) 548-2411.
For more information on Jobrani, visit mazjobrani.com.
Edie Crabtree is an avid reader and the mother of three active boys. She can be reached at [email protected].