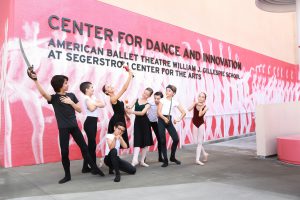 Segerstrom Center for the Arts has announced the casting of 48 young dancers in American Ballet Theatre's production of "The Nutcracker" performed December 14 through 23 in Segerstrom Hall.
Forty students from the American Ballet Theatre William J. Gillespie School at Segerstrom Center, plus eight additional talented young dancers from Orange County, will perform alongside the world renowned ABT company in this classic holiday show.
The opportunity to perform in this production and others in the Center's International Dance Series is one of the special benefits of studying in the ABT Gillespie School. Classes follow the American Ballet Theatre National Training Curriculum, giving young students the finest professional training possible and unparalleled access to renowned dance companies and performing arts experiences.
Among the children in the cast are Juliet Grbacz of Corona del Mar, and Megan Bartz, Matisse Braun, Ava Joseph, Owen McLarand, Alexandra Orradre, Ophelia Owens, Stella Stulik, and Brooke Treska of Newport Beach.
ABT Principal casting includes Hee Seo as Clara, the Princess and Cory Stearns as The Nutcracker Prince, on opening night, December 14. Additional casts include Stella Abrera, Misty Copeland, Sarah Lane, Gillian Murphy, Christine Shevchenko, Aran Bell, Herman Cornejo, Thomas Forster, Blaine Hoven and James Whiteside.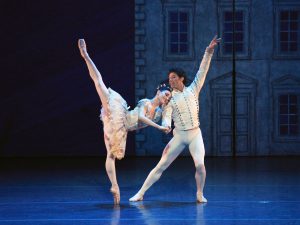 "The Nutcracker" is a beloved holiday story based on "The Nutcracker and the King of Mice" written by E.T.A. Hoffmann and set to a magical score by Peter Ilyitch Tchaikovsky that will be performed live by Pacific Symphony. The ballet is choreographed by ABT Artist in Residence Alexei Ratmansky.
The engagement of "The Nutcracker" continues an on-going relationship between Segerstrom Center and American Ballet Theatre. The Company has appeared many times at the Center since 1987. Important engagements include the world premiere of Mikhail Baryshnikov's "Swan Lake" in 1988, the West Coast premiere of Kevin McKenzie's new production of "The Sleeping Beauty" in 2007 and the world premiere of a new production of "Firebird" by Alexei Ratmansky in 2012.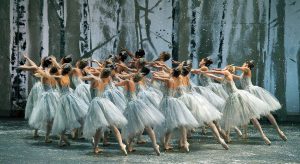 In 1999, ABT's production of "Le Corsaire" was taped in Segerstrom Hall for broadcast on PBS' Dance In America, winning an Emmy Award. In 2003, "The Dream" was also taped at the Center for broadcast on Dance In America.
In 2008, the Center and ABT co-commissioned Twyla Tharp's "Rabbit and Rogue," receiving its world premiere in New York and West Coast premiere at the Center. Two more recent world premieres have also taken place including the 2015 presentation of ABT's new production of "The Sleeping Beauty" as choreographed by Marius Petipa with staging and additional choreography by Alexei Ratmansky, and 2017's Whipped Cream, also by Ratmansky with design and costumes by pop-surrealist Mark Ryden. Additionally, ABT's opulent new production of "Harlequinade," newly choreographed by Ratmansky, will receive its West Coast premiere at the Center January 17 – 20, 2019.
Performances of "The Nutcracker" are Wednesday – Friday at 7 p.m., Saturdays at 2 and 7 p.m., and Sundays at 12:30 and 5:30 p.m.
For tickets, visit SCFTA org or call (714) 556-2787.