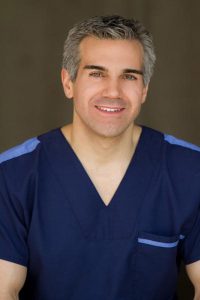 It is said that a doctor who treats himself has a fool for patient.
But not always.
Newport Beach Mohs skin cancer surgeon Adam Rotunda – a physician, scientist-investigator, certified yoga instructor and soon-to-be-president of American Society of Dermatologic Surgery – possessed an almost unworldly amount of energy and drive. 
In a must-have world often defined by the media, Rotunda had everything in abundance, except time to do even more. Something had to give, which just didn't seem to be a part of his DNA's double helix.
Four years ago, in a rare moment of introspection, he recognized the signs of implosion, and smartly self-prescribed a vacation.  
Instead of an entertainment-filled Caribbean cruise, or a "If-It's-Tuesday-It-Must-Be Belgium" tour, or even an enervating cross-country bike excursion that tailor-fit his personality, Rotunda chose the polar opposite: a "10-day silent meditation workshop in Northern California" that was recommended by a physician friend.
"It changed my life," the now calm and centered Rotunda declared.
"I didn't know how to meditate; I couldn't even sit still for five minutes," he recalled, admitting that sitting in monastic-silence for 10 days "was the toughest thing I've ever done. It was boring, not easy to do."  
By the third day, during intense, but peaceful introspection, Rotunda realized that meditation could become the perfect partner to the practice of medicine, not only for himself but for his patients, as well as for others willing to try it. 
Going a step further (with eyes still closed, of course) he began to structure in his mind how to implement this discovery of personal peace. 
Four years later, along with a designer and architect, and with the help of 10 committed meditation guides, he established a meditation studio adjacent to his medical practice.  
The only thing left was to give the studio a name.
Shortly before it opened, Rotunda experienced a Nirvana moment: he'd call his studio "MDitate." His practice, as well as MDitate, both reside at 1100 Quail, in Newport Beach. 
Medicine and meditation—it's  the only such pairing in the country, as far as Rotunda knows.
Empirically convinced of meditation's value, Rotunda was still first and foremost a scientist and physician. He needed to understand why meditation worked so well for him.  
Delving into respected medical resources, he learned that there are more than 4,000 scientific, peer-reviewed studies showing the efficacy of meditation on physical and mental health. Numerous Harvard-led studies examining MRI brain scans show with just eight weeks of meditation, a subject's prefrontal cortex becomes thicker.
The prefrontal cortex is that part of the brain that controls "executive functioning, all the things that our society wants humans to do," Rotunda explained, such as communicating, concentrating, focusing, emoting, decision-making, rationality, and other functions.
"The changes that meditation produces are a result of a process called neuro-plasticity. Anything that engages the brain will help to maintain the brain," he said.
Many of MDitate's students want to know if meditation also improves health.
"I think so," Rotunda opined. "Taking stress out of the mind can only have health benefits. Far reaching and current research worldwide supports that."
Paralegal Alaine Wong, who works upstairs from Rotunda, had been watching studio construction with "minor curiosity, but not enough to come in." That is until she began to have "very serious medical issues, anguish and lots of anxiety."
At 42, Wong was trying to conceive her first child via in vitro fertilization. Desperate "for release from the chaos in my head, even if for a moment," Wong went downstairs to sign up for one week of meditation. Her first class was called "Breathe."
"The release was immediate," she smiled. "I immediately felt like a deep sleep, but awake during the class." 
She has taken six different classes, from Qigong to Focus to Sound Healing, but the deep breathing exercises are her favorite.
"I want a baby so badly, how do you let that go? she asked pensively. "I feel that meditation will help me to stay calm, stay positive, help me to keep the stress out of my life." 
For all its seeming eyes-shut simplicity, meditation is simply complex. Over time, one learns to disconnect all extraneous life-stuff outside of oneself, to focus only on oneself, to embrace what Lau Tzu, a Chinese philosopher (533 BC) called "…the three greatest treasures: simplicity, patience and compassion."
Further, he is quoted as saying, "When I let go of what I am, I become what I might be."   It is the understanding of one's mind, and it can be realized through meditation.  Rotunda certainly discovered this in his 10-day indoctrination. As a result, he practices meditation daily, time permitting, in the a.m. and p.m. for up to an hour each session.   As a result, he spends much more valuable time with his family, is calmer, more patient, more introspective and selective in what he does.
It takes a dedicated practitioner to meditate alone. Rotunda shares that groups "are very supportive," and that meditating alone is best done with an instructor to observe and to improve technique.
There are different methods of meditation, and the 13 types of classes, as well as workshops, offered by Rotunda's teachers are found on the MDitate website: MDitate.com. Intro sessions are free, and can be arranged by calling (949) 396-6908, or by visiting the website. That alone can make you relax.