Read more about NBFD's mutual aid to the fires here.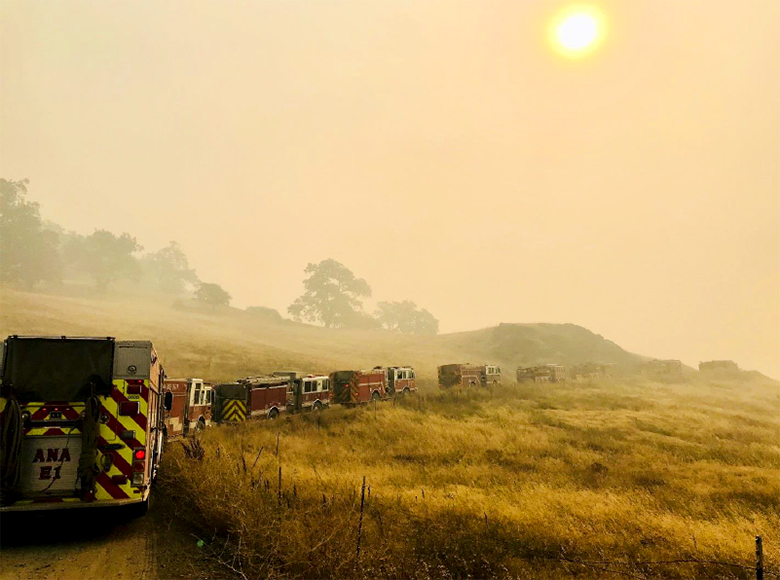 The Newport Beach Fire Department personnel who responded to the wildland fires in northern California are now on their way back home, officials announced in a press release this week.
The 11 NBFD employees and accompanying apparatus started their journey back to Orange County on Wednesday. They had relieved the first Newport team sent north to the Carr Fire in Redding and the Mendocino Complex Fire in late July. A total of 21 Newport Beach firefighters and personnel aided in fighting the dangerous blazes, in coordination with other Orange County agencies.
On July 25, 10 NBFD fire personnel, consisting of two battalion chiefs and two engine companies (NE 62 Lido and NE 63 Fashion Island), were deployed as part of the California Mutual Aid System to assist with firefighting effort on the Cranston fire in Idyllwild in Riverside County. After a few days of fighting the Cranston fire the teams were released and deployed to the Mendocino Complex Fire.
In another part of the state, a NB paramedic headed up to the Carr Fire in Redding in Shasta County to act as a single resource Public Information Officer on July 27.
After two weeks of working on the fires, two busloads of fire personnel, led by the Orange County Fire Authority, were sent to relieve the crews in early August. From Newport, the relief team consisted of 10 fire personnel, including Assistant Fire Chief Jeff Boyles serving as a Strike Team Leader.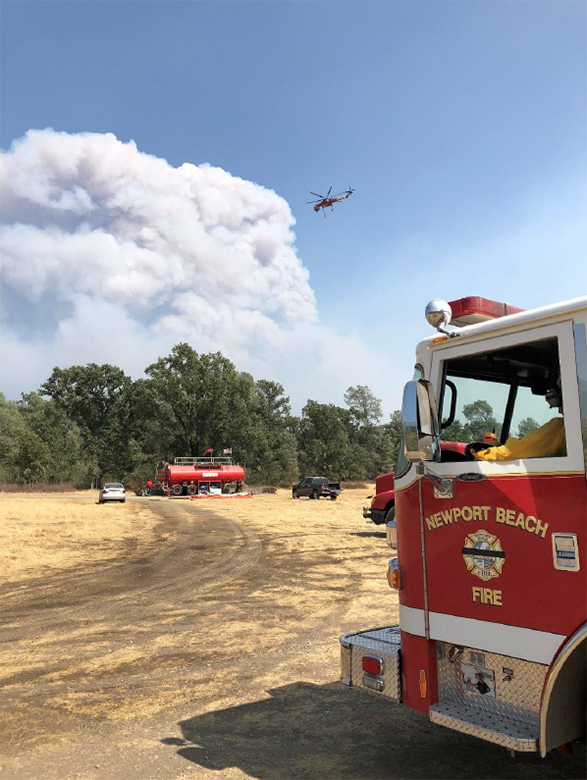 The 14-day rotation is a rule that all OC agencies follow.
Their response was coordinated through the California Mutual Aid system to assist with multiple Incident Command Positions and tasks, NBFD officials explained in the press release this week.
Throughout their deployment, NB fire personnel conducted structure protection, established/maintained control lines, provided media relations, and assisted local citizens with the recovery process, officials explain in the statement.
"The Newport Beach Fire Department is proud of the commitment, hard work, and dedication of the over 14,000 firefighters that are responding to these incidents statewide," the message reads.
The Orange County Metro Cities Strike Team 1422 A included Newport Beach, Huntington Beach, Anaheim, Fullerton, and Orange fire departments.
The Mendocino Complex Fire is the largest in California's history at 415,006 acres burned, as of Thursday evening. The entire blaze, which is made up of the Ranch and River fires combined, is at 74 percent containment. About 280 structures have been destroyed, 157 of those are homes. There has been one firefighter fatality.
As of Thursday evening, the Carr Fire has burned 229,651 acres and is 93 percent contained. It has destroyed over 1,500 structures, more than 1,000 of those homes. There have been eight reported deaths connected to the fire.