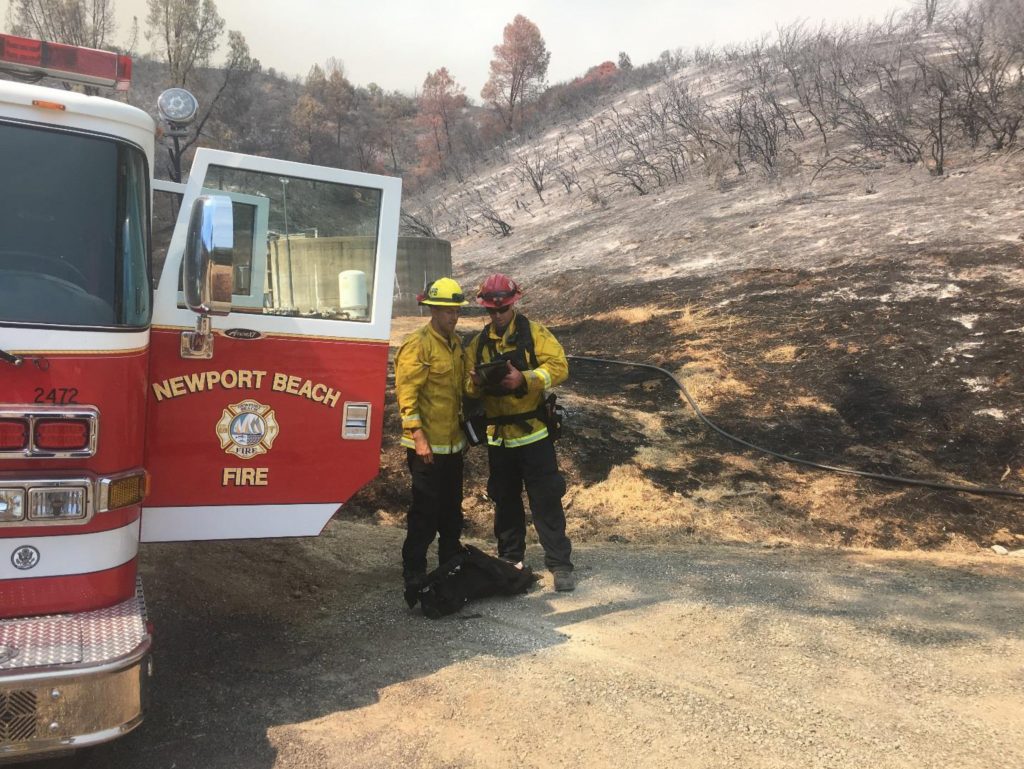 As the state continues to burn with multiple wildfires, Newport Beach Fire Department joined in the fight to extinguish the dangerous blazes.
On July 25, 10 NBFD fire personnel, consisting of two battalion chiefs and two engine companies (NE 62 Lido and NE 63 Fashion Island), were deployed as part of the California Mutual Aid System to assist with firefighting effort on the Cranston fire in Idyllwild in Riverside County. After a few days of fighting the Cranston fire the teams were released and deployed to the Mendocino Complex Fire.
In another part of the state, a NB paramedic headed up to the Carr Fire in Redding in Shasta County to act as a single resource Public Information Officer on July 27.
After two weeks of working on the fires, two busloads of fire personnel, led by the Orange County Fire Authority, were sent to relieve the crews this week. From Newport, the relief team consisted of 10 fire personnel, including Assistant Fire Chief Jeff Boyles serving as a Strike Team Leader.
The 14-day rotation is a rule that all OC agencies follow. In two weeks, if aid is still needed, the latest crew will be relieved.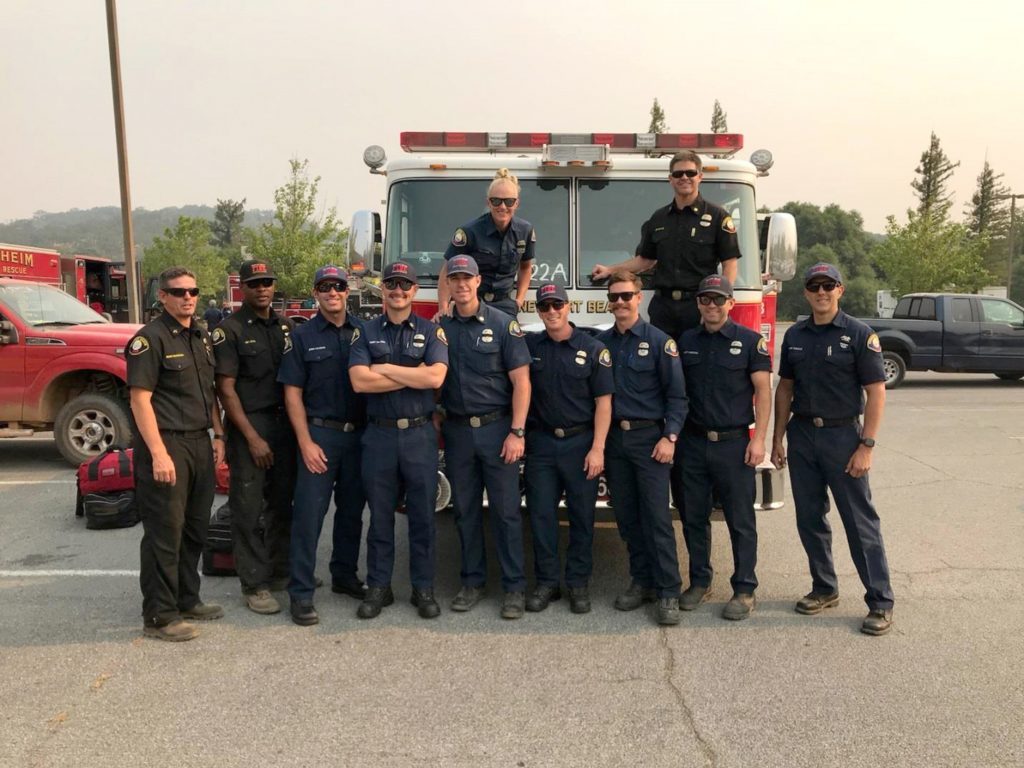 The Mendocino Complex Fire is the largest in California's history at over 304,000 acres burned (as of Thursday morning) with more than 13,000 firefighters responding, including several from the Newport Beach. The entire blaze, which is made up of the Ranch and River fires combined, is at 51 percent containment as of Thursday morning. About 230 structures have been destroyed, 119 of those are homes. There have been two firefighter injuries reported.
As of Thursday morning, the Carr Fire has burned 177,450 acres and is 48 percent contained. It has destroyed over 1,500 structures, more than 1,000 of those homes, and still threatens more than 500 residences. There have been eight reported deaths connected to the fire: Four residents (one of whom is unidentified), a Redding firefighter, a private bulldozer operator, a PG&E worker (related traffic accident), and a Cal Fire heavy equipment mechanic (another related traffic accident).
The Carr Fire quickly caused significant damage, and, in the middle of that, the Mendocino blaze broke out and is now the biggest in the state's history, NBFD Training Battalion Chief Justin Carr said.
"Obviously, both of those fires (Mendocino Complex and Carr) have been devastating for the north," Carr said. "It speaks to the significance of our fire seasons and how they are record breaking."
The severity of this year's fire season is mainly due to the drought and weather patterns, Carr explained. Both those factors dictate vegetation growth.
Combine that with the dryness, the low relative humidity, California has seen recently and that's where these extremely destructive fires start.
"And it's still early in fire season," Carr warned. "There is still a significant fire season ahead of us."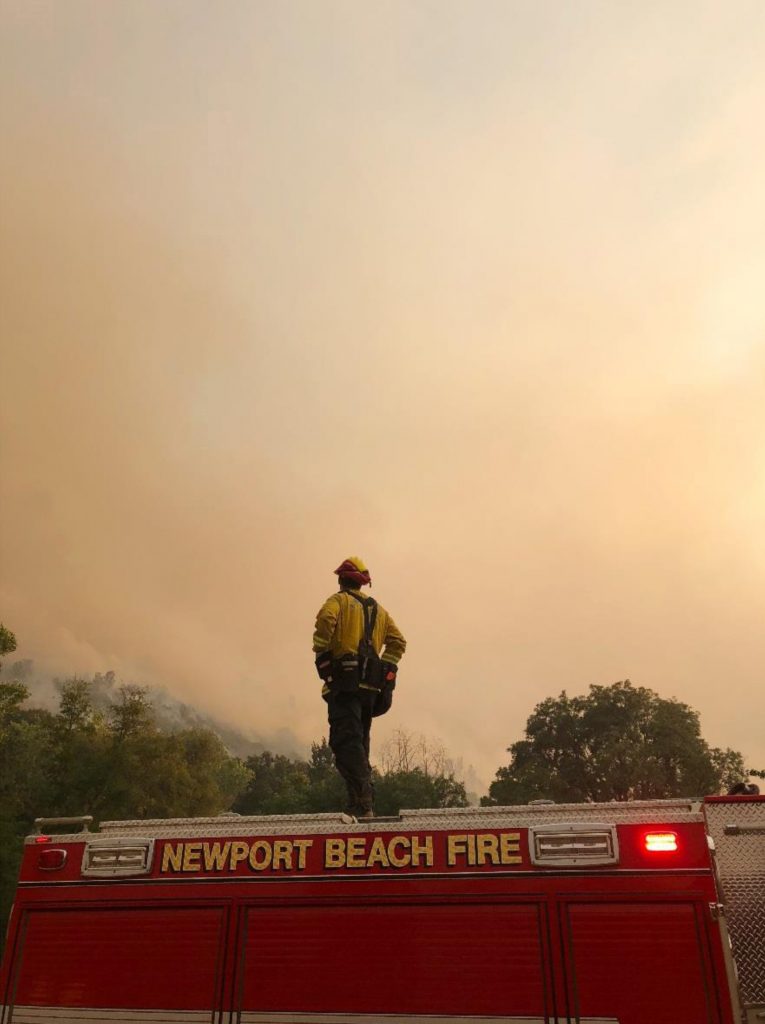 The NB crews up north noted that they felt like the weather has shifted slightly for the better, which will hopefully help them get containment on the fire, Carr said.
In addition to the crews working the frontlines on the fires up north, Newport Beach fire personnel have had to take on more here at home. Deploying the mutual aid crews elsewhere does leave NBFD shorthanded, so firefighters in their hometowns are working long hours to make sure all the bases are covered.
"Every day they aren't here there are holes to fill," Carr said. So, "others are stepping up back home to make sure everyone has coverage… We make sure we have full staffing."
Newport Beach firefighters go through an annual refresher training course every year on wildland fire training. Each year it changes slightly to focus on different parts on wildland firefighting training, Carr explained. This year's session was completed in March.
"So everyone is ready to go when fire season hits," he noted.
They learn how to read the weather, which is a high contributor on how the fire reacts. Many fires are weather driven, he added.
It's important to understand how the wind, heat and relative humidity contribute to the intensity of the fire, Carr said.
Another part of the training is being able to identify the type of terrain and vegetation.
There are different types of fuel beds, he explained: Heavy timber, like the forest; medium fuel beds, like scrub oak and medium height brush; and light vegetation like flashy fuels and weeds.
Knowing about these types of vegetations can help predict where the fire is going and how intense it's going to burn, he said.
As a department in a populated area using a type one fire engine, better to fight structure fires than wildland blazes, when the crews head to assist a wildland event they are typically stationed in areas that need structure defense.
"To best utilize us… they put us in a neighborhood where they think a fire might go and our crew will post at houses along the street," Carr explained.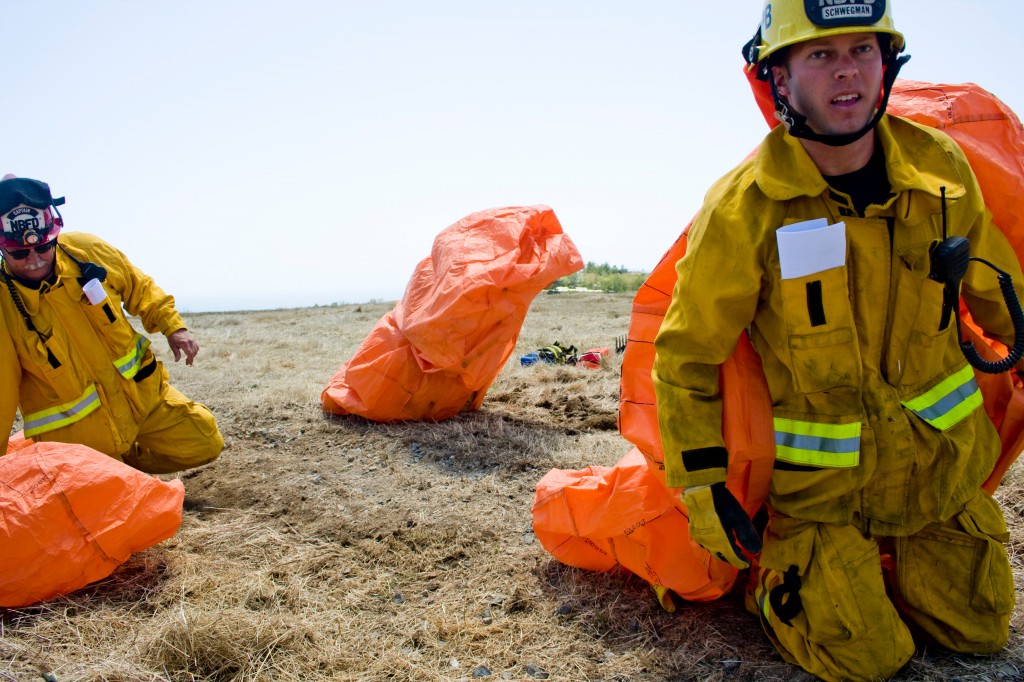 But, they can still fight on the frontline or in whatever area the organizing agency needs, he added.
The last area they train in for wildland fire exercise is shelter deployment. Every firefighter carries a lightweight, fire-resistant shelter, made of a foil-like material with a fire-resistant outside and a protective interior.
They don't want to have to deploy the emergency shelter, and, ideally, they can get out of the situation without having to open it up, but it's there as a "just in case," last-ditch effort.
"It's a worst-case scenario… if you are going to be overrun by fire, you get on the ground and deploy the shelter," Carr said.
The Newport Beach Fire Department encourages all Orange County and Newport Beach residents to enroll in Alert OC at alertoc.com to receive emergency notifications via phone, email and text.
For more information, visit fire.ca.gov and newportbeachca.gov/government/departments/fire-department