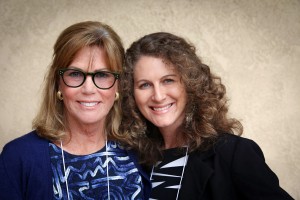 "I had my first stroke when I was 11," stated Michelle Wulfestieg, a Newport Beach resident and executive director of the Southern California Hospice Foundation.
She was diagnosed with a rare vascular brain lesion, known as an Arteriovenous Malformation.
"At the time, it was inoperable, so I went thru radiation but the first treatment paralyzed my right side, so I was suddenly handicapped. I had to write with my left hand, learn how to tie my shoes with one hand—everything you take for granted."
After additional radiation treatments, the doctors said there was nothing more they could do, and another treatment might compromise her already fragile health. Told she would not live past age 30, Wulfestieg decided to live life to the fullest.
She played volleyball with her good hand, was voted homecoming queen, attended college, traveled the world, climbed the Great Wall of China, went on a safari and, at 21, married a man who knew she had a limited life span.
Michelle decided to dedicate her life to serving terminally ill patients and their families, and embarked on a career with Southern California Hospice Foundation.
Then, on January 4, 2008, Michelle suffered a second massive stroke.
"I was 25. I was in a deep coma for eight days," recalled Wulfestieg. "The doctors did not give me much hope. While in the coma, I heard prayers, and was surrounded by light and love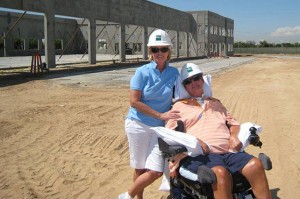 and hope. It was the most precious, beautiful place. I was at peace, but I knew I had to come back."
After eight days, she woke up. The doctors were amazed. She went through rehab and eventually went home to a hospital bed in her living room.
"I was weak and could not count past 10. I had someone come and stay with me. I thought this must be what my hospice patients feel like. I knew I had to get back to work—my purpose is to encourage people facing potential catastrophic illness to be positive. Having a good attitude can really help in the recovery process."
She did eventually return to Southern California Hospice Foundation, and became executive director.
Last year, while speaking at Hoag Hospital, Wulfestieg met Kathi Koll, the widow of former O.C. real estate developer Don Koll (founder of The Koll Company).
Koll had cared for her husband for six years after a stroke left him paralyzed from the neck down.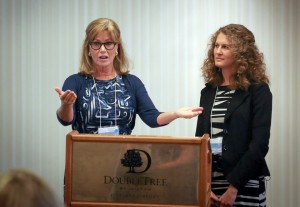 "We got together and compared notes, and found out we had so much in common," said Koll, who lives in Newport Beach. "She shared personal stories, and things she said to me were things I struggled with. We realized we can help people from our experiences—we wished we'd had someone like us to talk to."
Together, they've launched a motivational speaking tour called Live Life After Stroke to tell their stories and help inspire people who are trying to live life again following a stroke (whether the caregiver or the patient).
Their talks cover a range of topics including coping with the continuum of grief, managing the expectations of loved ones, and readjusting to a new life.
So far, they've spoken to several local groups and have upcoming speaking events booked at rotary clubs and hospitals (including Newport Beach Rotary on August 14), as well as healthcare conferences.
May was National Stroke Awareness Month, so the timing on their current endeavors seems perfect.
"Our speaking [engagements] are very motivational. We bring people up," said Koll. "I explain things from a caregiver point of view. I wanted to help him live his life, albeit differently than before. I know my husband loved boating. I was walking around Balboa Island, saw the ferry and realized he could go on that—he'd be back on the water. It's simple things like that you might not normally think of."
"We want people to know whatever the catastrophic event, we want to motivate people and say yes, we had challenging situations in our lives, but also had a fairly normal life in the middle of it," added Koll.
"Kathi and I have been through catastrophic events, we did not know if Don or I would make it," said Wulfestieg. "We're doing good work in the community, helping people by sharing our story. It's life, and it's inspiring."
For more information and a list of upcoming speaking engagements, or to book Koll and Wulfestieg, visit LiveLifeAfterStroke.org.