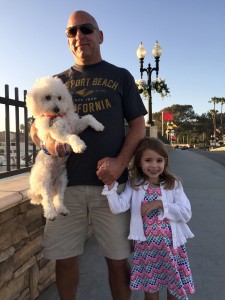 This week we profile four loveable canines and their human companions.
WRIGLEY
You can probably count on one finger the number of dogs walking around Balboa Island that have been named after a baseball stadium.
Meet Wrigley, a one and one-half-year-old MaltiPoo, who has been a Newport Beach resident for the past eight months.
Wrigley is the center of attention for five-year-old Katerina Zynda, posed with her dad, Kevin. The trio recently moved from Irvine.
While Katerina plays with Wrigley during her free time, Kevin is stand-up paddling whenever he can. Unlike other dogs often seen with their owners being "paddleboarded" around the harbor, Wrigley would rather chase his toys on terra firma, according to Kevin.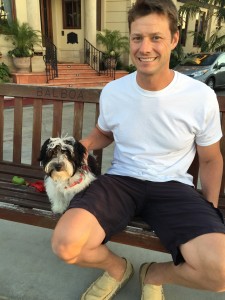 BANDIT
Five-month-old Havanese Bandit has stolen the hearts of the Mears family, and is captured taking a break from his walk with his "dad," Chris Mears, of Balboa Island.  A breed originally from Cuba, this variety of dog "is a great kid dog, a wonderful lap dog" and one that's used in medical therapy because it is hypoallergenic, Mears shared.
Bandit resides on Balboa Island with his best friends, and Chris's sons, Jack Mears, five; and his seven-year-old brother, Finn.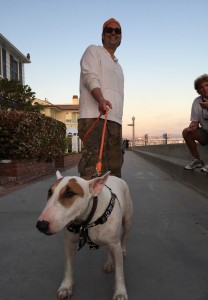 CHUTZPUH
"This dog is a real survivor," Matthew Tacov said of his English Bull Dog, Chutzpuh, who stopped just about every walker who approached him on the Balboa Island promenade. Answering to Chutzy for the past eight years, this passive pup was "rescued from the ghetto of Newark, NJ" just before the two moved to California.  Both Tacov and Chutzy were down from Santa Monica, visiting their good friend, Allison Amato, of Newport Beach.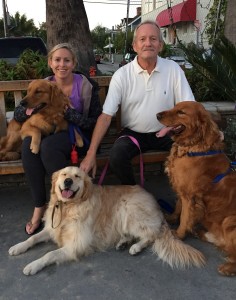 TRIO OF DOGS
Three wasn't a crowd with this "crowd" of just about the friendliest Golden Retrievers anyone could happen upon. From left to right, meet Capt. Kirk, eight months old; Indiana Jones, six; and Tiger Lilly, three. Responsible for their impeccable beachside manners are Danielle and Richard Mayer. The canine troika plus two walk Balboa Island five days a week – and this has proved to be the ideal tension reducer from Danielle's hectic days as a recently graduated lawyer from Loyola Law School who's now practicing with the Newport Beach law firm of Robinson, Calcagnie, Robinson, Shapiro and Davis in Fashion Island. The dogs have their own practice: tangling the leashes as they weave and pull the Mayers around the island.
Do you have a loveable dog that's barking to be profiled? Contact the writer at [email protected]