A procession and memorial service honoring two of the firefighters who died in the Arizona wildfire will be held in Costa Mesa and Newport Beach Saturday.
Grant McKee, 21, attended Newport-Mesa Unified School District schools between second to 11th grades, officials reported earlier this month. McKee attended Newport Harbor High School, among others in the district until he was 17. Robert Caldwell, 23, was his cousin.
Both had "deep ties" to the community, according to a message sent out by the Newport Beach Police Department on Wednesday.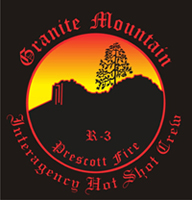 The two men were among the 19 firefighters from the Granite Mountain Interagency Hotshot Crew killed June 30 while battling the Yarnell Hill wildfire. The team was part of the Prescott Fire Department.
The procession will begin in Costa Mesa and end at St. Andrew's Presbyterian Church in Newport Beach, where a memorial service is scheduled for 11 a.m.
"Several measures will be taken to accommodate the arrival of family and attendees for the service," according to the police message.
Parking will be restricted in the areas surrounding the procession, according to the police message. If necessary, temporarily road closures may also occur.
Police officers, department volunteers, and NBPD explorers will be on hand to help direct traffic, implement any closures and/or restrictions, and assist the public, said Newport Beach Police Department spokeswoman Jennifer Manzella.
Actual closures and additional parking restrictions may occur, she said. It just depends on how the day goes, she added.
The areas that may be closed or otherwise impacted might be Irvine Avenue, between 15th and 16th streets, and along 15th Street at St. Andrews Road, Manzella explained.
Police will be posting "No Parking" signs in the following areas: Along 16th Street, between Seagull Lane and 15th Street; on 15th Street, between Irvine Avenue and Clay Street; along St. Andrews Road, between 15th and Clay streets; and on Clay Street, between St. Andrews Road and 15th Street.
Both sides may not be restricted, but the street will be impacted, Manzella said.
The restrictions may be in effect from 7 a.m. until 5 p.m., although she said they do not anticipate leaving them up that late.
"We appreciate the community's understanding and support as we facilitate the memorial of these two brave young men who died in the service of public safety," the message reads.