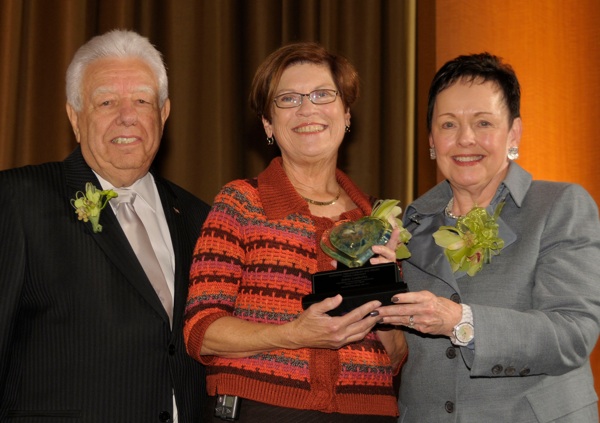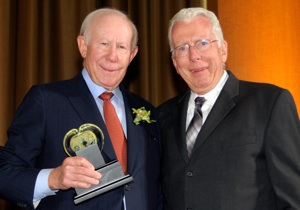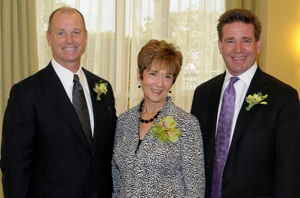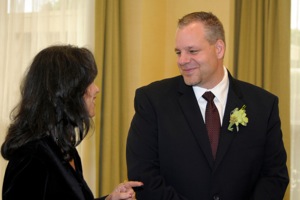 Despite a brief emergency evacuation during the VIP media reception prior to the 2012 National Philanthropy Day Orange County luncheon held last week at the Hyatt Regency Orange County, the event celebrating nine of Orange County's outstanding philanthropists, business leaders and individuals was, as always, a stand-out event.
More than 800 attendees gathered for the luncheon, appropriately themed "Giving is Always in Season," joining to celebrate the honorees for their outstanding generosity in the community.
Supporting the Orange County Chapter of the Association of Fundraising Professionals, $75,000 was raised for educational programs for philanthropy.
As we exited the side door of the VIP reception during the evacuation, I had the pleasure to briefly interview honoree for Outstanding Mid-Size Corporation or Business, W. Henry Walker, President of Farmers & Merchants Bank, about why philanthropy is important to the bank's nbusiness model.
Despite the disruption of moving outside while piercing emergency sirens sounded, Walker calmly explained that F&M's core Christian value system drives its philanthropic efforts, and is the nucleus of its business philosophy, which is driven by the leadership of the board of directors.
"Philanthropy is inherent in faith," Walker explained. "Therefore it cannot be ignored when we make decisions about how it should be incorporated in to our business principles."
We were soon moved back inside and the event went off without a hitch.
National Philanthropy Day Orange County has become the most prominent philanthropic recognition event in Orange County, with more than 1,000 honorees since its inception in 1985, including past recognition for OC philanthropists such as Donald Bren, Marion Knott, Henry and Susan Samueli, and Henry Segerstrom.
Marybelle and Sebastian Paul Musco, the 2011 Lifetime Achievement Honorees, were honorary chairs of this year's event.
Net proceeds of the event support the ethical advancement of philanthropy in the community by the Orange County Chapter of the Association of Fundraising Professionals.
– Special to the Indy by Lynn Selich/OCSocialScene.com