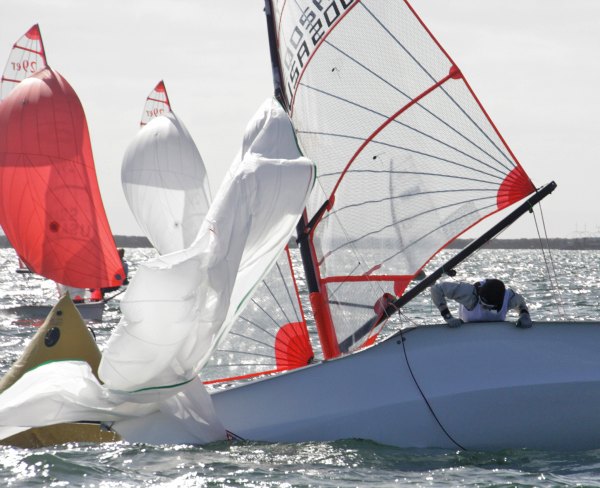 This past weekend, Alamitos Bay Yacht Club hosted the ISAF World Junior Qualifier in a wide variety of breeze and conditions.  This event selected the junior sailors who will represent the US at the ISAF World Championships in Dublin Ireland, in July.
Qualifiers for the 2012 Youth World Championships included Quinn and Dane Wilson (Santa Barbara) in the 29er class; Megan Grapengeter-Rudnick and Abigail Rohman (Connecticut) in 420s, Mitchell Kiss (Michigan) in the Laser Radial class, and Lucas Gonzales in the Techno 293 sailboard class.  These sailors all become members of the US Sailing Youth Development Team.
Among the local sailors who participated in this top-level event were Campbell D'Eliscu who placed 7th as skipper and Connor Kelter placed 9th as crew in the 29er fleet.  Greer Wattson crewed for San Diego's Georgie Ryan, finishing 4th in the I420 Girl Division, and 9th overall in the coed division.  Greg Kent (5th overall), Keenan Chung, Wills Johnson, Charlie Welsh, Austen Boyce, and Colin Duffy raced in the 45-boat Laser Radial fleet.
Complete results are available here.