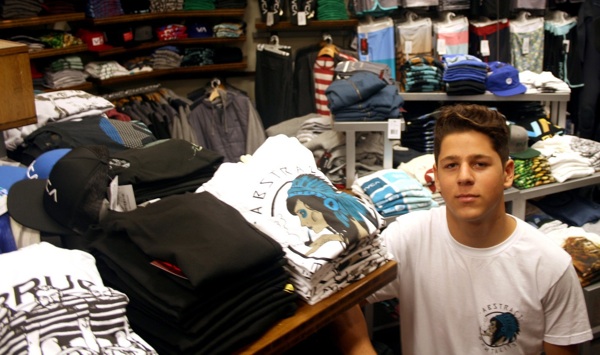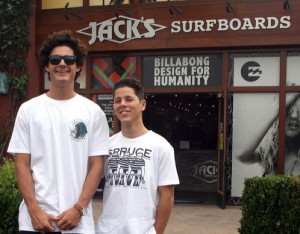 A pair of local teens recently took their love for surfing, skateboarding, art, and music and rolled it all into one simple and stylish clothing line.
Andrew Boukather and Cole Friedman, both 16-year-old Corona del Mar High School juniors, launched Spruce Clothing in May.
"We try and do something different," Boukather said. "Something we would wear."
The two have since started selling the shirts at Jack's Surfboards in Corona del Mar.
It's been pretty successful so far, Boukather said. They starting selling them to their classmates and have had about 50-60 student customers so far. They also just got their first online order a few days ago, he added, from someone in San Diego.
They got their connection with Jack's somewhat by accident. They unknowingly sold a shirt to a girl who works at the surf shop, Boukather said. She wore it to work one day and the manager loved it, he said, so he called them up and quickly added the Spruce shirts to their shelves.
Art is a big influence on the design, Boukather said. The two teenagers have been friends since they were 5 or 6 years old, he said.
"We have always been really into clothes, art, skateboarding and surfing," he said.
The both enjoy a variety of styles, ranging from street art to 1950s poster art, he added. They decided to make graphic art from the 1940s-50s the theme of their first line.
Although it's definitely geared for the younger surf and skate crowd, it's really for everybody, Boukather said.
"It's a clean, timeless look," he said.
Friedman designs them and has even printed them himself at Liquid Graphics in Irvine, where all the shirts are printed.
Friedman was named best graphic designer in the CdMHS Performing Arts Media Academy for 2012 and won both first and second place for his digital designs at Newport Mesa Unified School District's Visual Arts Showcase. He has also interned at two surf/skate labels where his designs are now being used in their seasonal lines, according to a press release about the new clothing line.
Boukather, a promising photographer and writer, "has been on a skateboard from the time he could walk," the statement reads, and is responsible for marketing and communications for the company, including the Spruce Clothing website, blog, Facebok, Instagram, and Tumblr.
Friedman is currently working on new designs for the brand and the team is planning on coming out with a second line in the near future. This time expanding into sweatshirts and hats as well. They also hope to include board shorts and other clothing later on.
They would also like to get into more Southern California stores, Boukather said, there are a lot out there that represent the same style as Spruce Clothing.
And the brand definitely reflects a certain kind of lifestyle in its clothing.
"Spruce clothing, moved by the things and people around it, utilizes attire as an outlet to express the artistic, music oriented, skate/surf lifestyle pursued by those who wear it," according to the Spruce Clothnig website. "Spruce is made up of a couple of friends with unique styles that when blended, make clothing that demonstrates the abstract mentality they really have."