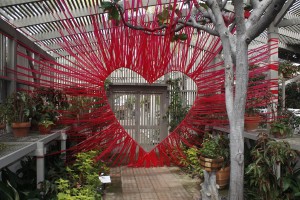 "Love Songs," a whimsical and playful exhibit featuring three song inspired artistic installations, is currently on view at Sherman Library & Gardens.
The first installation is "Love Hurts" inspired by the Everly Brothers 1971 song of the same name. The artistic interpretation features a larger than life heart tethered in place with many bands representing how our hearts are pulled in many directions.
The second installation, inspired by Bing Crosby's "Hang Your Heart on a Hickory Limb," features a tree of love laden with hanging hearts, some of which have fallen to the ground because "for every bit of pleasure there'll be pain/If you feel It's no bargain then abstain/Hang your heart on a hickory limb/When Love is passing by."
The last installation, located in the Tropical Conservatory, features several steel hearts scattered among the lush vegetation and romantic waterfall. This interactive installation titled "Steal Your Heart" was inspired by the song of the same name and recorded by the band Augustana and released on February 14, 2011. The highlight of this installation features a lock box in which you can place the name of someone who has stolen your heart with passion or pain.
Ancient folklore holds that only a clean heart can love unconditionally. By inscribing the name of someone who has stolen your heart you will release or endear them allowing you to love unconditionally.
All three playful installations are on view through Feb. 18.
Sherman Library & Gardens is open to the public daily from 10:30 a.m. until 4 p.m. Admission is $3 per person, Free for members of their "Friends" program.
Visit slgardens.org or call (949) 673-221.