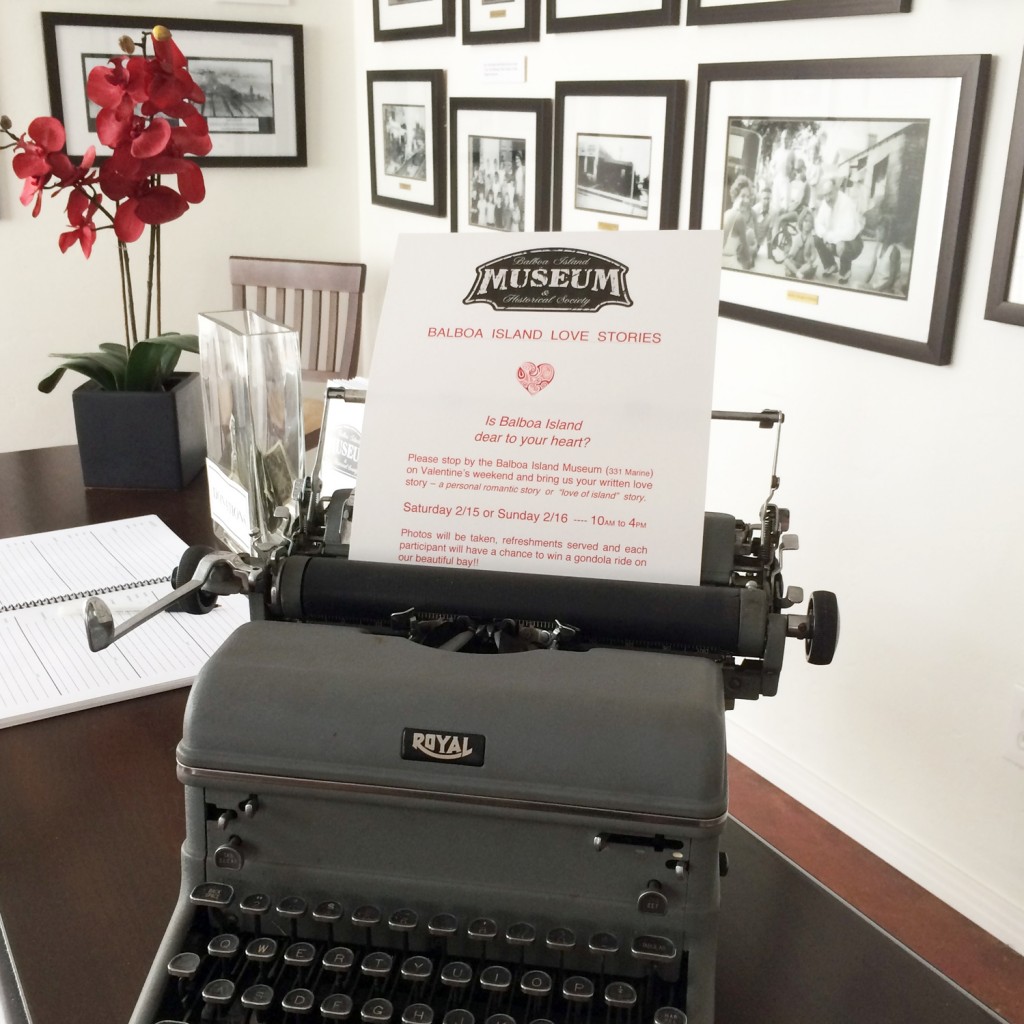 One of the greatest joys in life, if not the greatest joy, is falling in love.  
But love doesn't just have to embody romance. Great love translates in many ways across many aspects of our lives. We also share great love for other places or beloved pets, great food, books or movies. We love our families, our friends and our community.
In a unique homage to love (today is Valentine's Day after all), the Balboa Island Museum and Historical Society has launched a special Love Letter project and is asking the general public to submit a brief love story related to Balboa Island.
Each tale can be a romantic love story connected with the island or a description of why the writer finds Balboa Island so lovable. There is no age limit for story writers, all are welcome.
Though I fell in love with my husband on a different island, my Balboa Island love story is also dear to my heart.
Years ago, in my mid-twenties, I fell in love with Balboa Island for the first time during what happened to be quite a sad time in my life.
My only brother had died, my parents were divorcing, and my beloved grandfather was gravely ill. Though life seemed to be caving in, I moved to a sunny apartment on Pearl Avenue. I walked the island every morning before work and spent weekends sitting on the tiny beachfront absorbing all the beauty unfolding around me.
Though hard for me to adequately explain, living on the island cloaked me in a warm blanket, and the love I felt for my life there enabled me to nurse my emotional wounds and find solace and serenity despite my sorrow.
I like to think the island brought me back to life, and my affection for it remains a constant today. Thank goodness we live just down the street from her welcoming bridge so that I can visit often—and do.  
Last weekend on our Sunday Brunch show on KOCI 101.5 FM, Tom Johnson and I spoke with Balboa Island Museum supporters Diane Bock and Sharon Lambert, who filled us in on the particulars including the fact that everyone who submits a love story by Feb. 16 will be entered to win a romantic one-hour harbor gondola ride. 
"Preserving our history, especially personal stories about Balboa Island, is at the core of this project," Sharon told us. "The love stories that the museum receives will be saved, and many will be attached to a photo of the particular home or place in the story and put on display."  
All entries for the Balboa Island Museum and Historical Society's Love Letter project should be submitted no later than Feb. 16 by 4 p.m. in order to be entered into the gondola drawing. Submissions can be sent via email to [email protected] or brought in to the museum anytime between 10 a.m. and 4 p.m. Feb. 14, 15 and 16. Contributions can include photos, mementos, written remembrances, tickets, menus, etc. Originals can be scanned and returned to owners if desired. All submissions will become a part of the permanent Balboa Island history collection archives.
This weekend, Feb. 15 and 16, the museum will be hosting a special open house for visitors and those who would like to participate in the love letter collection. Complimentary refreshments will be served throughout the weekend and the gondola drawing will take place Sunday at 4 p.m.
The museum is located at 331 Marine Avenue. For more information, visit www.balboaislandmuseum.org 
I think I'll stop in to the museum and drop off a copy of today's Indy for posterity.
Columnist and Balboa Island lover Lynn Selich can be reached at [email protected]. Catch her on KOCI Radio at 101.5FM Sundays from 11:00 to Noon.