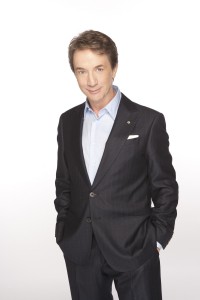 Audiences know funnyman Martin Short from his appearances on Saturday Night Live and his hilarious turns in "Father of the Bride" and "Three Amigos."
Now, Short adds singing and dancing to his mix of talents when he performs with Pacific Symphony Pops April 15 and 16 in the Renée and Henry Segerstrom Concert Hall.
Wait—singing and dancing?
"People always say 'I didn't know he could sing,' but I've been doing pops concerts for years—I've performed with the Boston Pops, the Dallas Symphony," said Short during a recent phone interview. "I've done Broadway shows including 'The Goodbye Girl' and 'Fame Becomes Me.'"
Short was nominated for a Tony Award for "the Goodbye Girl," and nabbed both a Tony and an Outer Critics Circle Award for his role in the revival of "Little Me."
Locally, he co-starred in the Mel Brooks musical "The Producers" at The Pantages Theater with Jason Alexander.
For his show with Pacific Symphony, Short said he'll bring some of his favorite characters from Saturday Night Live with him, as well as a lot of improvisation.
"I'll go into the audience and turn people into the Three Amigos. The idea is for me to keep it lose—the aim is to make something structured seem very in the moment, so people will say 'I had a unique experience with him,' especially when audiences have known you for a long time," he explained.
Short comes from a musical family—his mother was one of the first female concert masters of an orchestra, and his father was president of a symphony. Short launched his career in Toronto, Canada, performing in musicals before joining SCTV and then Saturday Night Live. After that came film roles. Now, Short is busier than ever, going from concert hall to television set for a new hour-long variety show called "Marty and Maya in Manhattan" co-starring SNL alum Maya Rudolph, that premieres in May on NBC.
Short appears on the second half of the symphony's concert. In the first half, "Wheel of Fortune" host Pat Sajak joins the symphony on stage to narrate "Casey at the Bat," and vocalist Whitney Kaufman joins the orchestra to help celebrate her father Richard Kaufman's 25th Anniversary as principal Pops conductor for Pacific Symphony.
"I've worked with Martin Short on several occasions in the past and it's always a complete joy," says Maestro Kaufman. "His incredible creativity and talent is matched by his genuineness and true professionalism. The audience is going to absolutely love him! Martin will bring all sorts of things to our shows…singing, comedy and undoubtedly some surprises. People can expect to be really happy they were lucky enough to be there."
For more information or to purchase tickets call (714) 755-5799 or visit PacificSymphony.org.