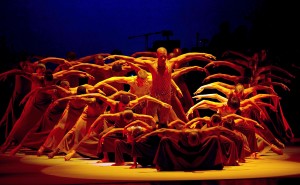 Listen closely, and you just might hear some raucous cheers, exuberant whistles, and nearly non-stop clapping reverberating in the ether.
Yes, the dancers of Alvin Ailey American Dance Theater were at it again, bringing down the house in Segerstrom Hall Wednesday evening with a rousing encore of Revelations' closing number "'Rocka My Soul in the Bosom of Abraham."
It doesn't get much better than that.
Wednesday's special hour-long program, entitled "Discover Ailey," had a price of $29 for any seat. Featuring the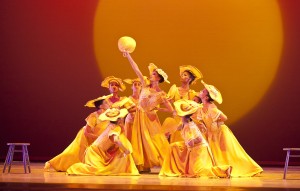 Southern California premiere of Rennie Harris' hip-hop infused Exodus in addition to company founder Alvin Ailey's beloved modern masterwork, Revelations, it was a fitting opening to their seventh visit to Segerstrom Center for the Arts.
Performances continue through this weekend with mixed repertory including Artistic Director Robert Battle's Awakening and No Longer Silent, Judith Jamison's A Case of You, Ronald K. Brown's Open Door, and Matthew Rushing's ODETTA, as well as reprises of Exodus and Revelations.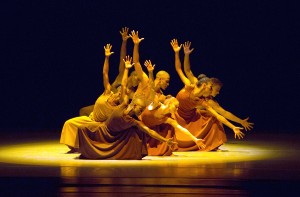 Bodies seemingly melded of molten steel, the Ailey dancers simply sizzled in Wednesday's performances. But beyond the company's technical prowess (which is formidable, with a purity of line so exquisite one could weep for joy), what makes this company such a joy to watch is the dancers' intense commitment, vitality, and sheer soaring spirits.
As moderated by lively and lovely Ailey dancer Hope Boykin, who spoke with enthusiasm of honoring Alvin Ailey's "vision and legacy," the night was a perfect peek into the iconic company for newcomers and a soul-satisfying, albeit short, revisit for its longtime loves.
The Alvin Ailey American Dance Theater is at Segerstrom Center through April 10. For tickets and information go to scfta.org or call (714) 556-2787.
Members of the Alvin Ailey American Dance Theater will conduct Pre-View lectures one hour prior to each performance.