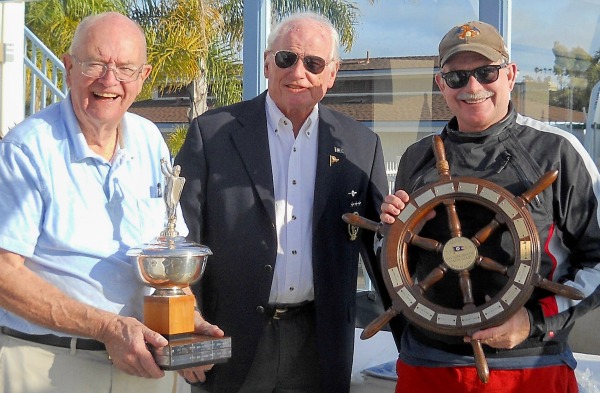 Jeff McDermaid traveled to Newport Beach from Alamitos Bay and found his name on a Perpetual Trophy that he had won forty years ago. And he won again.
The Southern California Yachting Association's Midwinters Regatta was held this weekend throughout Southern California at various yacht clubs. Adult Sabot racers convened at Balboa Yacht Club to combine Midwinters racing with their monthly Super Sabot Saturday Series.
A beautiful day and good winds made the first two races enjoyable for the competitors. The winds increased before the third race, encouraging some to watch from the dock, but those that raced all returned safely.
Trophies were presented by Jim Mahaffy, representing SCYA.
McDermaid, of Alamitos Bay Yacht Club, emerged as the victor, winning two of the three races. Terese Ivory, also of ABYC came in second, winning the third race. Placing third was Lynn Acosta of BYC.
A historic perpetual trophy from Lido Isle Yacht Club went to McDermaid for the lowest score in the over-40 class.
The second trophy was dedicated long ago by the International Naples Sabot Association. Jeff won the INSA trophy 40 years ago when he was the overall winner. That trophy has since been rededicated to go to the racer older than 65 with the lowest score. Bob Reilly, who placed fourth overall, will have his name engraved on it this year.
The busy traffic and choppy water made racing difficult, but Gator Cook guarded the racers from the rescue boat. Happily no rescues were necessary, especially with the very cold air and water. Pinky Greene served as principal race officer, with Pat Heath as recorder.
– By Nancy Mellon