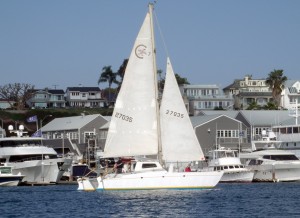 I wrote months ago about my fascination with the high speeds achieved by sailing catamarans following my 1959 sail aboard an 18-foot Catalina catamaran on Huntington Lake with Tom Schock and his Thistle crew after their winning the National Thistle Championships. Bill Schock towed their new cat to the lake and must have been thrilled to be present when 15-year old Tom won one of his many winning achievements.
Since writing about the French trimaran "Trieste" breaking the sailboat world speed record at 56-knots a couple of months ago, it was posted for sale. I didn't understand until I read about an Australian catamaran builder and skipper who broke the record on an African lake and sailed a recorded 80-knots. What a record breaker!
Just prior to crewing with my older brother in 1957 on the family Snowbird, Walt Disney made a hugely successful movie about Davy Crockett and his sidekick Georgie. Following that success, every young boy wanted to be Davy Crockett, and the Disney Company made a fortune selling coon skin caps. Everyone I knew, myself included, played with their coon skin caps for years.
Fess Parker had the role of Mr. Crockett and Buddy Ebsen was Georgie. In later years Fess Parker became a successful vintner and hotel businessman outside Santa Barbara. He had a 60-foot catamaran named "Cheyenne" and raced out of the Santa Barbara Yacht Club.
As we all know, Buddy went on to several successful television series (Beverly Hillbillies, etc.) and beginning in the early 1960s spent his summers on Balboa Island and raced out of Balboa Yacht Club.
In the 50s and 60s, my dad crewed on a Thistle, and Buddy also seriously campaigned in the Thistle class.
During this time he constructed the first of four "Polynesian Concept" named catamarans. Recently, after four years wondering if "Poly Con" was still afloat, I saw the cat sailing down our main channel and was so thrilled I had to snap a photo. The vessel looked newly restored except the sails appeared almost antiquated. I've noticed it one more time in our harbor.
Buddy was easily recognized on his boats because he always wore a loud, bright red long sleeved shirt which accented his white hair. I don't remember "Poly Con II or III," but for several years he sailed the cabin-less IV every summer.
Many times he would sail solo up the bay in his red shirt with only the mainsail up (which creates an unwieldy vessel) to Woody's Wharf for an hour or two. He'd then return to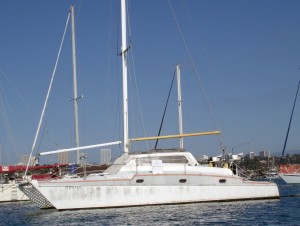 his mooring and secure the yacht.
I think it was around the late 60s that I read and then saw several 36-foot sloop catamarans that Buddy and Schock Boats built with larger cabin space and lower freeboard as cruising yachts. I believe they made about twelve or more. They were ahead of their time. We have one left in Newport which I included a photo of although as you can clearly see, had been left unattended for years. That's a shame!
Sea Ya,
Skipper Steve