By Christopher Trela and Catherine Del Casale | NB Indy
Autumn has arrived, although you wouldn't know it based on our mild coastal climate. But the season is reflected in new dishes that are appearing on local restaurant menus.
We've been sampling seasonal menus and are happy to report that our palates approve of the creative cuisine, starting with two noted dining spots: Pelican Hill Resort's Coliseum Pool & Grill, and Bayside Restaurant.
 PELICAN HILL
We always look forward to dining at Pelican Hill, whether it's at the noted Andrea Ristorante or the more relaxed (yet no less noteworthy) Coliseum Pool & Grill.
Coliseum chef Marc Osier recently introduced a slew of dishes perfectly suited for OC's version of autumn.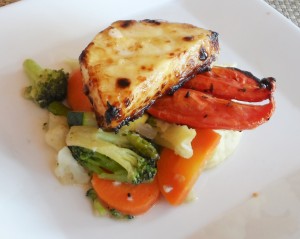 "Our autumn menu, which is available through mid January, really is based on what the Irvine Ranch provides," explained Osier at a media tasting last week. "Whatever vegetables are becoming available, that's how we write our menu. There are subtle differences from year to year. We're not going to replay things. My main inspiration is the Irvine Ranch, which is consistent year to year and season to season."
We learned that 85 percent of the resort's vegetables come from the Irvine Ranch. And with the resort serving 1000 people every day, that's a lot of vegetables. At the moment, Osier is sourcing such items as squash, avocados, strawberries, zucchini, blue lake beans, beets, heirloom tomatoes, and other seasonal staples.
"My challenge is that the season here is a micro climate," noted Osier. "It's still gorgeous weather so you want to eat light and healthy, you're not bundled up under a blanket. So it's a unique challenge to come up with wintertime light food."
Osier has done just that, starting with his Irvine Ranch Beet Salad, a beautiful and tasty dish with two different beets,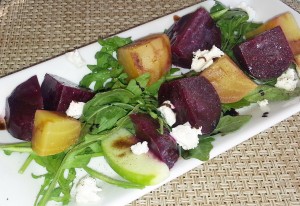 arugula, apples, goat cheese and balsamic reduction. The ingredients blend perfectly, and the beets are perfectly cooked to just the right softness.
The shrimp and crab wrap with roasted corn pico de gallo and lemongrass dressing disappeared from our plates fast, as did the grilled Meyer lemon and vanilla marinated Chilean seabass with seasonal vegetables, roasted tomatoes and herb mashed potatoes. Chris dubbed that dish "one of the best sea bass dishes I've ever had–the fish was tender and mild, with the lemon and vanilla providing a delicious marinade."
Catherine loved the Thai fettuccine pasta with angus beef, oven-dried tomatoes, shiitake mushrooms and curry sauce. Again, mild flavors and surprisingly light yet very satisfying.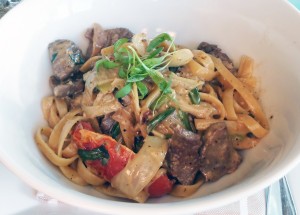 For dessert we enjoyed a trio of petite desserts that came in ornate shot glasses: pumpkin cake, black forest cake and key lime pie.
One more recommendation: we highly recommend the Sangria, which is served with seasonal fruit and really good red wine.
We also learned that chef Luigi Fineo has just introduced a seasonal white truffle menu at Andrea Ristorante, which features white truffles personally presented tableside by chef Luigi, who we're told selects each truffle from a family business. Last year, Andrea purchased more white truffles than any other restaurant in Southern California.
The white truffle dishes available at Andrea this month include Bucatini carbonara, soft-poached egg and prosciutto, and port-braised veal ossobuco, smoked mozzarella cheese polenta, Oregon mushroom, and veal jus.
For more information, visit PelicanHill.com. 
 BAYSIDE
It's not a German restaurant, but Bayside's Executive Chef Paul Gstrein hails from Austria, and he's created a three-course prix fixe Oktoberfest menu that's inspired by classic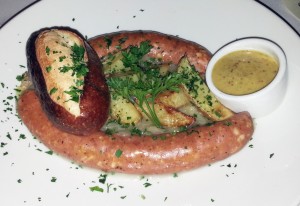 Bavarian cuisine and features traditional ingredients of the region.
We visited Bayside on Thursday night (when Ron Kobayashi and his jazz trio performs) and sampled the menu.
First course choices include a smoked trout salad with horseradish, celery, Granny Smith apples and petit greens or a Weinberg salad with organic greens, Anjou pears, grapes, blue cheese, shaved red onion and pistachios (we had them hold the bleu cheese on ours).
Catherine ordered the breaded chicken breast (here dubbed Hähnchenbrust "Cordon Bleu") stuffed with black forest ham and Appenzeller cheese, while Chris had the traditional Bavarian pork sausage (Bayrishe Weisswurst) served with house-made sauerkraut, pretzel bread and Old World mustard. We particularly liked the sausage, which was crisp and tender, with mild sauerkraut that suited our non-German taste buds.   
For dessert, we polished off a chocolate hazelnut bread pudding (Mohr im Hemd).
The prix-fixe menu is available throughout October for $39.95 per person. Call (949) 721-1222, or visit BaysideRestaurant.com.