By Christopher Trela and Catherine Del Casale | NB Indy
September means back to school, and back to wine.
This is California Wine Month, with hundreds of wineries and restaurants throughout the state celebrating the occasion with special events and tastings.
According to the Wine Institute, California makes 90 percent of all U.S. wine and is the world's 4th leading wine producer after France, Italy and Spain. There are 3,800 bonded wineries, making 207.7 million cases of wine with a retail value of $22.0 billion. Three of every five bottles sold in the U.S. is a California wine.
Those are impressive statistics, but then California makes some impressive wine. We're fortunate to have a variety of places in and around Newport Beach to sample and purchase California wines.
FLEMING'S
One of the best wine-by-the-glass programs around is at Fleming's Steakhouse in Fashion Island. They list countless California wines on their menu, and hold frequent wine dinners focused on noted California vintners.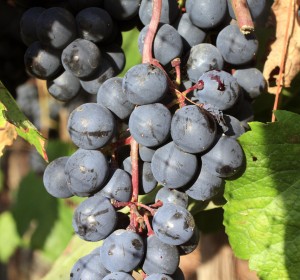 We attended a Frank Family wine dinner at Fleming's earlier this year. The diners are held in a large yet intimate room downstairs from the main dining room. We loved the food and wine pairings at the dinner, so naturally, we're excited about the upcoming Justin wine dinner September 17 at Fleming's. Justin founder and winemaker Justin Baldwin will be there pouring his wines, which will be paired with a five-course menu created by Chef Partner Mark Ogren.
Wines this event include Justin sauvignon blanc, Justification, cabernet sauvignon, Isosceles, and Obtuse. Anyone familiar with Justin knows this is going to be one terrific evening of food and wine. Cost is $135 per person. Call (949) 720-9633 to reserve a spot.
NEWPORT WINERIES
Many people don't know that Newport is home to two wineries: Newport Beach Vineyards and Winery, and Orange Coast Winery.
Founded in 1998, Newport Beach Vineyards makes several Bordeaux varietals, including a classic blend using grapes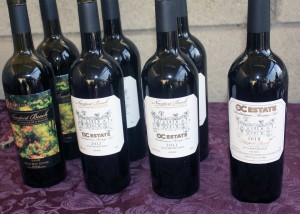 grown on the property overlooking the back bay. Their wines are available at several wine shops and restaurants in Newport, including Vin Goat, Juliette Kitchen, and Gelson's Market.
We've been to several events at Newport Beach Winery, and love the rustic property and the palate-pleasing, hand-crafted wines.
We recently attended a gourmet pizza and wine night there, which Catherine claimed was "a brilliant idea. The two go great together and being able make your own pizza and enjoy it among the vines, great wine and good company couldn't make for a better night. A highlight of the evening was sampling current and soon-to-be-released wines."
For details on their upcoming events, visit NBWine.com.
Doug & Debbie Wiens of Temecula run Orange Coast Winery on 16th Street (a Corona del Mar tasting room is in the works). Doug is also the winemaker and one of the founding partners at Wiens Family Cellars in Temecula (known for their "Big Reds"), a large winery owned and operated by several members of the Wiens family.
Orange Coast Winery is open Thursday through Sunday for wine tasting. Visit OrangeCoastWinery.com for details.
OTHER WINE TASTINGS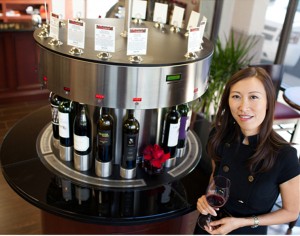 OC Wine Mart in Irvine near John Wayne Airport is one of our favorite places to sample wines. Owned and operated by the dynamic and friendly Julie Lim, OC Wine Mart has an enomatic wine system–a large round machine with bottles of wine hooked to it. Buy a tasting card, insert into the machine, press a button on your choice of wines, and out pours a one ounce taste.
Julie has a terrific selection of California wines for sale, and she holds weekly wine tastings with different themes.
Our favorites have been Best California Zins (because who doesn't love a good Zin), Perfect Pairing: B. Toffee and Justin Vineyards, and Tobin James since…well, it's Tobin James.
Visit OCWineMart.com for more information.
Founded in 1999, Wine Gallery in Corona del Mar specializes in small-lot wines. They have wines by the glass and also wine flights available, and hold regular tasting events. Their wine shop offers hundreds of varietals both domestic and foreign, with a focus on California wines.
Visit  CDMWineGallery.com.
Located in the old Wine Lab location on Coast Highway, California Wine and Cheese carries mainly California wines, and offers wine tastings and flights as well as small plates and cheeses.
Visit CaliforniaWineCheese.com.