By Christopher Trela & Catherine Del Casale | NB Indy
Wow!
That was a common phrase heard at the 3rd annual LA Food & Wine Festival, held last month in downtown L.A.
The four-day culinary celebration featured more than 100 world-class chefs and 200+ wines from noted vintners, plus live culinary demonstrations, special themed events, book signings, mixology seminars, and live music.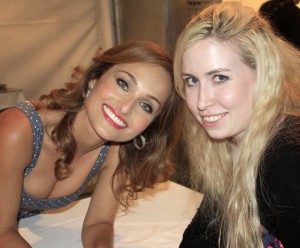 We attended the opening night event called Festa Italiana, hosted by Food Network star and chef Giada De Laurentiis, who celebrated her birthday that evening (yes, we did go by her booth and wish her Happy Birthday). Also spotted in the crowd was Chef Thomas Keller (The French Laundry, Bouchon).
It was indeed an epic evening of all things Italian, with plenty of California wines thrown in for good measure. We stopped by the Melville Wine booth (one of Chris' fave wines) to check out their current releases, and sampled some sensational dishes. Everywhere we turned, another fabulous winery or restaurant was waiting for us.
We noticed that, unlike many food events, the cuisine was served on real plates, with real silverware. Very classy.
We also enjoyed one of the Lexus Grand Tasting events over the weekend, which again featured fantastic food from dozens of local chefs and hundreds of wines. Hard to pick out favorites, because everything was so good.
Newport Beach needs an event like this, but until one is created, the LA Food and Wine Festival is the place to be.
Keep an eye out for info on next year's festival at lafw.com.
For more photos of the events, visit the Off the Menu facebook page at Facebook.com/OffTheMenuOC