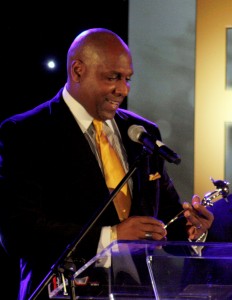 By Christopher Trela & Catherine Del Casale | NB Indy
Which restaurant has the best wine list in Orange County? How about the best happy hour, or the best hamburger?
We learned the answers to those questions and more last Sunday when we attended the Third Annual Golden Foodie Awards, presented by the OC Restaurant Association at the Fairmont Newport Beach.
Hundreds of people from Orange County's restaurant community came together to honor chefs, bartenders and restaurateurs. Golden statuettes were handed out in 26 categories, from Best Chef and Best New Restaurant to Best Bartender and Best Taco.
The evening started with a pre-awards gathering featuring cuisine from 20 restaurants (including many of the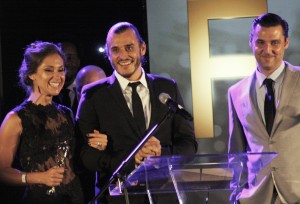 nominees), plus libations from Patron, Ketel One, Celebrity Cruises, and more.
Among those we spotted at the reception: Chef Pascal Olhats (Café Jardin at Sherman Gardens), Chef Cathy Pavlos (Provenance in Eastbluff) serving signature dishes, Chef Deborah Schneider (SOL Cocina) cooking up a mess of stuffed peppers, Chef Yvon Goetz (The Winery Restaurant in Newport Beach) sipping wine with a bevy of beautiful ladies), Wing Lam (Wahoo's Fish Tacos), and other local culinary celebs.
Once seated inside the packed ballroom, attendees enjoyed gold-themed desserts, champagne, and Chambord.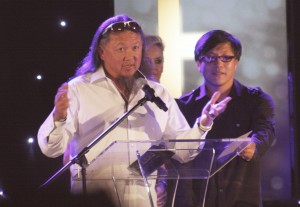 Awards presenters included Heather Dubrow ("Real Housewives of Orange County") and Scott Dunlop, creator of the "Real Housewives" franchise, former LA Rams Quarterback Vince Ferragamo, Dennis Kuhl (Chairman of Angel's Baseball), ex-Sugar Ray drummer Stan Frazier (co-owner of Sgt. Pepperoni's Pizza), Wing Lam and Ed Lee (Wahoo's), Master Sommelier Michael Jordan, and many other notable names.
Many Newport Beach restaurants were nominated, and many of them took home a statuette.
Among the local winners:
ARC won for Best American Cuisine, and while the restaurant is in Costa Mesa, owner Noah Blom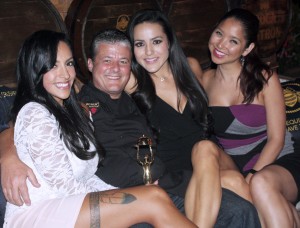 and his wife Marin live in Newport Beach. Their sensational cuisine is cooked in a wood-fired oven. Oh—and ARC bartender Koire Rogers won for Best Bartender (his cocktails are creative and sophisticated).
SOL Cocina on Coast Highway was nominated for Best Mexican Restaurant and Best Taco, and won for Best Taco. We can vouch for that!
Bluefin in Crystal Cove Shopping Center won for Best Sushi—their dishes are art on a plate, and pleasing to the palate.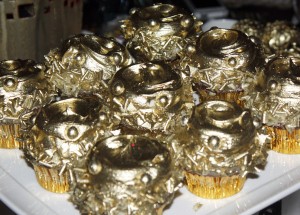 Mare Culinary Lounge won for Best Italian. That's Alessandro Pirozzi's Laguna Beach restaurant, but fans of his latest venture, Pirozzi's in Corona del Mar, would cast their vote locally.
Best Wine List was almost a shoe-in: The Winery Restaurant and Wine Bar. Again, we agree, and that's due to the skill of Sommelier William Lewis.
Best Indian Cuisine went to Tamarind of London in Crystal Cove Shopping Center. The restaurant has been gaining notoriety lately, and this seals the accolades.
Best Seafood went to Bluewater Grill. Accepting the award was owner Jim Ulcickas, who paid tribute to his late chef Brian Hirsty, who passed away earlier this year.
"I'm looking forward to checking out all of the winning restaurants, but a few stand out for me," said Catherine. "It's been awhile since I've been to ARC and since they won both best American cuisine and best bartender I'm going to have to see what's new on the food and libations menu. Also, with the Newport location of The Winery now open, it makes it easier to make my way through their extensive and exceptional wine list one glass at a time."
"Speaking of which, lets raise a glass and toast not only the winners and nominees, but all the restaurants that help make Newport Beach, and Orange County, a true dining mecca," said Christopher.
LIST OF NOMINEES AND WINNERS (Winners are in Bold):
Golden Chef Award
​1. Chef Alan Greeley – The Golden Truffle
Chef Andrew Sutton – Napa Rose and Club 33
Chef Michael Rossi – The Ranch Restaurant
Golden Pastry Chef Award
Chef Dave Rossi – The Ranch Restaurant
Chef Heather Fisher – Selanne Steak Tavern
Chef Shelly Register- A Restaurant
Best New Restaurant
Little Sparrow
 Selanne Steak Tavern
The Winery Restaurant & Wine Bar Newport Beach
Best Food Talk Radio:
 The Fork Report with Neil Saavedra
Food & Wine with Chef Jamie Gwen
SoCal Restaurant Show
Best Cocktails in Orange County:
320 Main
Broadway
Arc Food and Libations
Best Burgers in Orange County:
Blk Burgrz
Mick's Karma Bar
Slater's 50 / 50
Best American Cuisine in Orange County:
Arc Food and Libations
Playground
Paul Martin's American Grill
Best Beer:
Provisions
Hopscotch
Slater's 50 / 50
Best Mexican Cuisine:
Anepalco's Café
Sol Cocina
The Matador
Best Pizza:
Il Dolce
Mozza
Pizzeria Ortica
Best Vegetarian Cuisine:
Zinc Café
118 Degrees
Seabirds
Best Happy Hour:
Wildfish Seafood Grille
Anqi Gourmet Bistro and Noodle Bar
Chapter One: The Modern Local​
Best Tacos:
Mi Casa Mexican Restaurant
Taco Rosa
Sol Cocina​
Best Sushi:
Bluefin Fine Japanese Cuisine
Sushi Noguchi
​3. Riptide Sushi
Mediterranean Cuisine:
Rosine's Mediterranean Café
Zov's Restaurant
LUCCA
Best Italian Cuisine:
Antonello Ristorante
Cucina enoteca
Mare Culinary Lounge
Best Wine List:
The Winery Restaurant and Wine Bar
The Hobbit
Cucina enoteca
Best French Cuisine:
The Cellar
Marché Moderne
Pinot Provence
​Best Steak:
 Selanne Steak Tavern
The Ranch Restaurant
Steakhouse 55
​Best Bartender:
Rich Ohtsuka
 Koire Rogers
Michelle Bearden
Best Food Writer:
Cathy Thomas
Dave Lieberman
Anita Lau
Best Indian Cuisine:
ADYA
The Clay Oven
Tamarind of London
Best California Cuisine:
370 Common
 Sealegs
Andrei's Conscious Cuisine
Most Delicious Dessert:
Vitaly Café
Maro Wood Grill
Waterline Restaurant
Best Seafood:
Bluewater Grill
Slapfish
Scott's Restaurant and Bar
Best Asian Cuisine:
Hamamori
 AnQi Gourmet Bistro & Noodle Bar
Ten Asian Bistro