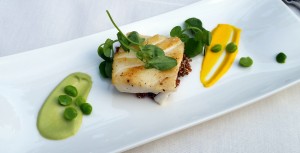 By Christopher Trela & Catherine Del Casale 
One is a hotel, the other a resort, and both recently unveiled new restaurants and lounges that are garnering attention.
Island Hotel
The Island Hotel closed its Palm Terrace Restaurant and Lounge earlier this year and transformed the entire facility into two separate yet adjacent entities: Oak Grill and Aqua Lounge.
We visited the Island Hotel recently to sample the Oak Grill dinner menu and check out the Aqua Lounge. The change from the old venues to the new ones is dramatic.
Oak Grill offers both indoor and al fresco dining on a large landscaped patio, while Aqua Lounge sports a fresh, Vegas-style ambiance that's open and airy by day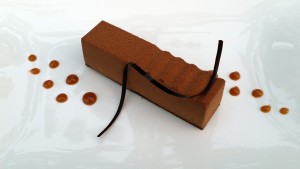 yet transforms into a stylish, upbeat lounge at night.
Both Oak Grill and Aqua are accessible via the hotel's front entrance (no charge to valet park) or through a new side entrance off of Newport Center Drive, perfect for Fashion Island shoppers who want to stroll across the street for some superb cuisine.
Oak Grill's executive chef is Chef Marc Johnson, previously with Mastro's Ocean Club.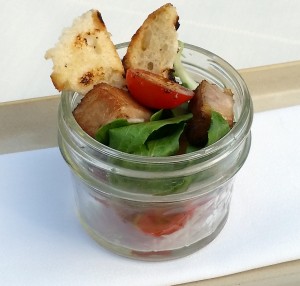 Johnson is creating culinary works of art, which is fitting since he trained as a sculptor before finding his culinary calling.
For our menu tasting, we started with tandoori spiced ahi tartare with Asian pears, avocado, cucumber and curry oil, followed by heirloom tomato "BLT" panzanella.
"This is one of my favorites," said Catherine of the BLT. "I love the presentation and ingredients: A mason jar filled with field greens, a good-sized serving of crispy pork belly pieces, avocado, tomatoes, and charred French bread."
Then it was on to the seared Maine diver scallops with heirloom beans, capers and stewed baby tomatoes.
"This is a fantastic combination of flavors and textures," said Christopher. "A simple presentation that allows each ingredient to stand out. And the scallops are perfectly seared."
We also enjoyed the Chilean sea bass with cranberry quinoa, peas and carrot puree, and braised short ribs with blue corn grits, Portobello mushrooms and sauce bordelaise.
"The grits are creamy and make a great accompaniment to the dish," noted Catherine.
We ended our meal with a rocky road bar: gianduja chocolate mousse, marshmallow and crispy rice pearls.
"This is like a high-end candy bar," declared Catherine as she enjoyed the chocolate concoction. "The dish isn't too heavy because of the light mousse and marshmallow, and the rice pearls give it a nice texture."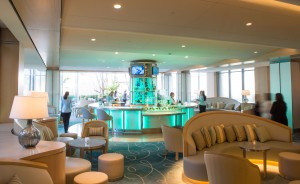 We also sampled their signature cocktail, a Newport Sunset made with kettle one citron vodka, but Catherine preferred the Moscow Mule made with house-made ginger beer, kettle one vodka and lime juice.
"It's light and crisp, perfect for summer," she stated. "I also like the fact that you can pair any dish with wine by the glass or a specialty cocktail. The staff can create an enhanced experience no matter what you choose to eat."
And an enhanced experience is what you get at Aqua Lounge. We were invited to the opening night event, and felt like we were at a posh party complete with DJ, mood lighting, myriad bars, food stations and tray passed appetizers, and a centerpiece circular bar.
We suspect that Aqua will be the new hot spot in town and draw both tourists and locals looking for an energetic and classy environment.
Oak Grill is open for breakfast, lunch and dinner (and late night dining on weekends), while Aqua is open until midnight or later every night.
For more information, visit OakGrillNB.com and AquaLoungeNB.com.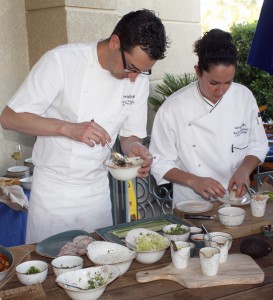 Balboa Bay Resort
With a new lobby, new restaurant (Waterline), new bar (A&O Kitchen + Bar, a gastro pub that replaced Duke's Place), and new coffee shop (Blend), the 65-year-old Balboa Bay Resort has a fresh look and feel, and a fresh executive chef: Vincent Lesage, formerly executive sous chef at St. Regis Monarch Beach.
We love the contemporary nautical look of Waterline, and have sampled the menu at a media reception (Christopher also had breakfast there and relished his lobster omelet), but have not had the chance to dine there yet.
However, we did meet up with friends at A&O earlier this week and enjoyed cocktails and desserts while seated around a blazing fire pit with the Newport Harbor as our backdrop.
Catherine loved her Twisted Sisters dessert served in a jar with salted caramel, sweet chocolate and pretzel crumble, while Christopher enjoyed the uniqueness of the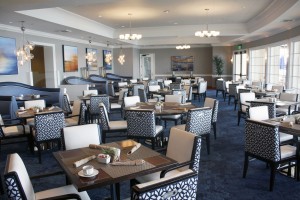 tobacco and whiskey brulee, which did indeed have undertones of tobacco and whiskey mixed with the dark chocolate mousse.
The bar is spacious, inviting and even relaxing, and the menu is surprisingly substantial and creative (due to the new kitchen adjacent to the bar).
For more information, visit BalboaBayResort.com.