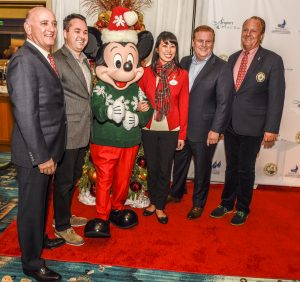 The Newport Beach Christmas Boat Parade sailed into its 108th year with style and nostalgia on Wednesday night.
With a grand tree lighting at Marina Park and dazzling fireworks off of Newport Pier, it seemed fitting that the Grand Marshall for opening night was none other than Mickey Mouse.
In his first official deed as mayor, Kevin Muldoon read the city proclamation at the Balboa Bay Resort to kick off the parade.
"Who knew that my first act would be to welcome a Southern California resident and icon: Mickey Mouse?" he told the crowd.
Having just been sworn in as mayor the night before, Muldoon was happy to joke with the venerable Disneyland ambassador, whose festive vessel in the parade reminded viewers that Disneyland is bringing back the famous Electrical Light Parade in January.
"He's a resident of Orange County who knows a thing or two about lighting up a parade," Muldoon said of Mickey Mouse. "He's someone who can turn any day into a magical one, and can also appreciate a good piece of cheese."
Many members of Newport Beach government were in attendance, including new council members Brad Avery, Will O'Neil,
and Jeff Herdman, as well as council member Diane Dixon, former mayor Keith Curry, former mayor Rush Hill, and Assemblyman Matthew Harper.
The annual boat parade is presented each year by the Newport Beach Chamber of Commerce. Chamber President Steve Rosansky welcomed the crowd and talked about how far the parade has come in 108 years.
"Hundreds of thousands of people will see our parade," he noted. "Through Sunday night, our boats will light up the night."
Dave Beek of the Chamber's Commodores Club also spoke at the event. His grandfather was a pioneer of the very first boat parade in Newport Harbor. If he could see what it's become, Beek said "he would explode!"
The parade features about 100 boats of various sizes, but Beek said that one has remained the most popular over the years. "It's just not a Christmas parade without Santa!"
Gary Sherwin, president and CEO of Newport Beach & Company, has promoted the parade for the past three years. He confirmed that this is just the second year in which a new Grand Marshall attends each of the five nights, and the first time that Hometown Heroes are Grand Marshalls. On Sunday (the last night of the parade), the parade offers a salute to the area's first-responders and lifesavers.
"It's a remarkable way to tell the aspiring story of Newport Beach," Sherwin said of the annual event. "And for Disney to be a part of this shows how far we've come as a parade. It started as a local event, and now it's global."
For more information on the annual Newport Beach Christmas Boat Parade, visit ChristmasBoatParade.com.