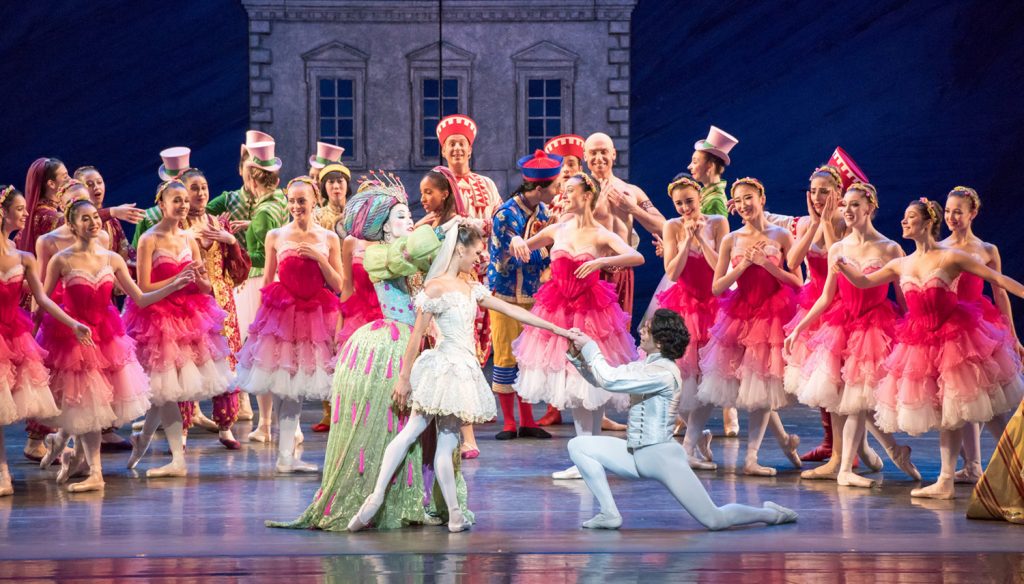 By Christopher Trela & Catherine Del Casale | NB Indy
 One of the holiday traditions we enjoy every year is a production of "The Nutcracker" ballet. This classic tale of a young girl and her nutcracker prince is packed with Christmas joy and filled with exuberant dancing, not to mention Tchaikovsky's memorable score.
This year, we were lucky to be invited to last Friday's opening night performance of ABT's production of "The Nutcracker" at Segerstrom Center, featuring one of the world's most famous ballerinas, Misty Copeland, with music performed live by Pacific Symphony.
Because of the early 7 p.m. start time, we opted to take advantage of the happy hour menu at Silver Trumpet Restaurant's lounge, across the street from Segerstrom Center. The happy hour is 2 to 6 p.m. Monday through Friday (and all day Sunday).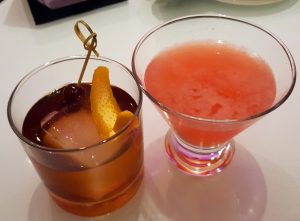 We arrived at 5:30 to a crowded lounge, but still managed to grab a small table. After perusing the happy hour menu, we started with a pair of $8 specialty cocktails. Catherine ordered a Lillet Cosmo with blood orange liquor, while Christopher ordered a Fig Fashioned (a fig-infused cocktail with a dash of maple syrup). Both were excellent.
We decided to sample several items: sliders ($3 each), bacon wrapped dates ($8) and calamari ($11).
"I'm not a huge date fan, but the bacon-wrapped medjool dates were delicious," stated Catherine. "They were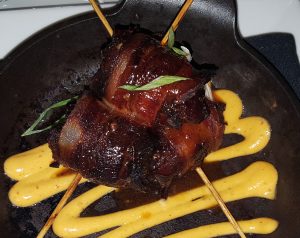 stuffed with gorgonzola cheese, wrapped in crisp bacon and then drizzled with a maple glaze to make them both sweet and savory."
"I agree, I'd make a date with these dates again," joked Christopher. "But I also really like the calamari. I know it's not your style—you prefer yours crispier while this is breaded and lightly fried, but I love the thickness of the calamari, and the tanginess of the dipping sauces. It's a meal unto itself."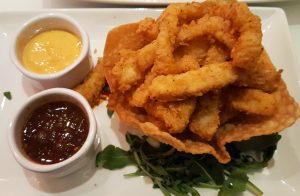 "Even if you miss happy hour, this is a great place to go before a show for a glass of wine and an appetizer," said Catherine. "There are several things on the regular small plates menu I'd like to come back and try."
One thing we did try: dessert. We shared the Blonde Brownie ($8) with butter pecan ice cream and caramel sauce. It was a decadent end to a fun meal, and a good segue into the sweetness of "Nutcracker."
For info on Silver Trumpet, visit SilverTrumpetRestaurant.com.
We strolled across the street to Segerstrom Hall in plenty of time to find our seats. 
We were quickly caught up in the story of "The Nutcracker," and of course the dancing, costumes, sets, and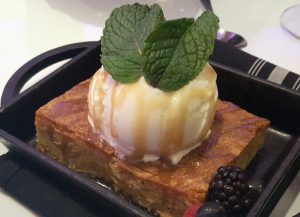 overall ambiance.
"The chemistry onstage between the dancers is phenomenal," gushed Catherine. "You feel them feeding off each other's energy and movements. I felt really pulled into the story this year; it cohesively moves from scene to scene, painting a vivid picture of the journey of Clara and the Nutcracker. The cast did a great job describing what was happening with their movements, and I found myself laughing out loud at some of the funnier moments."
"I agree, this was one of the most enjoyable productions of "The Nutcracker" I've seen, and I've seen a lot," stated Christopher. "The story was indeed seamless, but it was the dancing in the second half that really stood out. Misty Copeland and Herman Comejo were incredible in their pas de deux, and they soared in their solo moments. Definitely a very memorable production."
"The Nutcracker" runs through Sunday, Dec. 18. Principal dancers vary from performance to performance,  but every ABT dancer is a shining star. Visit SCFTA.org for tickets.