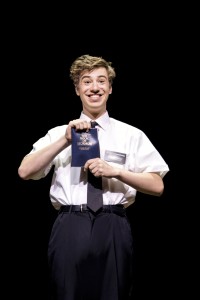 It's irreverent, controversial and outrageously funny. It's also been hailed by the New York Times as "The best musical of the century."
The winner of nine Tony Awards including Best Musical, "The Book of Mormon" is one of the biggest blockbuster Broadway shows this decade. It's from the fertile minds of "South Park" creators Trey Parker and Matt Stone, and the Oscar-winning composer of Disney's "Frozen" and "Avenue Q," Bobby Lopez.
The show follows the misadventures of a mismatched pair of missionaries, sent to Uganda to spread their version of the good word.
"The Book of Mormon" returns to Segerstrom Center for the Arts March 22 – April 3. One of those missionaries, Elder Cunningham, is played by A.J. Holmes, who has been
Touring with the show for several years. Originally from Agoura Hills, Holmes said he's glad to be back in Southern California.
"But I'm not quite as excited as my mom," laughed Holmes, who said she's bringing dozens of friends to see him perform in Costa Mesa.
"I am a huge fan of this show—I saw the original cast on Broadway, but did not know what part might be right for me," said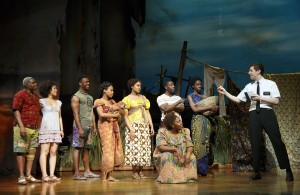 Holmes, who noted that the original actor playing Elder Cunningham was not as thin as Holmes. "I did not look past the weight, but my agent had the presence of mind to send me for this role. I got called back, and again and again, and suddenly it was more serious than I thought. Now, three years later, here I am."
Holmes said he connects with his character, who is a misfit.
"Oh yes, lots of connections. I liked Sondheim from an early age, I played Oliver in sixth grade. I was very much a misfit, I still to this day am socially awkward. I play the character as an extreme version of myself. I admire him, he's not concerned with looking cool, more with treating people well."
One of the subtle aspects of the show for Holmes are the frequent nods to other musicals.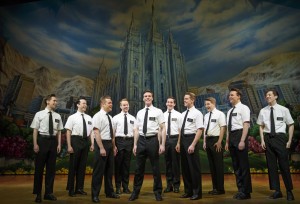 "The writers really know their musical theater history—there are little nods in this score to other classic musical theater shows. For example, the opening of 'I Believe' is lifted from 'The Sound of Music.'"
Audience reactions to "The Book of Mormon" are generally the same everywhere they perform the show, although some cities have their challenges.
"Yesterday here in Sacramento we had two shows. At the matinee we felt that we were terrible. The audience was very quiet—it was an older audience. We started the show, the first few laughs came and went, and you could hear crickets. We wondered if we should go faster, or slower. But that night the audience was roaring. And when we went to Salt Lake City, they gave us the best response we ever had. We stopped the show, they loved it so much."
"We sell out everywhere we go," added Holmes. "It's nice is to be a part of a hit. It's such a good show. That's why I have stuck around for so long."
For tickets to see "The Book of Mormon," visit SCFTA.org.