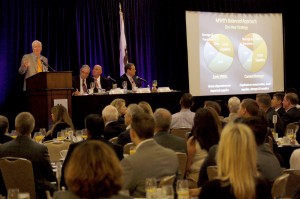 Cautious optimism was the mood of the morning at the 2015 Economic Forecast breakfast, attended by 200 business leaders and hosted by the Newport Beach Chamber of Commerce at the Newport Beach Marriott Hotel & Spa.
After a welcome by Chamber President and CEO Steve Rosansky, he introduced the three expert presenters of the breakfast.
The first presenter was Andrew J. Policano, the Dean's Leadership Endowed Professor and Director of the Center for Investment and Wealth Management at the Paul Merage School of Business at UCI, who spoke about "The Transformational Global Economy."
Second on the dais was Richard Atwater, executive director of Southern California Water Committee, who spoke about "the Drought and its Effect on the 2015 California Economy."
Finally, David Young, CFA, founder and CEO of Anfield Capital Management, LLC, talked about "Divergence in the Dual Economy Implications for Investment Returns and Strategy," and discussed the history of economic downturns in this country over the last 100 years and how the current economy has some challenges despite overall optimism.
"We look for quality speakers, people that are experts in their field but can convey the information to a large group, and certainly we look for someone who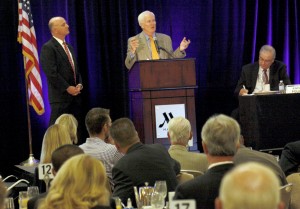 has recognition in the community," explained Rosansky. "We also try to get someone who is topical, and since we're in a drought Richard Atwater is significant."
During his presentation, Atwater talked about the financial ramifications of California's drought, including higher food costs and higher water costs, although he said Orange County is a leader in water recycling.
"Without water, were in trouble," stated Rosansky. "Water has become more important than oil to some degree. With oil you know what you have, but with water you're dependent" on nature.
"Water is more precious than oil, it's a driver for our economy. You have people in agricultural areas using water on crops that may not be efficient, or does not make sense to grow in California without rain. We have to make adjustments to how we use the water we do have."
Rosansky put the presentations into perspective for those wondering what the forecast meant for Newport Beach.
"We don't live in a vacuum here in Newport Beach," he stated. "What happens in the country affects us here and how successful businesses are, how people feel about their own situation. I can recall back in the early 1990s when people in this area had high paying jobs but were nervous about the economy and not spending money—they were clearly influenced by what they were seeing and reading. So even what happens in Germany may affect someone's decision to buy a car in Newport Beach today."
Overall, said Rosansky, his sense was that people in Newport Beach feel good about the economy.
"People are starting to spend more freely. We're starting to see that with restaurants, and hotels are running at more than 90 percent occupancy. Ballroom and conference rentals are up. Airlines are running full. Both Young and Policano had positive messages, they're not doing cartwheels because we have basic mediocre growth, but basically they're saying things are good. We have things to keep an eye on, be careful not to over stimulate any particular market. People will spend what they have. With extra money in the economy, it can trigger inflation. We've certainly seen price increases in certain areas. People are out there spending, rates are low, payments are lower, it could easily get overheated again."
"In general, in our little piece of the economy here, we are certainly doing better than most other areas. Lows are not as low, we bounce back pretty quick here, and in OC in general. We're fortunate to have a diverse economy, great weather and recreational opportunities, great schools—all the things that make this an attractive area to live and work. We have the aspirational lifestyle that everyone wants to have."