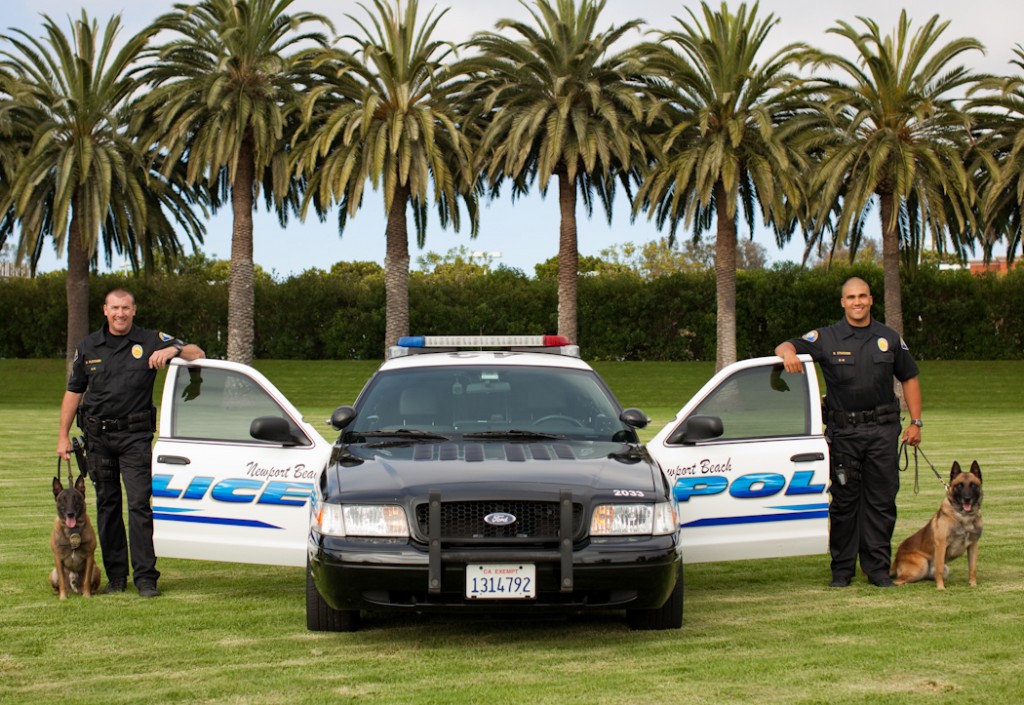 The Newport Beach Police Department's Canine ("K-9") Unit was established in 1987 for the purpose of adding an additional layer of protection for our officers and the community.
Newport Beach K-9s are "dual purpose" dogs; they handle patrol duties as well as provide detection support.
The K-9s track suspects, typically those who have committed violent crimes, are actively resisting or evading officers, and are a threat to the safety of the community and police personnel. They also track items, such as crime associated evidence and illegal narcotics.
In 2010, the Newport Harbor Elks Lodge expressed an interest in becoming a patron of the K-9 Unit. The Elks donated $15,000, which was used to purchase a police dog, who was renamed Elko to honor the Newport Harbor Elks Lodge's commitment to the Unit.
Elko has loyally served not only the City of Newport Beach, but also other agencies within and outside Orange County, for the past five years.
Unfortunately, due to health and quality of life issues, Elko will be leaving duty on April 15.  Elko will go on to enjoy retirement with his handler, Officer Roland Stucken, and his family.  Similarly, the K-9 Unit's second dog, Jardo, has enjoyed a long and successful career in Newport and will be leaving duty by the end of 2015.
Jardo's police handler, Canine Officer Michael Fletcher, avidly supports the K-9 Unit.
"Elko and Jardo have definitely earned their retirements," he said. "They have assisted with bringing countless suspects safely into custody, taking several hundred pounds of narcotics off of the streets and seizing several hundreds of thousands of dollars' worth of narcotics proceeds.  They have also performed in well over one hundred public demonstrations and meet-and-greet events to highlight their skills. There is no question Elko and Jardo have made a real and tangible difference in Newport Beach."
With the announcement of Elko and Jardo's retirement came a renewed tender of support. The Newport Harbor Elks Lodge enthusiastically offered to work with the community to raise money to purchase two new police service dogs to take over Elko's and Jardo's duties.
In addition, the Elks Lodge has also set a goal to raise the funds required to have both canines certified in their required fields, patrol and narcotics.
K-9 training typically begins at about one year old and lasts about sixteen weeks before the dog can enter service. The total cost to purchase both police service dogs and furnish the associated training amounts to about $38,000.
On April 29, the Elks are hosting a golf tournament at Meadowlark Golf Course in Huntington Beach to raise the necessary funds to support the K-9 Unit. The tournament is $125 per player and includes a banquet immediately following at the Newport Harbor Elks Lodge in Lido Village. Sponsorships are also available.
For more Tournament details or to make a donation to the event's auction or become a sponsor, contact the Sharron Dearborn at the Newport Harbor Elks Lodge at (949) 673-6110 or [email protected]  
For questions regarding the Newport Beach Police Canine Unit, contact Jardo's handler, Canine Officer Michael Fletcher, at [email protected]