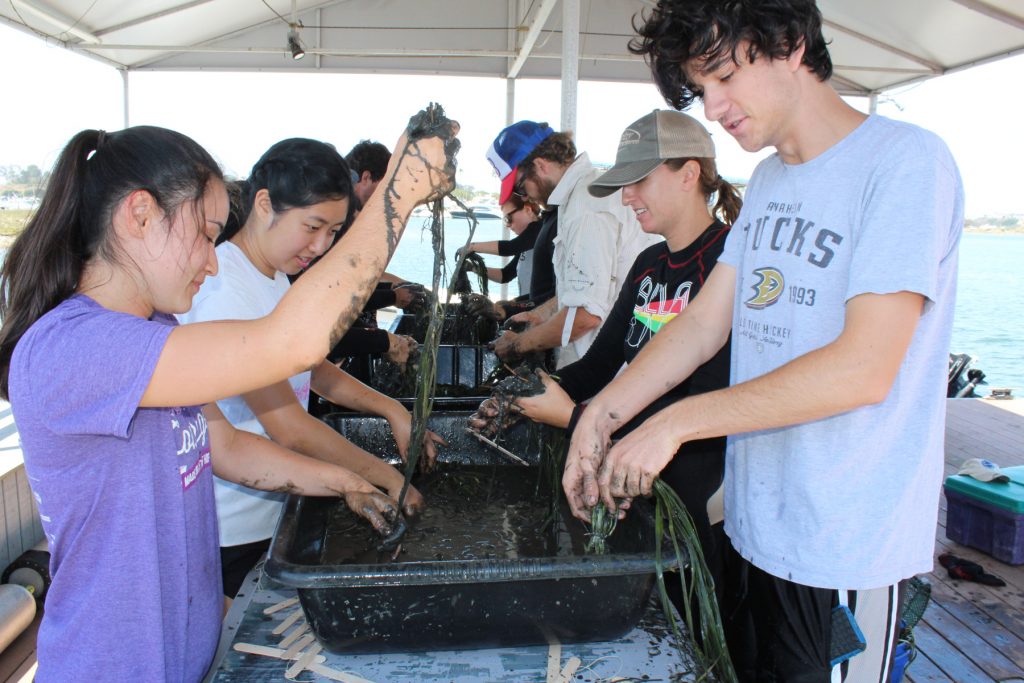 Eelgrass collected and replanted in underwater regions around Newport Beach are flourishing, according to Marine Restoration Director Katie Nichols of Orange County Coastkeeper.
The green, slender seagrass has been planted in the area for nearly a decade, but even grasses planted in July are already showing promise.
On July 6, three divers collected the grass plants from healthy intact eelgrass beds like one at Linda Isle.
"Linda Isle looks great. The water clarity is pretty good," Nichols noted in July. The divers told her that fish were spotted in the grasses, as well as a round ray, who might have been feeding on smaller organisms.
The plants were then taken to the Back Bay Science Center and bundled by enthusiastic volunteers.
Keiko Nomura, a recent graduate of San Diego State, is an intern for Orange County Coastkeeper and participated in the July bundling. In addition to daily research, she helped the divers collect and replant from the boat that day.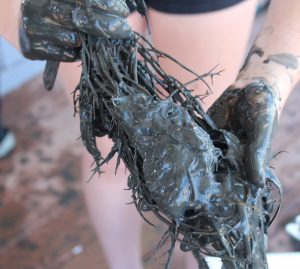 "The field work is great," Nomura said. She said the amount of support from residents of Newport Beach is encouraging. "You can really see the community outreach."
Divers replanted the bundles in areas where the natural eelgrass bed had died off.
"It's doing really well off De Anza Cove, near the PCH bridge, and Westcliff," Nichols said on Wednesday, about two months after the replanting.
The Living Shorelines project is a collaboration between Coastkeeper, Cal State Fullerton, Cal State Long Beach, and San Diego State to restore eelgrass beds, but they've got other plans too. Researchers are simultaneously attempting to restore the Olympia oyster population. Volunteers placed several thousands of pounds of oyster shells into the bay earlier this year.
While the group won't begin monitoring those beds for signs of oyster reproduction until November, they are seeing signs of life.
The biodegradable shell bags are attracting small fish, stingrays, and a very exciting visitor: small Pacific Seahorses that range from an inch to three inches, which have not been seen in this area recently.
The only area that isn't reflecting short-term progress is the shallow water near the Back Bay Science Center. Nichols said the input of fresh water may be affecting it, so they'll continue to watch the area.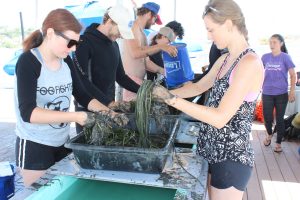 Coastkeeper is also embarking on a new collaboration with UC Davis and UC Santa Cruz to document how eelgrass might buffer against ocean acidification.
Researchers have noted that the water chemistry of the ocean can become more acidic if there is a high level of carbon dioxide in the atmosphere. This may cause pH levels in water to become dangerously low, and cause life for small organisms to become increasingly stressful.
"Water with high acidity can make it more challenging for organisms like oysters or mussels to make their own shells," Nichols said, and it limits their ability to produce calcium for shell making. It can also negatively affect reproduction.
On Wednesday, Nichols and her team placed water chemistry sensors in natural eelgrass beds. The sensors will take continuous data readings for about a month. Nichols and her team will take weekly readings to calibrate and compare the data from other sites.
Using Niskin water sampling containers and other oceanography equipment, the researchers can test water temperature, pH, salinity, conductivity, salt levels, and dissolved oxygen levels in real time.
Nichols hopes the joint research effort will shed light on the issues marine organisms face and provide possible solutions.
"We've been restoring eelgrass for almost a decade, and this partnership allows us to study eelgrass and look at both natural and restored eelgrass beds to see how the water chemistry is affected," she said.
While marine habitat restoration is best left to professionals, everyone can do their part to keep trash out of the bay and ocean. Orange County Coastkeeper will host a Coastal Cleanup Day and Trash Free Jamboree on September 16 from 9 a.m. until 12 p.m.
For more information, visit coastkeeper.org.