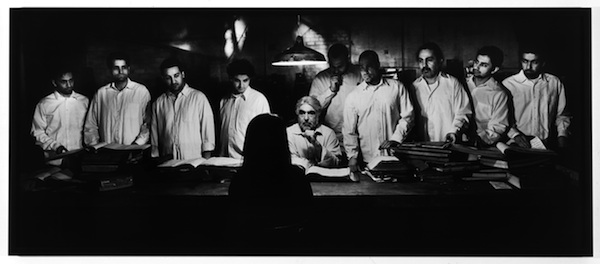 It's been 41 years since the Orange County Museum of Art (once upon a time the Newport Harbor Art Museum) staged a first show composed of works collected by local aficionados. Titled "Contemporary American Art from Orange County Collections," it represented the prevailing zeitgeist by featuring primarily paintings and works on paper by mostly white males artists.
In celebration of the museum's 50th anniversary, OCMA's executive director, Dennis Szakacs, and Chief Curator Dan Cameron have staged "Orange County Collects," a welcome successor that shows what Orange County collectors have acquired over the years and, better yet, indicates how times have changed for the better.
Works in diverse media – painting, works on paper, photography, sculpture and multimedia – created by an ethnically diverse, international roster of male and female artists prove that Orange County has become part of the global collecting community.
Cameron and Szakacs have hung an elegant show that is a must-see, if for no other reason that it allows us a rare glimpse at works that are seldom seen by anyone other than art insiders.
For example, Shirin Neshat's "The Last Word" (2003), a stunning black and white photograph of an unidentifiable woman facing a tribunal of 10 men apparently about to decide her fate, will evoke shuddering empathy in most viewers. The image belongs to collectors Marsha and Darrel Anderson who also own Pierre et Gilles "Elvis My Love" (1994), a painting/photograph evoking rumination on the cult surrounding the iconic entertainer decades after his death, and Luis Gispert's provocative "Dinner Girls" (2000).
In a similar spirit, Nikolas Gambaroff's 2011 "Untitled" work, centered on vague suggestions of figures torn into stock market statistics, raises questions about how far recent banking scandals have corrupted individuals and society at large. The piece, visually somewhat un-prepossessing but worth intelligent contemplation, is part of the Mark Bergendal collection.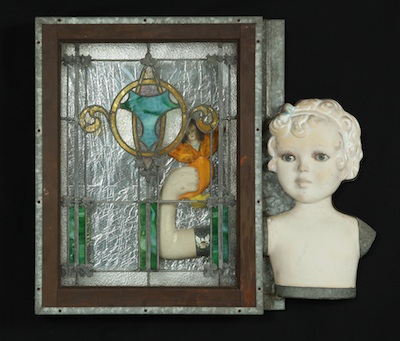 Not surprisingly, given the approximate median age of the collectors, artists who defined the spirit of the 1960s and '70s are strongly represented. Ed Kienholz's tender tribute to a dead child, "Ode to Kathy Fiscus and A Box for Kathy" (1962), belongs to Buck while the other four Kienholz pieces, including "Sawdy" (1971) and "The Black Angel" (1964), are from the Anton D. Segerstrom collection. which also boasts several noteworthy works by Ed Ruscha, including the exquisite "Brave Men" (1986). The latter is a slight departure from his pure word pieces that he also successfully expanded on in the 1970 gunpowder on paper drawing, "Policy."
Clearly, Buck, Segerstrom and others seek diversity in their acquisitions, works that tend to represent the zeitgeist surrounding the artists.  For example, Andy Warhol's "Jackie (smiling Jackie with hat and J.F.K)" (1964), suggests a tragic historical figure rather than the fashion mag fixture the world came to know (Segerstrom Collection).
Chicano artist Chaz Bojorguez is, not surprisingly, found in several collections.  "R.I.P aka Prayer for Homie aka Homie's R.I.P" (1999) ups the level of folk/street art into a moving ode to a truncated life. "Words that Cut" (1991) is a stunningly executed (trompe l'oeil) bas relief rendition of innocuous words that suggests how, in select contexts, they can become pejorative (Buck Collection).
Anyone sentimental for Jackson Pollock need look no further than Oliver Arms' aptly titled "Inheritance" (2007, Greg Salmeri Collection). Arms' palette veers into reds seldom seen in Pollock's over, but the "old master's" spirit is clearly evident.
With two more Salmeri-owned works featured, – "Arm with Bone" (2010) by Edgar Arceneaux and Joe Goode's "Sporadic" (2003/04) – the collector sums up the exhibition thus: "I think that it's taken too long to recognize the growing importance of Orange County art collections. We may have been overshadowed by Los Angeles, but it's evident that we help put the state on the map in terms of collecting historically significant art."