Jill Fales, who shares her motherly experience every week in the Newport Beach Independent, has published her own book.
Fales pens the popular Mom's Voice column for the Indy and will be launching her new book, "My Laundry Museum & Other Messy Gifts of Motherhood," on Monday.
** Read this week's Mom's Voice here. **
"[Her] warm and relatable writing style makes her readers think, laugh cry, and ultimately feel inspired.," a statement about the book release read.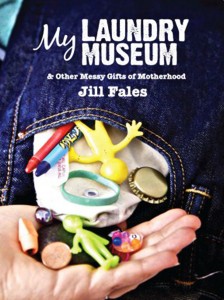 As a mother of four, she writes about the humor and "quiet gifts" found within the frenzied pace of motherhood.
"At this point in my life, I am fairly certain I would not be able to score above 300 on the math portion of the SAT, but I can figure out how to split the last pudding cup four ways," reads one excerpt from the book.
Fales' column has also been featured at the Orange County Register website's parenting feature, OC Moms.
The book is a collection of essays, derived from the Mom's Voice columns.
The public is invited to attend the book launch and signing on Monday from 6 to 8 p.m. at the Greenleaf Gourmet Chopshop in Costa Mesa.
The laundry museum that gave the book its title started as Fales began putting some of the unusual items she found in her kids' pockets into a glass jar as her own little project, she said.
Anything can go into the Laundry Museum, as explained in the instructions, "handful of change, the fortune from a cookie, a golf tee, or a gum wrapper, drop it in and watch the unique collection begin to grow!"
It just made her smile, she said.
It boils down to "finding joy everyday, everywhere," she added.
Fales said the book is also meant to "encourage others that even the most mundane things, depending on your outlook, can be enjoyable." The key, she said, is to find "the magic in the moment."
In her writing, she also emphasizes the importance of having fun and of kids (and adults) not taking themselves too seriously. It's about enjoying life and all its details.
The advice and stories in her columns, and now in her book as well, will also be nice for her kids to read as they get older. They can grow up and read about a certain time or event in their lives that they may not remember otherwise.
"They will be able to see a very detailed snapshot of a moment of their life," Fales said.
As much as the stories inside mean to her, the book itself also holds special meaning to Fales. Publishing a book has long been a personal goal, she said.
"I'm doing this for my family and for myself," she said.
Although it may not end up on Oprah's book club, she joked, that's not what it's about.
"Just being able to hold it in my hand," is such an accomplishment, she added.
"Pushing through all the self-doubt that inevitably comes up whenever there is a dream or goal," has been difficult, she said, but she worked hard and accomplished her goal, and that's a great lesson for her kids to learn, she added.
She learned a lot while self-publishing as well, she said. She was shocked to see the level of detail and control she had on everything from the location of the page numbers to the size of the font.
But it wasn't just her.
"It was a team effort," Fales said. "There's no way I could have done this alone… There was a group of people that believed in me… cheering me on and helping me (along the way)."
"My Laundry Museum & Other Messy Gifts of Motherhood" will be available in paperback, and for Kindle and Nook, on Oct. 15 on Jillfales.com and on Amazon.
Laundry Museum glass jars and instructions will also be available for purchase.