New security measures for Newport-Mesa Unified School District were approved at the Board of Education meeting Tuesday night, the board's first decision regarding school safety since the shootings at a Connecticut elementary school and Fashion Island in December.
The board approved ID badges and lanyards for all staff, costing an estimated $3,500; handheld devices with Aeries access, about $200 each, and Aeries software licensing, $1,000 per site, according to the staff report. The Aeries devices and software cost would total about $17,000.
The move also included increasing annual lockdown drills from two to four or six, a training scenario plan to follow, and requiring classroom doors to be locked at all times.
School district officials sat down with local police during a special meeting on Dec. 18 to discuss school security.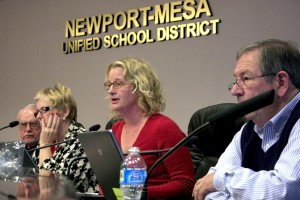 The meeting was called after the deadly attack at Sandy Hook Elementary School in Newtown, Conn., in which a lone shooter killed 20 children and six adults.
Board members met with district staff, Newport Beach Police Department Deputy Chief of Police, David McGill, and Costa Mesa Police Department Chief of Police, Tom Gazsi, to discuss school safety efforts and procedures.
McGill called the Connecticut tragedy an "eye opener," and said police have identified a few areas to improve in Newport Beach schools.
"This was a horrific event," said board Vice President Karen Yelsey in December. "And to think that something like that cannot happen here is very naïve."
The board talked again about possible safety procedures during a meeting in January.
A lot of ideas had been brought up at both meetings, including training and arming qualified school staff, conducting more intruder alerts, video security, fences and locked doors and gates, ID badges, and more.
Some of those ideas were approved Tuesday.
Staff recommended  a "Run, Hide, Act" training scenario for each school.
"What this will do is allow staff members that identify a threat of violence or gunfire to act," said Assistant Superintendent Susan Astarita.
"They will not be waiting for an all-call from the front office to begin to move, they will have permission to run if they need to, she explained. "They will be training their staff members (and) students to all respond in a very proactive manner, there will be strategies about where they could hide and then how to act."
The plan includes finding a safe and secure location to hide, and training staff to distract or charge an intruder, if needed.
Board member Walt Davenport was a little concerned about that last part.
"I guess I have the sense that maybe it's a little aggressive," Davenport said about the "Act" portion of the plan.
Staff struggled with that as well, Astarita admitted, but agreed that they were the appropriate steps to take and that teachers and staff need to be committed to stopping a threat.
Staff will also be trained to make judgment calls, she added.
"There's a whole lot of common sense that has to go into the implementation of anything like this," she said.
Astarita also provided the board with talking points from the National Association of School Psychologists to use in conversations with young students.
These new procedures need to be handled with care, in a "developmentally appropriate way" for the students, she said.
It's an emotional and complex topic, board member Katrina Foley agreed.
"I do have a fear about the students and how this necessity to have a lot of practice doing this will both desensitize students and, possibly at the same time, cause students to be fearful, actually, of being at school, which, I believe until recently, most students would consider school to be the safe place in their life," Foley said.
She suggested following up the training with something fun and would allow the students to feel good about being at school. So there is a balance, she added, the school should remain the safe place.
Astarita agreed, and said staff will do everything they can to be sensitive about the training.
It's also an educational opportunity, said Melissa Hurd, the district's lead psychologist. She envisioned teachers having conversations with their students, rather than an acted out scenario, instructing the kids on what to do in case of an emergency.
The students need to know to look toward their teacher for guidance during a crisis, Hurd said, "but if that teacher is not available to direct them, that they have the opportunity to run, or hide, or do what they need to do."
"We just need to keep our kids safe," she added.
There also need to be clear lines for when this plan is enacted, Foley said, it can't be with just any disturbance.
"I would hope that it's expected only for those anomaly, worse-case scenarios… Not a disruptive student or parent on campus," Foley said.
Board member Martha Fluor asked staff to bring back a recommendation about implementing a "see something, say something" program.
The idea "If you see something, say something," addresses personal responsibility on many levels, she said. She recommended putting posters up in schools and starting an anonymous student tip line.
"I would really like to see us have some overarching (measures) like this," Fluor said.