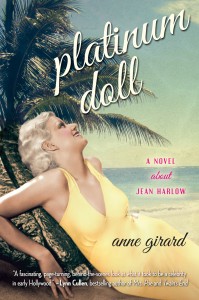 These days in Hollywood we have celebrities, such as Jennifer Lawrence and Bradley Cooper, divulging their salaries, and publicly calling for female stars to command contracts equivalent to those of their male counterparts.
The pay gap aside, women working in film today (thankfully) have no inkling of how difficult it was for a woman to catch a break in the business during the industry's early days, when starlets were prized more for their physical assets than the talents that went along with them.
Knowing the kind of uphill battle these ambitious young women faced gives one even more respect for the ladies who found a way to make the system work for them, and earned the fame they sought in a world that was definitely a bona fide boys' club.
One such star was the unforgettable Jean Harlow, whose story has recently been brought to life by Newport Beach author, Diane Haeger, as written under her pen name, Anne Girard.
In her book, "Platinum Doll," Girard chronicles the meteoric rise of Harlean Carpenter, from her start as a seventeen-year-old teenage bride, to her reinvention as the mega-watt femme fatale, and household name, even still, Jean Harlow.
Defying her family to run away at 16 with first husband, Chuck McGrew, Harlean set herself on a path that, while often tragic, would lead her to become one of the biggest stars of the early "talkies."
McGrew, an orphaned but wealthy heir surprised his young bride with the purchase of a home in the newly developed and exclusive Beverly Hills, knowing that she had fond memories of her time in Los Angeles while her mother, also Jean Harlow, tried unsuccessfully to break into show business.
Despite her initial assertions that she wanted no part of being an actress, fate had another plan in mind, as Harlean accepted a dare, using her mother's name, to meet with a casting agent who recognized at once the star quality she possessed. She began to accept bit parts in films, which fueled the jealousy of her young husband, a man who already struggled with his own demons and the bottle.
Conversely, her mother saw Harlean's rising star as a way to vicariously live the life she so desperately wanted for herself, and mounted a campaign to once and for all eliminate Chuck from her daughter's life, paving the way for herself alone to control Harlean and the direction of her career.
While Harlow's story is fraught with sorrow – three ruined marriages, and an early death at 26 – Girard chose to focus her well-researched story on the approximate three-year period during which Harlow rose to fame.
Chafing against the studios' insistence to capitalize initially on her sex appeal, Harlow accepted her branding as the "Platinum Blonde," while working tirelessly to ensure that people saw her for what she truly was – a woman with a brain as valuable as her body.
Never giving up on her quest for roles that spotlighted her abilities as an actress, Harlow did indeed make the name she wanted for herself, cementing her place as one of the era's biggest stars, and demanding that her story would be told on her own terms.
Girard, for her part, has a story to share as well, which she will do as she visits the Seaside Gallery and Goods Collective on Saturday, February 27, to share excerpts from her book, as well as the journey she took to write it.
Appearing alongside fellow local authors, Susan Meissner and Suzanne Redfearn, Girard will be in the Collective's Pelican Courtyard from 1 to 3 p.m., reading from her book, signing copies, and sharing the extensive research process she undertakes to make each of her works of historic fiction – fifteen so far – come to life.
For more information on Girard, or her appearance, please visit dianehaeger.com.
Edie Crabtree is an avid reader and the mother of three active boys. She can be reached at [email protected].