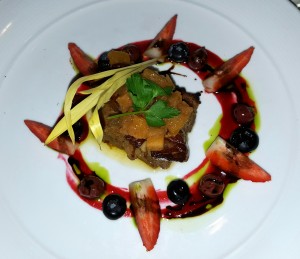 By Christopher Trela & Catherine Del Casale | NB Indy
Memorable Dining at The Winery Restaurant
Where do you celebrate a birthday dinner with your mother?
Last year, Christopher took his mother, Virginia, to The Winery Restaurant on Coast Highway for her 90th birthday. She had what she claims is the best salmon she's ever tasted, and has been talking about the dinner for the past year.
So, when it came time to celebrate birthday number 91 this month, where did Virginia want to go? Of course—The Winery.
Christopher, his brother and sister-in-law brought Virginia to The Winery on a recent Saturday night.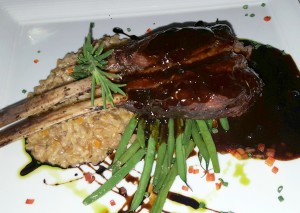 Because the reservation was early (5 p.m.), we managed to snag a window table with a view of Newport Harbor.
Christopher brought a bottle of Tobin James Fat Boy zinfandel, which the sommelier opened for us to sip as we perused the menu and learned about the evening's specials.
When he heard about the foie gras on bread pudding special that chef Yvon Goetz had concocted for that evening, Christopher had to order one. Everyone else started with soup or salads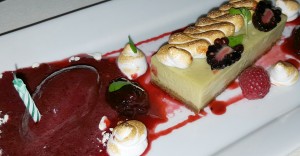 Despite her affinity for salmon, Virginia opted for scallops as an entree, while Christopher and his brother, Brian, ordered the special bacon-wrapped venison (which went perfect with the Tobin James Zin). Brian's wife, Rose, had a fish dish. They also ordered a side of black truffle mashed potato.
The verdict on dinner: the foie gras was over-the-top decadent, the entrees were all perfect (Virginia loved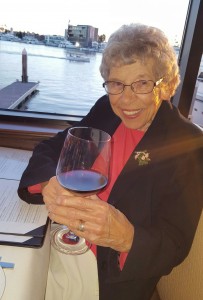 her scallops), and the entire experience provide yet another memorable birthday for Virginia.
Guess where we're going next year?
By the way, we celebrated Catherine's birthday at The Winery earlier this year, and also had a memorable experience. But no need to wait for a special occasion, because just dining at The Winery makes it a special evening. They have a daily crush hour Monday through Friday from 4 to 6:30 p.m. and Sundays 4 p.m. to close, with food and drink specials.
Visit TheWineryNewport.com for info and reservations.
Musical Menus
One of the reasons we enjoy attending shows at Segerstrom Center is the opportunity to dine at Leatherby's Café Rouge, which in our 2015 year-end roundup we dubbed "our favorite restaurant we wished was in Newport Beach."
Leatherby's Chef Ross Pangilinan's creates a themed menu for each musical that comes to town, although the last show, "The Illusionists," was not a musical yet the menu was one of Chef Ross' most dazzling ones yet.
"Because 'The Illusionists' dealt with magic and illusion, Chef Ross added magical elements to the menu and dishes," said Catherine. "Usually he is a master of textures, but this time he incorporated the elements of surprise and wonder."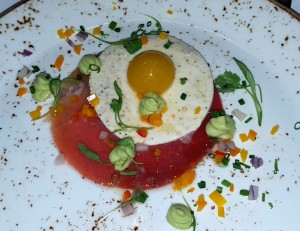 The first course was an illusion of steak and eggs. Using the ingredients of marinated tuna, coconut mango egg, Thai chili, lime, avocado, onion and bell pepper, Chef Ross placed those elements on the plate to look like steak and eggs. The actual taste, however, was a perfect combination of flavors and textures.
The entrée was called "Smoke," with smoked barramundi and pork belly, lentils and vegetables.
"The dish was covered by a bowl, and when you lifted the top off, smoke billowed all ovr the table," said Catherine.
"Desert was perhaps the best ever: sorbet with liquid nitrogen meringues with pop rocks, which when placed in your mouth enabled you to exhale smoke while savoring the sensation of the pop rocks exploding in your mouth," said Catherine.
We're dining at Leatherby's before seeing "Wicked" at Segerstrom Center this week, and will be reporting back on the musical menu Chef Ross is creating especially for that show.
For information on Leatherby's, visit PatinaGroup.com.
Pasta at Back Bay Bistro
Catherine loves all things Italian, so of course she was excited to learn about the Family Pasta Night every Sunday at Back Bay Bistro.
First, choose your pasta (linguini, ravioli, or penne), then select a sauce (alfredo, marinara, Bolognese or clam). Top it off with meatballs ($16), Italian sausage ($17), or chicken involtini ($18). All entrees include a small bistro or Caesar salad.
The pasta night starts at 4 pm, which means you have plenty of time to enjoy the view of Newport's back bay while dining. The restaurant has a convertible roof that can open up during warm days, as well as al fresco seating on the patio.
By the way, Back Bay Bistro has a terrific weekend buffet brunch served on Satruday and Sunday 9 a.m. to 1 p.m. that we've tried and enjoyed several times. It features carving stations, omelet station, sides, desserts, and more. Cost on Saturday is $28 without champagne, $33 with bottomless champagne. Sunday is $47 without champagne, $52 with champagne.
Call (949) 729-1144 or visit newportdunes.com/bistro for details.
Selanne Steak Tavern Wine Dinner
We don't normally advocate paying $395 for a wine pairing dinner, but when Selanne Steak Tavern in Laguna Beach teams with Napa Valley-based Dana Estates Winery Sunday for a wine dinner on Feb. 28 featuring the very rare 2007 Dana Estates 'Lotus Vineyard' Cabernet Sauvignon (a perfect 100 points in Robert Parker's The Wine Advocate), you can bet there will be plenty of happy patrons enjoying an incredible six course dinner (plus amuse bouche and intermezzo), created by Executive Chef Joshua Severson and Sous Chef Alison Flecky.
Vanessa Conlin from the winery will be on hand to talk with guests about Dana Estates' wines.
For reservations, please call (949) 715-9881 or visit selannesteaktavern.com.