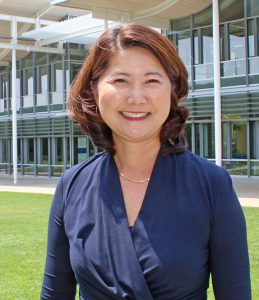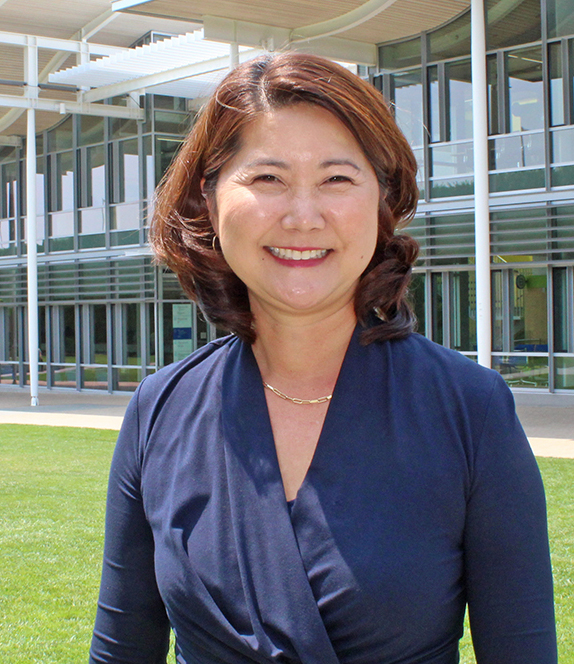 By Grace Leung, Newport Beach City Manager
Happy Independence Day to you and your families!
The City of Newport Beach is committed to ensuring a safe and family-friendly July 4 holiday, with fun activities, celebrations and enhanced public safety measures.
There will be a number of community-oriented activities in Newport Beach this Fourth of July, including:
12th Annual Fourth of July is for Families – Newport Peninsula Bike Parade and Community Festival. The City of Newport Beach will host the annual Newport Peninsula Bike Parade and Community Festival on July 4. The bike and dog parade begins at 9 a.m. at Balboa Blvd. and 36th Street and will head down Balboa Blvd. to Channel Place Park for a free festival including carnival games, giant slides, jump houses, arts and crafts, and food. Parade participants are encouraged to decorate bikes, scooters, wagons and strollers and please bring dogs on leashes. The festival will run from 9:30 a.m. to 11:30 a.m. For more information on this event, contact the Recreation and Senior Services Department at (949) 644-3151.
Mariners Park Independence Day Parade & Celebration: The Mariners Park Independence Day Parade & Celebration will scale back this year with a Children's Bike Parade at 10:30 a.m. (there will not be a festival this year at Mariners Park). Thank you to the Mariners community for organizing the parade.
Old Glory Boat Parade: The annual "Old Glory Boat Parade," sponsored by the American Legion Yacht Club and the American Legion Post 291, will be held in Newport Harbor on July 4, beginning at 1 p.m. See the harbor at its patriotic best as boats decorated in red, white and blue move through the water. For more information about the parade, including the best viewing locations, please contact the American Legion Yacht Club by calling (949) 673-5002 or visiting its website.
Fourth of July Coastal Flyover: The Condor Squadron Officer's and Airmen's Association, a non-profit organization founded by a group of WWII fighter pilots, will fly AT-6's over Huntington Beach, Newport Beach, Laguna Beach, Dana Point and San Clemente on July 4. They will begin over Huntington Beach and expect to fly over Newport Beach between 5:35 p.m. – 5:40 p.m. Thank you to the City of San Clemente for arranging this special holiday flyover.
Fireworks Extravaganza: The City is co-sponsoring a Fireworks Extravaganza with the Newport Dunes Waterfront Resort, 1131 Back Bay Drive. The fireworks show will begin at 9 p.m. on Tuesday, July 4. Newport Beach residents can walk into the evening fireworks show for free (please bring photo ID). The Newport Dunes has a full day of activities, food and music planned for the Fourth of July. Gates open at 8 a.m. and there will be a $50 per car parking fee throughout the day. Please call (949) 729-DUNE or visit newportdunes.com to confirm information about the other holiday activities planned at the Dunes.
As you celebrate, please keep in mind:
Fireworks of all types are illegal in Newport Beach. To report the illegal use of fireworks, call the Police Department's non-emergency line (949) 644-3717 only if you know the exact location.
Due to the large crowds that come to Newport Beach to celebrate the holiday, please remember to observe all posted traffic control and give way to pedestrians and bicyclists. Traffic entering the Balboa Peninsula is heavily congested on the holiday, and some roads will be closed. If you are inviting visitors to this area, please advise them to arrive early in the day to find legal parking.
A Safety Enhancement Zone will be in effect in the area bounded by the Pacific Ocean on the south, 32nd Street and Newport Boulevard on the east, W. Coast Highway on the north, and 54th Street on the west. The Safety Enhancement Zone designation is effective from 12:01 a.m. on July 4 to 3 a.m. on July 5. Fines within this area are triple the normal amount during this time frame and can be up to $3,000. The City sent a letter to the residents and property owners in the Safety Enhancement Zone that explains the regulations.
Loud and raucous parties that require a police response could result in a citation or arrest for those present and fines for both property owners and tenants. Fines in the Safety Enhancement Zone are tripled on the Fourth of July, and short-term lodging permits (for vacation rentals) can be temporarily revoked for up to 60 days.
Please enjoy a fun and safe July 4!
State to Audit Management, Oversight of Sober Living Group Homes
This week, the state Legislature's Joint Legislative Audit Committee approved an audit into the management and oversight of state-licensed sober living homes, following a request by Assemblymember Diane Dixon. The audit will look into how the Department of Health Care Services licenses and regulates sober living facilities.
This is an important issue for the Newport Beach community, as the City has been strongly advocating for greater state transparency and more oversight of the group homes it licenses. The City's goal is to ensure the state is licensing and maintaining homes that are good community partners and neighbors, and that they are well-regulated, safe and effective in helping people receive proper treatment.
The audit will help Newport Beach and other communities across California to better understand the state's processes and the manner in which it regulates the homes it licenses. We appreciate Assemblymember Dixon's work on this important issue and thank the Committee for agreeing to this critical first step.
Newport Coast Drive Traffic Update
The City is working to reduce traffic impacts from the repaving work now underway on Newport Coast Drive between East Coast Highway and Ridge Park Road.
Lane closures on northbound Newport Coast Drive and side streets will conclude today, Friday, June 30, and lanes will remain open through July 4.
Beginning Wednesday, July 5, lane closures will resume on Newport Coast Drive between 6 a.m. and 5 p.m. daily for about two weeks. However, traffic impacts are expected to be reduced through adjustments to traffic signals and flagmen operation. City staff will be working with our contractor to reopen lanes as quickly as possible.
If possible, please use the alternate route of Coast Highway to MacArthur Boulevard to San Joaquin Hills Road.
Following the paving operation, some additional work will be required through mid-August, when the project is expected to be completed.
City Replaces Pirates Cove Safety Wall
The City recently replaced a rebar safety wall at Pirates Cove at Corona del Mar State Beach. About 40 years ago, the rebar wall was installed at the back portion of the cave opening as a safety measure to prevent anyone from entering and getting injured or trapped in it during high tide.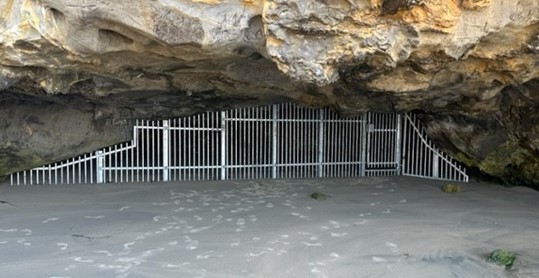 The City's Public Works Department replaced the deteriorated rebar wall with a new galvanized steel enclosure. The entire project took 10 days to complete, with staff and crew working around the high tide schedule.
A maintenance entry door was installed as part of the new wall for our maintenance crews to access when removing debris that collects inside the cave.
Superior Avenue Pedestrian Bridge and Parking Lot Construction Update
Construction of the Superior Avenue Pedestrian Bridge and Parking Lot project is progressing on schedule. The two bridge foundations were completed last April and the abutments (bridge supports) are now being constructed.
Temporary lane closures, k-rails and other traffic control measures are in place in preparation for the installation of the bridge falsework (temporary supports used during concrete construction).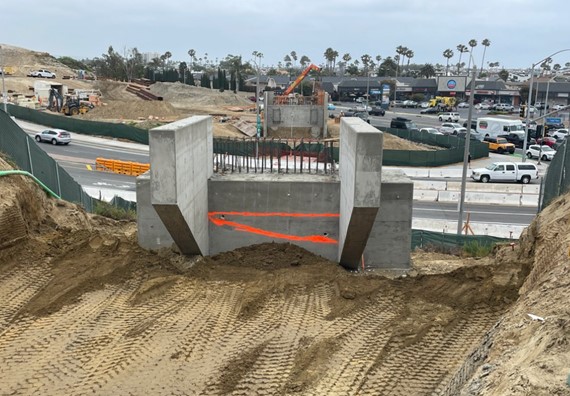 Starting in July, temporary falsework will be constructed across Superior Avenue. Most of this work will be completed during nighttime hours, from 9 p.m. to 5 a.m. Superior Avenue will be closed to vehicles and temporary detours will be in place during night working hours. The falsework installation will take approximately five nights to complete.
The nightly lane closures will be removed at the end of each work shift to minimize traffic impacts during the day. The construction of the bridge itself, which is also known as the superstructure, will take approximately seven months to complete. Thank you for your continued patience throughout construction.
Be Well Mobile Crisis Response Update
The Be Well mobile crisis response team operates in Newport Beach 12 hours a day, seven days a week to respond to mental and behavioral health crises. The mobile unit is staffed with mental health specialists and works closely with the City's police and fire departments.
This week, the Be Well team:
Transported a person to the Yale Navigation Center and facilitated the intake.
Transported two people to a crisis stabilization facility for treatment.
Transported a person to a hospital for treatment.
Transported two people to bus stops for rides back to their cities of origin.
Educated tourists and residents on the Be Well OC services and campus.
Attended the Newport Beach Police Department's Mobile Café to engage with the community and discuss services.
To reach Be Well: The mobile crisis team is dispatched through the Newport Beach Police Department. To request service, dial 911 or call the Police Department's non-emergency line at (949) 644-3717.
Homelessness Update
This week the City's homeless outreach and response teams:
Placed a client in the Costa Mesa Bridge Shelter and facilitated the intake.
Bridged a client in a motel and then transported them to Orangewood Children's Home and the Social Services office to obtain vital housing documents.
Collaborated with the Homeless Liaison Officer and a social worker to provide a Homeless Verification letter for a client's housing paperwork.
Assisted a client with completing naturalization papers for their housing paperwork.
Assisted a client at the Social Services office to obtain a vital housing document.
Enrolled a new client into services and completed a referral to the Yale Navigation Center.
Continued to shelter people. Twenty people who had been experiencing homelessness in Newport Beach are sheltered in the Costa Mesa Bridge Shelter.
Click here to view the latest homeless dashboard, which includes key monthly and yearly data on the City's homeless response: https://www.newportbeachca.gov/trending/community-issues/homelessness/monthly-homeless-count.