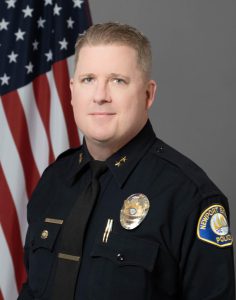 To be an outstanding leader, one has to have learned from and been led by outstanding leaders.
And that evolution is no doubt one of the reasons why 51-year-old Joe Cartwright is now chief of the Newport Beach Police Department.
His leadership skills were first formed over four years with the United States Marine Corps, where he was assigned to the Corps' security forces and Close Quarters Battle Team aboard the nuclear aircraft carrier Abraham Lincoln.
He was deployed twice to Operation Desert Storm. Subsequent assignments included Operation Fiery Vigil (a humanitarian challenge after the massive explosion of Mount Pinatubo in the Philippines) and Operation Restore Hope in Somalia (after the famed Black Hawk Down incident).
Enlistment completed, and with deep respect for military law and order, Cartwright joined the Los Angeles Police Department in 1999, first serving in the department's Pacific Division for one year, followed by two years at the 77th Street Division in South Central, before navigating south to join the Newport Beach PD in 2002.
Along the way, he earned his Bachelor of Science degree in Criminal Justice from California State University, Long Beach, then went on to receive a Master of Arts Degree in Organizational Management from the University of Phoenix.
He also is a graduate of several advanced law enforcement training courses, including the Sherman Block Supervisory Leadership Institute, the Force Science Institute Certification Course, several executive development courses for both California POST and the California Police Chiefs Association, and the California Police Chiefs Executive Leadership Institute at Claremont Graduate University's Drucker School of Management.
Despite all his certificates of advanced training and his university sheepskins, it was his matriculation from the streets that helped to shape the officer now leading the 235 employees of the Newport Beach Police Department.
Eight months into his job, Cartwright answers questions suggested by members of the community:
NB Indy: You inherited a fine department: how do you think you can/will make it better?
Chief Cartwright: I am so proud to be a part of the Newport Beach Police Department. Our team is comprised of an extremely bright and talented staff of officers, professional staff, and volunteers. The Department, along with the entire City team, is thriving. That is due in part to our philosophy of constant and never-ending improvement.
NB Indy: How do you define community policing?
Chief Cartwright: Community policing is something the Newport Beach Police Department has been practicing for many, many years. The most important aspect of community policing is to build a relationship of trust and cooperation within the community. When the public trusts their police department, they are more likely to call us with their thoughts and concerns, which then allows us to tailor our service to meet their needs and protect the community. Ultimately, our mandate is to harness that relationship in order to improve the lives of those who live, work, and play in Newport Beach. When community policing is implemented effectively, everyone thrives.
NB Indy: What are the qualities you want in an officer?
Chief Cartwright: Recruiting and hiring police officers is extremely challenging, especially in today's environment. The Newport Beach Police Department has extremely high standards, higher than other agencies in the Southern California area, and it all starts with character. We can train a person how to do the job, but they need to arrive at our door with good character and solid core values. This profession also requires good interpersonal skills, emotional intelligence, critical thinking, sound judgment, integrity, honesty, dependability, trustworthiness, and physical fitness, to name but a few.
NB Indy: How many women police officers in the department?
Chief Cartwright: We have 14 sworn women members of our department, including three sergeants. We also are fortunate to have 55 female members of our professional staff, including three Civilian Investigators, our Emergency Services Coordinator, two Crime Scene Investigators (CSI), and four Custody Officers.
NB Indy: What do you see as the major crime/safety issues facing Newport Beach?
Chief Cartwright: Property crime and theft continue to be the most significant crimes facing the Newport Beach community. This past year, our staff was able to address a rise in residential burglaries that plagued the Southern California area. We were fortunate to be able to deploy a variety of resources, including directed patrols and undercover units, to make a significant reduction in these residential burglaries. We continue to work with our neighboring agencies and analysts to monitor any new crime trends that may surface.
NB Indy: Police departments in larger cities are often a reactive service. Do you consider NBPD to be an active or preemptive department, or both?
Chief Cartwright: The Newport Beach Police Department is a proactive organization by design. Our officers maintain a proactive posture when they are not tasked with a call for service. They start every shift with a robust knowledge of what is occurring in the City, based on daily crime analysis and information sharing. Beyond that, the supportive partnership with our residents has become a force multiplier when it comes to "proactive" policing. This valuable synergy allows community members the ability to engage in the process and be an extension of their police department. Our goal is to deter and prevent crime, so when they see something suspicious, we want them to call us. It is that simple."
NB Indy: What are some recent successes by your officers?
Chief Cartwright: A recent study by the DOJ revealed our crime/case clearance rates are higher than the Southern California area. This highlights some of the great work our department does to solve and prevent crime, from the time the call comes into Dispatch until the time our officers or detectives make an arrest. We put on two large-scale active shooter response training scenarios, one at a vacant movie theater and a second at a neighborhood elementary school. This realistic and dynamic training helps our officers prepare for some of the most difficult and challenging calls we'll ever respond to. Our Detective Division has put together several successful cases recently, including the arrest of three people suspected of being involved in over two dozen burglaries of UPS stores throughout Orange and Los Angeles counties.
NB Indy: Any last thoughts?
Chief Cartwright: In summary, we're continually looking at ways we can improve service to the community. I always welcome constructive input from everyone in our department, and especially from the citizens we're proud to serve."