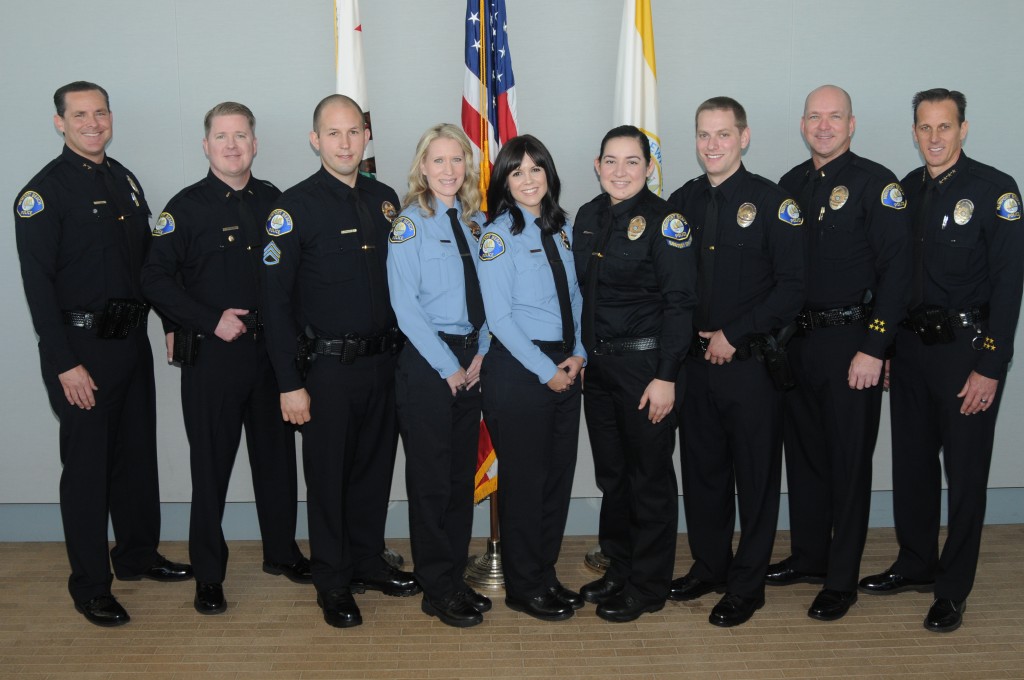 About 150 people crowded in and spilled out of the community room at the Civic Center on Monday as the Newport Beach Police Department swore in one new police officer and promoted seven other NBPD employees.
"This is an exciting time," said Chief Jay Johnson. "What a way to start the year."
Friends and family members of the eight being honored were in the audience, as well as several city officials, council members, fire department officials, former NBPD chiefs and many others.
Johnson recalled the stressful process and congratulated those moving forward, which included Jon Lewis being promoted from the rank of lieutenant to the rank of deputy chief.
The process to choose a deputy chief is challenging, Johnson said. Applicants go through several interviews, including a panel of city staff, a team of chiefs from other cities, and a group of community members.
They also have to interview one-on-one with Johnson.
"I put some of them through the ringer on some of this stuff," Johnson said.
It was a difficult selection, Johnson said, but when it came down to the heart of it, Lewis wound up on top.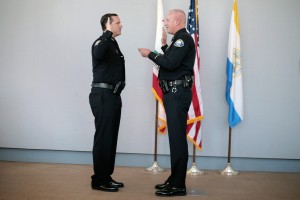 Los Angeles native Lewis comes from a family of educators.
After graduating high school, he was hired as a cadet for NBPD. He's had the privilege to work at NBPD for his entire adult life, Lewis noted.
"I've grown up in this department," he said.
Lewis graduated with honors from California State University, Long Beach, with a bachelor's degree in criminal justice and a minor in speech communication. He later earned his master's degree in criminal justice from Chapman University.
He attended the Orange County Sheriff's Academy.
As he rose through the ranks during his career at NBPD, Lewis has worked numerous positions, including patrol officer, gang suppression, drug recognition expert, field training officer, bike patrol officer, detective, SWAT team member, Crisis Negotiation Team commander, special projects manager, professional standards unit supervisor, patrol watch commander, support services commander, executive officer, and many more.
He graduated from the Sherman Block Supervisory Leadership Institute in 2008 and was class speaker for the Leadership Tomorrow class of 2012.
He's also authored two university level textbooks in criminal justice.
Currently, he's participating in the "very intense" California POST (Peace Officer Standards and Training) Law enforcement Command College program, Johnson added.
He's been motivated and inspired every day since he started in the NBPD organization, he said.
"My friends, my colleagues, I have the utmost respect and admiration for you," Lewis said.
Joseph Cartwright and Randy Querry were also promoted, from sergeant to the rank of lieutenant.
Anaheim native Cartwright enlisted in the U.S. Marine Corps immediately after high school.
He served in Operation Desert Storm in the Persian Gulf and Operation Restore Hope in Somalia before being honorably discharged in 1994.
He returned home to Southern California to start college. In 1997, he earned his bachelor's degree in criminal justice from California State University, Long Beach. He later earned his master's degree in organizational management from the University of Phoenix.
In 2013, he graduated from the Sherman Block Supervisory Leadership Institute.
Cartwright began his career in law enforcement in 1999 when he joined the Los Angeles Police Department. He moved over to Newport in 2002.
During his time at the NBPD, he has worked as a patrol officer, asset investigator, detective in both the economic crimes and crimes against persons divisions, patrol sergeant and professional standards unit sergeant.
"Newport Beach is a great city to work for," Cartwright said. "I come to this place with a different perspective, having worked for another city… Newport Beach just does it better. They strive to keep doing it better. For me, that's what I want to be a part of."
Cartwright will manage the patrol division for area four, which covers Newport Coast.
An Oregon native, Querry moved around a bit before his family settled in Southern California just after he graduated high school.
He earned his bachelor's degree in organizational management from Vanguard University.
Querry began his employment at NBPD in 1989. He graduated from the OC Sheriff's Academy in 1995.
He has worked a variety of assignments over the years, including motorcycle officer, bicycle officer, commercial enforcement officer, SWAT officer, burglary detective, defensive tactics instructor, Explorer advisor and more.
Querry also received an award for his work from Mother's Against Drunk Driving.
He is married to NBPD Crime Prevention Specialist Andi Querry.
"I'm very fortunate to be here and work for this city," Querry said.
Querry will be assigned to the patrol division as watch commander.
Eric Little was also promoted, from the rank of police officer to sergeant.
A Mission Viejo native, Little earned his bachelor's degree in criminal justice from California State University, Fullerton, in 2005. He is currently working toward his master's degree in public administration at National University.
He began his career with NBPD in 2004 as a cadet. Since then, he has worked as a patrol officer, DUI enforcement officer, accident investigator, motor officer and traffic investigator. His ancillary duties include reserve coordinator and polygraph examiner.
In 2006, he graduated from OC Sheriff's Academy.
In 2008, he received an award from Mothers Against Drunk Driving for making more than 100 DUI arrests that year. In 2011, he received a lifesaving award for his efforts during a plane crash in the back bay.
"As a child, I grew up with police officers as role models and heroes," said Little, who added that he strives to be a positive role model for his two young sons.
"I knew from a very young age that being a police officer was the only job for me," Little said.
Wendy Joe and Kjersti Martini were promoted from the position of community relations officer to the newly created position of civilian investigator.
Martini started at NBPD with a six-month long internship. After she graduated from CSULB, she was hired on in Newport as a community service officer and went on to work as a court liaison officer in the detective division.
Joe was hired by NBPD in 2000 and has worked as a community services officer, front desk officer, and an administrative technician to the detective division.
She is married to NBPD Sgt. Darrin Joe.
Claudia Barboza was recognized on Monday for her October promotion from cadet to part-time custody officer.
Barboza started in the NBPD Explorer Program in 2011. She was promoted to Explorer captain within a year. She was hired on as a cadet in 2013.
Also during the ceremony, Eric Rosenberg (a lateral officer from Santa Barbara Police) was sworn in as a police officer.
He was hired by NBPD in 2007 as a community services officer, he later worked as a parking control officer. In 2010, he was hired by the Santa Barbara Police Department as a recruit and attended the academy there. He was assigned to patrol, but also trained with the k-9 and SWAT units.
Johnson also honored Lieutenant Jay Short with the Chief's Citation award.
Short filled in as acting deputy chief when Captain Dale Johnson left in summer 2014, Johnson explained.