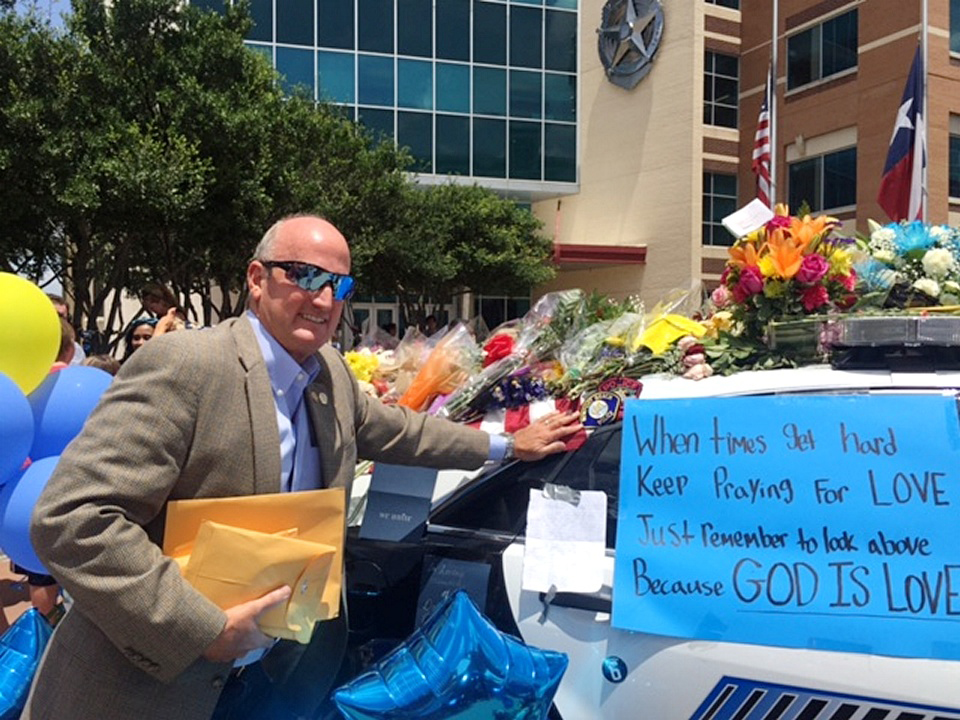 Following the ambush shooting in Dallas that left five police officers dead and several more injured, law enforcement agencies around the country are showing their support in a number of ways.
Flags at the Newport Beach Police Department were at half-mast and officers wore mourning bands on their badges.
"Our hearts are heavy, but we could not be more grateful for the Newport Beach community. Today, and every day," NBPD officials commented on social media.
Police Chief Jon Lewis offered words of support and comfort in a letter to NBPD personnel and others in law enforcement.
"We mourn the loss of our fellow officers in Dallas and try to make sense of this unspeakable tragedy," Lewis writes. "This day and every day, be vigilant, be safe, and take care of each other. Our hearts are with the courageous men and women of Dallas."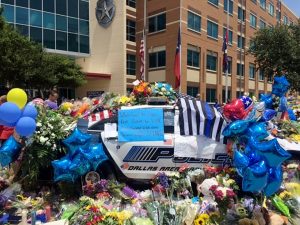 Deputy Chief David McGill happened to be in Dallas on a pre-planned personal trip. He had come from Colorado, where he attended a marijuana summit meeting in preparation if the California ballot measure passes, and since his wife's family is from Dallas, he planned a personal visit after the meeting.
"I happened to time it, unfortunately, right," he said.
McGill, a 30-year law enforcement veteran, arrived in Dallas a day after the incident occurred. He's seen a lot, but this was pretty significant, he commented.
"It was very moving," he said. "You can't help but get emotional."
It was an honor just to be there, he added.
"There's not much else you can do except show your face and show your support… and tell them, 'This too shall pass,'" McGill said. "Sometimes it helps just to lean on a shoulder."
McGill placed an NBPD patch at the makeshift memorial near the police headquarters in Dallas. The spontaneous memorial that was set up included flowers, balloons, sentimental items, and notes from kids, adults, and fellow officers. It was wonderful to see the community get behind them, he said.
"Genuine loving words from strangers," McGill commented.
 He also brought Dallas Police Department staff a card and memorabilia from the Newport department, along with the letter from Lewis.
The Deputy Chief also visited the DPD headquarters a few times and spoke with a number of officers and police staff. Most of their conversations were simply about life in law enforcement and what it's like to be a police officer in this day and age.
"They are heartbroken… They are mourning," he said.
It's important at times like this to pull together, he emphasized.
"We will huddle together…and, in time, we will get through this," McGill said. "We are a family… It doesn't matter where you're assigned or what you look like, we're all blue."
Locally, the community is reacting to shooting by showing support for the NBPD.
"In the wake of the Dallas shootings, the NBPD has experienced some remarkable actions, from Deputy Chief McGill's visit to the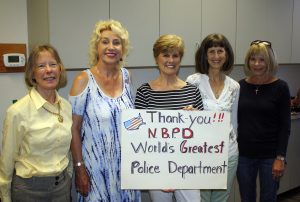 DPD memorial to the incredible outpouring of support we've seen from our community," NB Police Department officials wrote on social media.
Police employees put together a video titled "NBPD, in the wake of the Dallas Shootings" to "document this moving and impactful experience."
"Our hearts were heavy, but we had a commitment to honor; to protect and serve," the NBPD video notes. "Little did we know how much the Newport Beach community would serve us."
Residents wowed NBPD personnel with support, officials wrote on the NBPD facebook page. Locals offered compassionate phone calls, words of encouragement and "tastier contributions," including muffins, cupcakes, 15 pizzas, and more.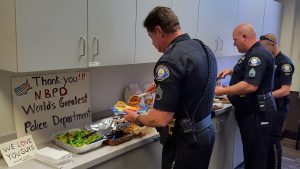 Several members of the Newport Harbor Republican Women organization brought lunch for the entire police department last Saturday, and a grateful resident brought them a sweet treat from Susie Cakes. The thoughtful gesture warmed their hearts, NBPD said. The boxes carrying the desserts included "You are appreciated" written on top.
"A big thanks from all of us to everyone who has gone out of their way to make the NBPD feel appreciated!"
It's a blessing to serve Newport Beach, McGill noted. There is a lot of community support here, McGill said, and not every city has that. 
"I am honored to be associated with such fine men and women who serve our community so well and so fearlessly. I know that City Council feels the same way, as do our 85,000 residents," City Manager Dave Kiff commented to NBPD. "Please be safe out there – we want everyone to come home each night."
McGill noted that he hasn't heard any reports of negative incidents in Newport Beach as part of the reaction from the public.
"It's unfortunate we're at this point in the country," he commented. There's a disconnect… We've got to work through these things, together."
Within the dialog of excessive force and deadly force, people often forget that they're human, McGill said.
"We're not perfect," he said. "We're human, we have emotions, we have feelings. We're not robots."
In extreme danger they have to react and make split second decisions, he said, and sadly sometimes things don't go right.
"It's tragedy on all sides," he said.
If residents want to understand what they're doing, their training process, or what they're faced with, McGill encouraged people to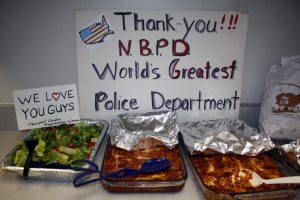 call him and/or join the citizen's academy.
"There are a number of challenges that all law enforcement face day in and day out," McGill said. "It's extremely difficult to be police officer in the 21st century."
  When incidents like this happen and there are reports of law enforcement being targeted, they review their tactics, discuss and consider how they would react, and examine their training methods.
"We have to be extra vigilant and learn from it," he said. "We haven't really changed much from the way were doing business on the face of it, but, internally, we are looking and changing a few things."
They haven't doubled up, but they've talked about it and it is an option.
Newport Beach is a very safe city, but both police and residents need to pay attention, be careful, and not get complacent. It's hard to imagine something bad happening here, but things can happen anywhere, he said.
"When tragedy strikes we do what police officers do, we run toward the gun fire," McGill said. "No matter what, we'll answer the call."