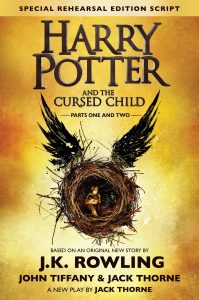 My boy Harry is back in a big way.
By now, everyone knows that I have a bit of a thing for Harry Potter. This trusty companion, despite struggling with a pretty lengthy list of his own issues, has been by my side for more than a decade, as I have read his story with each of my children.
Providing countless hours of mother-son bonding time, the books, and the folks like Harry who populate them, have almost become part of the family themselves. Now, Harry is making his triumphant return as one of the stars of the new stage production, "Harry Potter and the Cursed Child."
Set to premiere in London on July 30, this new chapter in the wizarding saga takes place 19 years after the close of the book series, and is being presented in two parts: two separate shows, meant to be seen back–to-back, either as a matinee/evening combo, or on consecutive nights.
Based on an original new story, written by JK Rowling, Jack Thorne, and John Tiffany, the production is causing quite the stir stateside as well. While the only place to catch the show, for now, will be London's West End, there is, of course, a companion book being released for those of us who can't quite make the trek across the pond.
"Harry Potter and the Cursed Child, Parts One and Two" will hit stores on July 31, just after opening night. Presented in script format, the book will read similar to a work of Shakespeare, and has been on the pre-order list of booksellers everywhere for many months.
Hearkening back to the heyday of Harry Potter book release parties, which saw mini-wizards across the country (and their adult counterparts) lining up at midnight to be among the first to get their hands on each new book, Barnes and Noble, Fashion island, will be hosting a "Countdown to Midnight Party," beginning at 8 p.m., on Saturday, July 30.
While waiting for the clock to strike midnight, signifying to book's official launch, guests can participate in an assortment of fun themed activities, as well as try their hand at winning the giveaways that will be offered. 
Additionally, there will be a "Muggle Wall," where attendees will be invited to inscribe their favorite Harry Potter memories. One lucky reader will also win a complete set of limited edition prints of all seven original book covers.
In this new era of Harry Potter, we get to see how Harry, Ron, and Hermione, as well as their nemesis, Draco Malfoy, stack up as parents, and are introduced again to their offspring, whom we briefly met in the epilogue of book seven – the next generation of Hogwarts witches and wizards.
The story's teaser tells us that, "It was always difficult being Harry Potter and it isn't much easier now that he is an overworked employee of the Ministry of Magic, a husband and father of three school-age children. While Harry grapples with a past that refuses to stay where it belongs, his youngest son Albus must struggle with the weight of a family legacy he never wanted. As past and present fuse ominously, both father and son learn the uncomfortable truth: sometimes, darkness comes from unexpected places."
While that all sounds a little ominous, I'm willing to bet that Harry will remind young Albus of something the wise wizard he takes his name from once said, "Happiness can be found, even in the darkest of times, if one only remembers to turn on the light."
And, I'm also sure that lights of all kinds will be burning into the wee hours, as Potterheads dive in to this new offering the moment it becomes available.