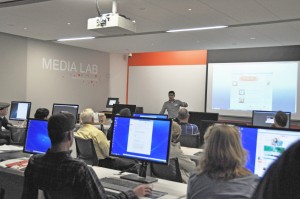 About 175 people checked out a new feature at the library last week: A high-tech Media Lab.
The Newport Beach Public Library hosted two open house events for the new Media Lab on Jan. 15. According to a short survey the library conducted, about 74 percent of guests had not been to the Media Lab before, so it was a great introduction, said Newport Beach Public Library and NB Cultural Arts Services Marketing Specialist, Katherine Mielke.
Some were vaguely aware that the library had a Media Lab, but hadn't yet ventured down the long hallway to see what it was all about, she added.
Visitors to the lab can design, edit, build and animate at the new facilities.
"Whether you're a student working on a project, a business person sharpening your skills, a job seeker in the midst of a career change, or a creative individual on an endless quest to learn more!" the brochure reads. "There is so much you can do in the Central Library Media Lab."
During the open house, visitors were able to ask questions, sit down at a workstation and try out some of the software, or watch several design volunteers at work. Two students from Laguna College of Art and Design and a couple of the library's regular users gave demonstrations showing projects they were working on using programs such as Photoshop, Illustrator, Maya 3D and other software available in the Media Lab. Staff also demonstrated how to record and edit music in the Sound Lab.
The survey showed a breakdown of attendee interest in the following categories: Animation software 17.65 percent; CAD software 8.82 percent, Graphic design and desktop publishing software 61.76 percent, Movie making software 35.29 percent, Photo editing software 79.41 percent, Scanner 61.76 percent, VHS conversion to DVD software 70.59 percent, and Wacom drawing tablet 38.24 percent.
There was also a lot of interest in the Sound Lab but it wasn't an option on the survey, Mielke added.
The lab is open Monday through Thursday 9 a.m. to 9 p.m., Friday and Saturday 9 a.m. to 6 p.m., and Sunday from noon until 5 p.m.
Funding for the lab was donated by the NB Public Library Foundation.
The Media Lab encourages users to "recreate your mind."
For more information, visit newportbeachlibrary.org/services/media.