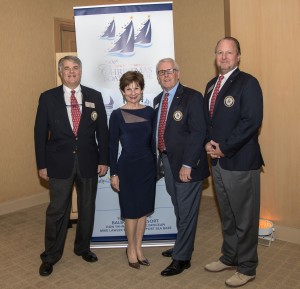 Several hundred people attended the annual Christmas Boat Parade Awards Dinner and Auction, hosted by the Commodores Club of the Newport Beach Chamber of Commerce and held last weekend at the Island Hotel in Fashion Island.
The dinner honored the winners of the Christmas Boat Parade and Ring of Lights competitions, and raised funds for next year's parade.
All award winners received two tickets to the event. A special private Champagne Reception was held for winners of the Boat Parade and Ring of Lights.
The event featured a cocktail reception, gourmet dinner, dancing, and a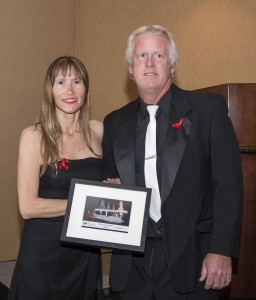 live and silent auction featuring hundreds of unique items including: travel excursions, weekend getaways, fine dining, rare jewelry, art, hotel stays, fine wines, and more.
"This is our biggest fundraiser of the year, we have 250 silent auction items and live auction items, and we're hoping not to take anything home," said Chamber of Commerce President and CEO Steve Rosansky.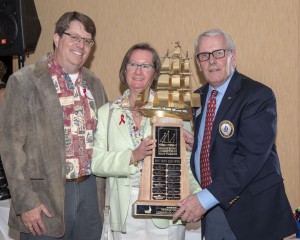 "This is your night—you are the crème de la crème of the Boat Parade and Ring of Lights," Commodore David Beek told the award winners during the VIP reception. "You are Newport Beach's Christmas card to the world."
He also told the crowd that the 2014 parade brought more revenue into the city than any parade in history.
The event was presented by Simple Green, The City of Newport Beach, Visit Newport Beach, Inc., and Meguiar's. Event chairs were David Robinson and Marie Case.
The winners:
BOAT PARADE
SWEEPSTAKES
El Navegante (#73)
SASCO- Joe Achten
NON-COMMERCIAL SWEEPSTAKES
Two Are Better Than One (#75)
Kyle Miller
BEST POWERBOAT
The Last Hurrah (#43)
Rob and Elizabeth Meadows – (Morrow-Meadows)
BEST SAILBOAT
The Hippocampus (#1)
The Vogler / Flynn Family
BEST MUSIC
$ea-Note (#40)
Scott Schubert
BEST LIGHTS
1ST PLACE
My Bebek (#17)
Arman and Daron Muratyan
BEST LIGHTS
2ND PLACE
Alure (#55)
Lance and Gary Charlesworth
BEST LIGHTS
3RD PLACE
Shannon Rose (#62)
Shaun and Shannon Keating
BEST HUMOR / ORIGINALITY
1ST PLACE
Paradise Found (#38)
Greg Killingsworth
BEST HUMOR / ORIGINALITY
2ND PLACE
The Rose Maria (#3)
Ron and Rose Cram
BEST HUMOR / ORIGINALITY
3RD PLACE
Amazing Grace (#14)
Ed Koll
BEST ANIMATION/SPECIAL EFFECTS
1ST PLACE
D25 (#25)
Peter Barbour
BEST ANIMATION/SPECIAL EFFECTS
2ND PLACE
Traveler (#18)
Michael Lawler
BEST ANIMATION / SPECIAL EFFECTS
3RD PLACE
Muller Time (#19)
Jon and Lauren Muller
BEST BOAT
UNDER 30′
Anchor of Hope (#72)
Christopher Domino
BEST FIRST TIME ENTRY
Shannon Rose (#62)
Shaun and Shannon Keating
BEST YACHT CLUB ENTRY
The Hippocampus
The Vogler / Flynn Family
YACHT CLUB WITH THE MOST ENTRIES
Balboa Yacht Club
RING OF LIGHTS
SWEEPSTAKES – BEST OVERALL
Mr. and Mrs. Bruce Fabrizio
1407 Bayside Dr., Corona del Mar
LIGHTS AND ANIMATION: 1ST PLACE
Robert and Christyne Olson
351 E. Bayfront, Balboa Island
LIGHTS AND ANIMATION: 2ND PLACE
Jim and Vicki Warmington
328 Buena Vista Blvd., Balboa Peninsula
BEST THEME
Bill and Gay Wassall-Kelly
409 E. Edgewater, Balboa Peninsula
CHAIRMAN'S CHOICE
Barry and Karen Meguiar
201 N. Bayfront, Balboa Island
BEST TRADITIONAL LIGHTS
John and Essie Bootsma
128 Via Lido Nord, Lido Isle
"GREEN" ENTRY AWARD
Scott and Shawn Cunningham
One Beacon Bay, Newport Beach
PHOTOGRAPHER'S CHOICE
Dave McIntyre – SASCO
101 Via Lido Soud, Lido Isle
HUMOR AND ORGINALITY
Marcy Cook
538 S. Bay Front, Balboa Island
ROOKIE AWARD
Robert "RC" and Beverly Cohen
2686 Bayshore Dr. (Duke's Point)
BEST ON LIDO
Ken and Tracy Hurd
832 Via Lido Nord, Lido Island
FOUNDER'S AWARD
Phil and Mary Lyons
36 Harbor Island, Harbor Island
DAILY PILOT AWARD
Dennis and Patty Vitarelli
140 S. Bayfront, Balboa Island
BEST YACHT CLUB
Bahia Corinthian Yacht Club (BCYC)
1601 Bayside Drive, Corona del Mar
HI TECH CHRISTMAS CHARM
Jim and Peggy Rich
802 S. Bayfront, Balboa Island
BEST ON PENINSULA
Bob and Carol Senour
1000 E. Balboa Blvd., Balboa Peninsula
JUDGE'S AWARD – 1ST PLACE
Donna Dibari
710 South Bayfront, Balboa Island
JUDGE'S AWARD – 2ND PLACE
Shirley Pepys
526 South Bayfront, Balboa Island